It's time for the Super Bowl, which means it's also time for … yes, yes, yes: the motivational sports pep-talk.
This convention is almost as popular as the sports film itself, for nearly every worthwhile picture within this genre has a final, deciding game paired with a solemn talk given by a coach or player. Over at the 10rant, we recently discussed how a similar phenomenon can be found in most war movies, just before a battle, in the Top 10 Pre-Battle Speeches ranking.  Indeed, whether it's a military skirmish, or a sporting event that has taken on the complexion of a life and death struggle, a rousing pep talk is usually just what's needed to get players/troops ready for conflict.  In the cinematic sense, it's a wonderful opportunity to remind the audience about the film's central themes, and to rehash some of the accomplishments seen up to that point.  Most importantly, however, it allows a director and screenwriter license to whip the audience into a delightful frenzy right along with the characters onscreen!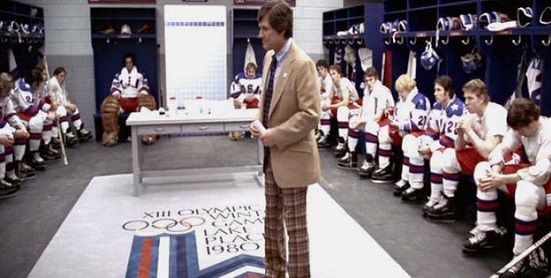 Seeing as how we're just days away from the most holy and precious of all American holidays, the Super Bowl, it seemed altogether appropriate to examine this particular sporting phenomenon in film.  With sports movies, this is a hoot, for a speech on the brink of a game or match is a lot more fun and easy to identify with than one given to a group of men and women about to charge into a meat grinder.  To earn a spot in today's sports ranking, the speech had to have been delivered by a coach or member of a team just minutes away from taking the field/court/ice.  The scene in question had to contain a pep talk designed to motivate a squad, and was given higher ranking consideration based on its effectiveness, quality of content, and originality.  Extra points were awarded to speeches where emotion was an unmistakable component in the delivery of said speech, so the more explosive and dramatic, the better!  Some close calls included rousing pre-game talks given in Remember the Titans, The Waterboy, We Are Marshall, Friday Night Lights, Invictus, Knute Rockne, All-American, and A League of Their Own.  Anyway, if this intro went on much longer, it would take us right to the Super Bowl, so let's go ahead and kick things off with…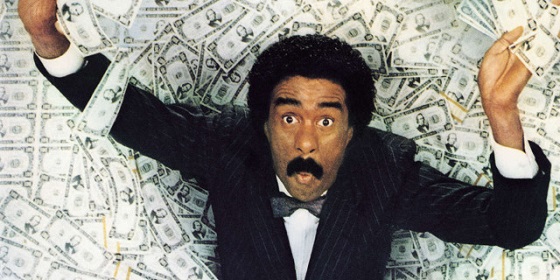 10. Brewster's Millions (1985)
A treasured favorite from this author's childhood, Brewster's Millions told a great story.  It was about a small-time relief pitcher in the minors, Monty Brewster (Richard Pryor), who started the film by getting kicked off his team and thrown into jail.  Monty's luck turned quickly, however, for he was informed that he was the sole beneficiary of an estate worth $300 million dollars, yet it could only be his if he could successfully spend $30 million dollars in 30 days.  Thing is, Monty had to SPEND it, like in a way that allowed him no assets after the 30 days was up.  To this end, Monty set up a number of ventures to blow through his $30 million, one of which was the scheduling of an exhibition game between the New York Yankees and his minor league team, the Hackensack Bulls.  Just before the game, Monty gave a hell of a speech about how the game was more than just a stunt, how it was an opportunity for every player in the locker room to show the world what they were really made of.  To be perfectly fair, Brewster's speech didn't have much of a lasting effect on his squad, for as motivated as they were, the Hackensack Bulls still lost their exhibition game against the New York Yankees.  Still, Monty and the boys at least made a game of it, and played a few decent innings of baseball against one hell of a club.  If only for that, Brewster's Millions snuck in at #10.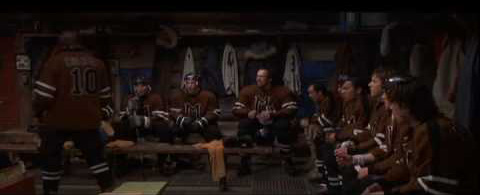 9. Mystery, Alaska (1999)
Like Brewster's Millions, Mystery, Alaska was a film that housed a match between a major league New York sports team and a group of no-name amateurs.  In the latter picture's case, it involved a media-arranged game between the New York Rangers and a small-town's hockey team, one renowned for its homegrown, naturally talented players.  The town of Mystery was devoted to hockey, and treated the sport like a pseudo-religion to be respected, feared, and worshiped all at once.  Although the players and town fathers were understandably reluctant to allow the game to proceed, largely because the players of Mystery had never engaged in any level of professional hockey, they had Burt Reynolds and Russell Crowe on their side, and if that ain't an edge, this author doesn't know what is!  The choice moment from this film came between the first and second period, when the small town's hockey club was looking down the barrel of a multiple goal deficit.  Sheriff John Biebe (Crowe), the captain and co-coach of the team reminded his boys what they'd been through in preparation for the game.  He challenged his squad, and asked if they were too tired, or too weak to take on the Rangers.  In sum, the man dared his team to do better, and made them believe that on their ice, in their frigid domain, no one on the planet was better.  Although they came up just a hair short at the end of the day, for a small town's collection of renegade pond players, they did pretty damn well (at least for a #9 spot).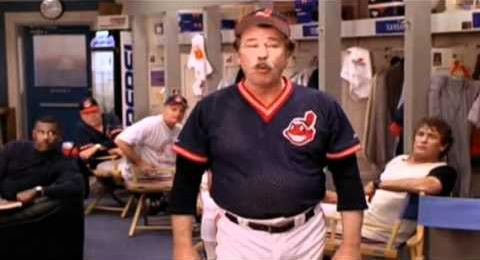 8. Major League II (1994)
Sort of the opposite of what every other speech went for on today's list, Lou Brown (James Gammon) didn't so much talk his players up as he did berate them for a season's worth of horrific play and general under-performance.  In Major League II, just a few minutes before the baseball game was scheduled to start, ol' Lou started his speech off simply enough.  He began by explaining (in terms a toddler could understand) that due to the previous day's win, they were in a position to do something miraculous: ignite a winning streak.  Yes, with a win that day, and another the next, Lou explained how his Cleveland Indians could actually get something going in a season that had, up to that point, provided little in the way of optimism.  In Major League II, the team that had shocked the piss out of the baseball world with their iconoclastic take-no-prisoners attitude the season before found itself soft after a long winter.  They'd gone off and gotten concerned with movie careers, investment portfolios, and spiritual awakenings, and forgotten about the hungry edge needed to succeed in professional sports.  Yes, as Lou explained via a hollering diatribe, his club had transformed into a group of pansies in less than half a year, and he wasn't going to stand for it any longer!  Which was right about the time ol' Lou had a heart attack and collapsed. It might not have been the most traditional pre-game pep talk, but it definitely got the point across.  And shit, if you're gonna almost die in the middle of your motivational spots speech, you got to have earned some kind of recognition, right?  So, for that, Lou Brown and Major League slid in at # 8.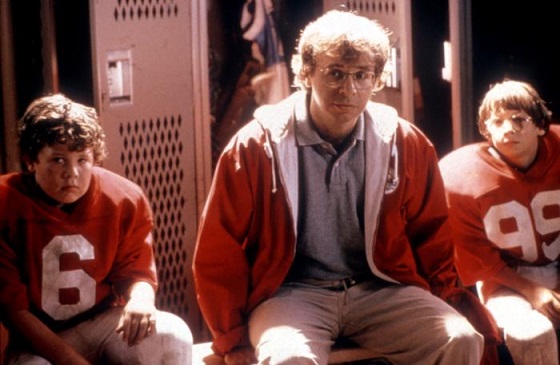 7. Little Giants (1994)
Aw, come on!  Silly, trite, kids movie that Little Giants was, it still had its heart in the right place, and could claim a decent little sports speech.  Rick Moranis played Danny O'Shea, a kind-hearted single father who agreed to form and coach a football team composed of disregarded youths in his small town.  Danny's older brother, Kevin (Ed O'Neill), a Heisman Trophy winner, coached the established team in the area, and challenged Danny's squad of misfits to a game (naturally).  During halftime of the big game, with his team down 21, Danny regaled his team with a story about how he had beaten his brother in a race on one occasion, even though Kevin had smoked him dozens of times before.  Danny explained that in life, as in any competition, any underdog had a chance to come out ahead at least once.  Indeed, in all walks of life, every person has a shot to win at least a single time.  Danny's team went out in the second half and erased the deficit using the motivation provided by their coach who, like them, had lived a life mostly in the shadows of bigger, stronger, more athletic kids.  It also helped that Danny's daughter, the team's star player, also decided to suit up for that second half, and immediately started making plays.  Still, though, that halftime speech was a real hum-dinger, and was enough to give it and Little Giants a spot at #7 here today.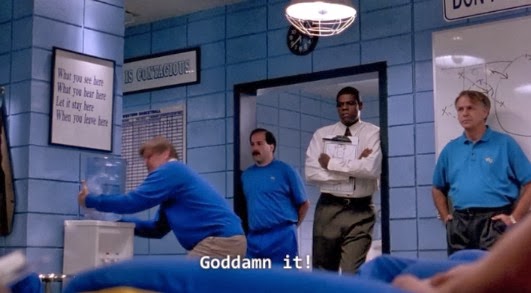 6. Blue Chips (1994)
Thank God they got Nolte for this one.  Really, who else could have balanced eye-popping rage against genuinely unpredictable psychosis as delicately as Nick Nolte?  Blue Chips opened with his Coach Bell storming into his team's locker room to give a fiery address to his squad that essentially amounted to a verbal flaying.  After calling them out as the worst team in the school's history, Bell then started ripping uniforms out of lockers, insisting that his players didn't deserve to wear anything except their jock-straps.  Oh, then he called them stupid, threw up his hands, and stormed out.  He seemed ready to leave it at that before charging back into the fray to launch into his players again, telling them how worthless they were, and how disappointed he was in their play.  Oh, and just to make sure they were paying attention, Coach Bell went ahead and tossed a water cooler across the room before storming out again.  The players looked shocked, and didn't seem to know what to say, which is right around the time Nolte came barreling back through the door for the third time, his tone and approach softer and more measured this time.
Clearly, Coach Bell had planned on a layered offensive, one with several different phases, for he didn't want to simply shock and scare his team, he wanted to throw them off balance, have them grope for guidance, and then find his softer, gentler side at the end of the day.  Although this wasn't the best speech in terms of results (Bell's team lost the game), you have to give it to Nolte and Blue Chips for giving pretty much the opposite rah-rah speech so many of us have seen before.  Indeed, most of the speeches listed today built their players up, and inspired confidence whereas Coach Bell's rant seemed to largely suck the life out of his team.  Still, it was unique, forceful, and with another squad (one worth a damn), it might have even been effective.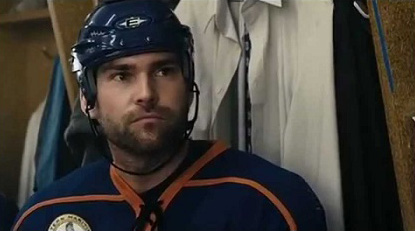 5. Goon (2011)
Just a few quick words for Goon, which Scene-Stealers has already covered with a magnificent article espousing its overlooked qualities.  In the film, Seann William Scott played Doug Glatt, a kind-hearted bouncer who found his true calling as a hockey enforcer.  Although Doug didn't possess much in the way of tangible skills, or even higher cognitive functions, the man knew how to fight, and what it meant to be a good teammate.  Between periods during of his first games as a Highlander, Doug sat by and listened politely as his team's captain went on about his divorce, and how his greedy ex-wife was trying to rob him of what little remained in his miserable existence.  Captain Ogilvy had a lot to say, unfortunately for the team, most of it kept coming back to his divorce, and the institution of divorce in general.
It was an interesting tactic (and one we'll see again later), for Ogilvy seemed half-drunk, but experienced enough in the whole pre-game speech routine that he was able to cobble together a magnificent little pep talk!  He told the boys how they had to dig down deep, and search for the strength inside of them to transcend all the bullshit in their lives so that they could make magic out on the ice.  He told them that they needed to get hard, nay, "Greek, fucking underground, gay porn hard," and claim the victory that was waiting for them.  Miraculously, it did the trick, for the boys stormed out of the locker room pretty fired up.  But really, if we're going to get into the realm of hockey speeches, we out to take a second to talk about the sport's signature movie…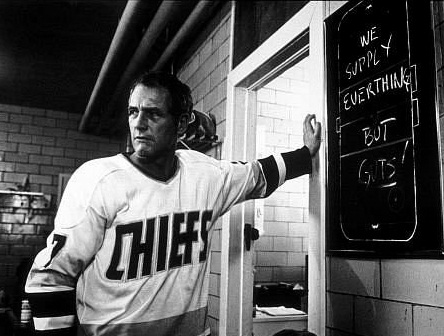 4. Slap Shot (1977)
When you play for a shitty semi-pro hockey league two steps removed from the NHL, certain concessions sometimes need to be made.  For example, if the team you're on is so unforgivably God-awful that it's hard for anybody to remember the last legitimate win, something has to give.  After all, fans rarely support losing teams, and in Slap Shot, player-coach Reggie Dunlop (Paul Newman) realized that unless he started filling his small arena, and fast, there wouldn't be a team to play for any longer.  Luckily for his team, The Charlestown Chiefs, Coach Dunlop had an epiphany.  He realized that his team didn't have much in the way of talent, yet they were tough, had a lot of heart, were (by and large) stupid, and thus, easily manipulated.  Coach Dunlop cooked up a story about some (phony) potential investors, and convinced his team that if they began to fight tenaciously, and often, the investors would buy the team and move it to Florida.  The ploy worked, The Chiefs began fighting, and crowds began to line up to see them.
By the end of the season, Dunlop and his Chiefs were in a position to take the league championship, and maybe even earn real jobs with clubs that weren't fictional or on the brink of bankruptcy.  Yet the team had become a joke: a farce.  By the end of the season, Coach Dunlop and the Chiefs were more like professional wrestlers and back-alley brawlers than a hockey club, and in the locker room before their final game, the squad finally got a little truth out of their coach and captain.  Dunlop leveled with his boys, and told them there was no team sale: no hope of fighting their way to a new club down in Florida.  All they had was their pride, and the knowledge that they could, if they wanted, go out and play one last game as a team, cleanly, al-la "Old Time Hockey."  After telling his boys that it was going to be his last game, Coach Dunlop implored his squad to go out and play one last match together the way the sport was meant to be played.  It was a great speech, and was made even better by the fact that his team took it to heart, and got absolutely clobbered by their vicious, blood-thirsty opponents.  Still, for hockey players, there's no better rallying cry than "Old Time Hockey," and for that, Slap Shot and Coach Dunlop got a nod.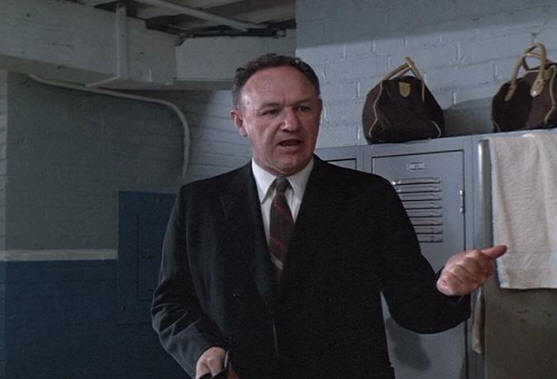 3. Hoosiers (1986)
A by-the-numbers sports pic that never strived to be anything more than a feel-good underdog story, Hoosiers succeeded precisely because it never tried to stretch itself outside of its formulaic boundaries.  It told the story of Coach Dale (Gene Hackman), a disgraced basketball coach who was trying to start over in a small Indiana farming community, Hickory, when the picture began.  A proponent of smart, disciplined, fast-paced basketball, Coach Dale wasn't interested in talent as much as he was conditioning, and his players' grasp of a few basic fundamental principles.  Of course, this pass-heavy, defensive-oriented style of play did not go over well with most of the townsfolk in Hickory, and for their part, the players thought it was pretty damn tough.  Yet a very talented team began to develop out of this system, and before long, Hickory's high school basketball squad was kicking the shit out of pretty much every other school they encountered.
Naturally, this led to a trip to the regional tournament, where Hickory had a chance to play for the Indiana State championship.  Still, to get to that next, final step, Coach Dale and his boys had one more game to play.  During his pre-game speech, the coach tried to keep his team focused, and started by explaining that the next game was just that: "next," and that their attention needed to be focused on the present.  He then went on to explain that the Hickory basketball team had it in them to win if they simply fell back on their fundamentals, and the basic principles they had practiced and put into use so many times leading up to that moment.  Finally, he reminded them that if they played hard, and up to their abilities, then despite what the scoreboard might say at the end of the game, they would all be winners.  Just like the movie itself, the speech has become familiar in its tone, pacing, and consistency, but that's only because Hoosiers and this speech has been ripped off so goddamned much.  Thus, for getting there first, and with the goods still in circulation today, Hoosiers broke into the top-3, one spot behind…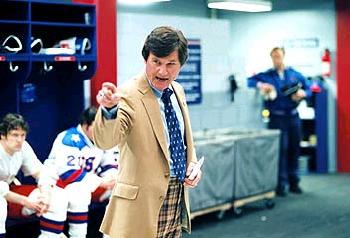 2. Miracle (2004)
This one's enough to make you feel good about being an American even if you ain't one.  In Miracle, the audience watched as Coach Herb Brooks (Kurt Russell) hand-picked his largely unknown squad of amateur college players, and put them through an emotional and physical combine.  Coach Brooks was charged with winning the United States a medal in ice hockey at the 1980 Olympic Winter Games, and he knew that if his squad was going to have any chance, that he'd have to break them down as individuals, and build them back up as one cohesive unit.  This he accomplished through endless conditioning drills, fundamental workouts, and study sessions designed to bring the squad of amateurs out of the rigid American style of play and into a more fluid, improvisational system.  It was a long haul, but by the time the Yanks got to Lake Placid, and kicked off the Olympics, they were a focused, disciplined, and dangerous squad.
Yet the true test came when they had to face off against the Soviet squad, one that had dominated the international hockey competitions for the better part of three decades.  In the locker room just before the medal-round match against the Russians, Coach Brooks reminded his team that great moments were born out of great opportunities.  He told them that that moment was theirs, and that they had all been living lives leading up to it.  Standing before his team just minutes before they were scheduled to hit the ice and make history, Coach Brooks told his boys that that moment was the one they were born for: that an entire nation was behind them, and waiting for the team to make history.  One of the newest scenes of all those listed here today, it's already on its way towards instant-classic status, just like the game it portrayed.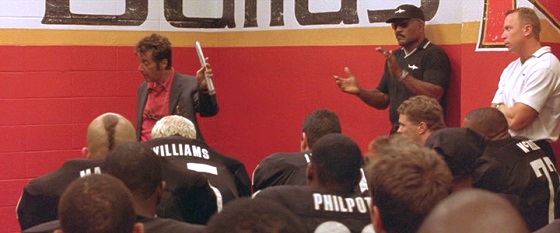 1. Any Given Sunday (1999)
Perfect, perfect, perfect.  This one was flawless and magnificent in every way a pre-sports competition speech could be, from the composition of the dialogue, to the music, the camera moves, casting, and the delivery itself.  Near the end of the film, when Coach Tony D'Amato (Al Pacino) and his Sharks team stood on the brink of playoff elimination, there was a lot of tension.  The team's identity had fractured earlier in the season due to a quarterback crisis, and interference from their power-hungry bitch owner nearly robbed Coach Tony of his sanity.  Depending on what day it was, the Sharks were either the best team in football, or the worst, for while it was obvious that the talent was there, their collective heart wasn't always in it.  Just minutes before the opening kickoff, Tony took a moment to rally his boys, for as he said, "life is just a game of inches.  So is football."
Taking a queue from the Goon playbook, Tony explained how his commitment to football had robbed him of his youth, family, money, and dignity.  Laying himself open and exposed for all to see, Coach Tony brought himself down to his players' level, and tried to speak to them in a way that connected to the men he was asking to bleed for the common good.  He appealed to their sense of urgency, and explained how the inches that make up the story of a person's life, or even a game played, ultimately decide our fate.  What he really tried to explain, what Coach Tony put before his team, was the duty each of them had not only to each other, but to themselves, for unless they figured out a way to heal, and come together as a group, their inability to gather up those last few inches would ruin them.  Delivered via the time-honored method perfected by Al Pacino's patented yell-acting technique, the talk was absolute perfection, and was just what the Sharks needed to complete their season's rally and take the game. So, for giving the world the best damn sports psych-up speech in movie history, Any Given Sunday, Oliver Stone, and Al Pacino got the ultimate nod.