What are the most badass fight scenes in all of the Bruce Lee movies?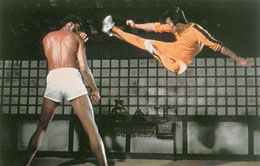 Bruce Lee is perhaps owed the greatest of all debts by martial arts cinema. At a time when Eastern fight choreography was balletic and theatrical—eons ahead of anything coming out of Hollywood at the time—though still unrealistic, Lee emerged as a counter-revolutionary force. Bringing to visual life his personal fighting system, Jeet Kune Do, based in part on Wing Chun, Western boxing, and various grappling arts, the paradigm quickly shifted from lyrical, elaborate swordplay to visceral hand-to-hand engagements.
There's no doubt the subsequent generation of performers really perfected Lee's innovations and raised their stakes with the likes of Jackie Chan, Yuen Biao, and others (the Venoms, Liu) integrating acrobatic finesse and traditional forms into the methodology of feet and fists colliding on a grand scale. But Lee was the progenitor of that particular renaissance. And, above all, an astonishing athlete and martial artist. Here are the Top 10 Best Bruce Lee Fight Scenes ever put to film. (If you have a Top 10 you'd like to contribute drop an email to eric@scene-stealers.com.)
10. Fist of Fury (1972) – Final Bout
This is the absolute last fight to occur in Fist of Fury, which sees Bruce Lee's Chen Zhen taking on the head of the Japanese school moments after dismantling the Russian martial artist they'd brought in as a sort of familial enforcer. Following the master inside the dojo, Lee is met with a barrage of feet, fists, and katana assaults before disarming his opponent with his most famous of weapons, those omnipresent black nunchaku, and kicking him to his death through a large window spilling into the courtyard.
9. Enter the Dragon (1973) – Group Fight
Enter the Dragon is Lee's most overrated film. This fact indicates either a degree of critical ignorance on the subject of martial arts cinema, or a serious bias in terms of evaluating the aforementioned genre material. That being said, however, the film is in fact memorable, quotable, and well-made. And it has one especially good group fight, with Lee moving around through underground warehouses combating countless security guards with all the weapons at his cumulative disposal. Nunchaku, staffs, smaller, Eskrima-style stick weapons—the applications are identical and fully realized. Where the film goes awry is toward its close, when a potentially mind-boggling fight with an adversary everyone is anticipating is avoided in favor of a lesser encounter. And the final bout is simply a disappointment. Few could earnestly disagree.
8. Game of Death (1978) – Bruce Lee vs. Kareem Abdul-Jabbar
There's no question this is a clash approaching epic proportions. Bruce Lee was at the top of his game, before burning himself out on the Western-produced Enter the Dragon, cloaked in his signature yellow jump suit and displaying all of his methods of forcible disarmament. The truth is Kareem Abdul-Jabbar's size offers great visual tension, but he's expectantly less fluid and precise in his movements than the smaller, more nimble Lee. In this era, anyone not a chiseled athletic presence in the realm of martial arts tended to lose credibility in the presence of the film's star (Enter the Dragon['s] final fight comes to mind). Notable instances include Abdul-Jabbar's massive footprint on Lee's chest and the steady back and forth throughout the encounter in lieu of a more Lee-dominant exchange as was the usual policy. It's unquestionably exciting, but the stakes have been higher and the visuals more refined.
7. Game of Death (1978) – Nunchaku Duel
Here's where, for me, things really achieve some velocity. The dueling masters scenario has innate appeal beyond reproach, and once the Eskrima sticks fail against Lee's makeshift bamboo horsewhip, the nunchaku are brought out in symphonic opposition. One thing of special interest about Lee's use of the nunchucks is that they're a traditional Japanese, not Chinese, weapon. This brings on complications in something like Fist of Fury where Lee's protagonist is so supposed to be deeply nationalistic with regard to his native China and especially vengeful in view of his sifu's death at the hands of the Japanese, so fighting them with their cultural weapon seems strange. For this reason, Bruce Lee really exists in his own specific universe. And those questionable inconsistencies aside, the actual mechanics are astonishing to behold.
6. The Big Boss (1971) – Final Fight
Lee's first movie is I think perhaps his most satisfying for several reasons — if also his bleakest and most grisly. And while the climactic final battle isn't as impressive as its predecessor, it's still fast-paced and precisely executed with Lee's younger hero fighting the more experienced and ruthless local crime boss. It's a vicious encounter, concluded by Lee straddling his fallen adversary and pummeling him until police arrive.
5. Fist of Fury (1972) – Penultimate Bout
This was perhaps Bruce Lee's first exhaustive, evenly matched fight up to that point in his career, and seeing the master have to summon inner strength and reformulate his strategy to surmount an adversary is a rare and exciting thing to behold (only really seen elsewhere in his duel with Norris at the end of Way, and to a degree in his fight with Abdul-Jabbar). We get some pressing information regarding the foe earlier in the film, as he's shown bending metal bars and demolishing cinder blocks with minimal effort. We get a sense of him as an imposing, physically durable opponent, and even though Lee's Chen has obliterated everyone he's been confronted by, the fight has a lot of precarious wonder to it.
4. The Way of the Dragon (1972) – Group Battle
Way of the Dragon saw Bruce Lee's re-employment of a strategy from his first film, The Big Boss, in that the extent of his character's skills was withheld for some time, allowing crucial anticipation to develop. When his abilities are finally revealed, the fight is terse and technical. But the second go around with a massive collection of mob enforcers in the same alley is one of the great, iconic scenes of its kind. The way he single-handedly incapacitates foe after foe before fighting his way inside and turning the tide of the developing hostage situation is one of those exhibitions forever ingrained in the minds of countless moviegoers, and the synthesis of the contemporary Western world with his ancient warrior's presence wouldn't be complete without those ubiquitous nunchucks.
3. The Way of the Dragon (1972) – Tang Lung vs. Colt
A weaponless bout, likely his most famous, the final showdown in The Way of the Dragon between Lee's Tang Lung and an American martial artist named simply "Colt," played by Chuck Norris, is preceded (and arguably exceeded) by its own reputation. It's one of very few occasions as mentioned earlier in which Bruce Lee finds himself having to truly rise up and overcome. The obstacle in this case is the hired muscle of his mob adversaries, an American martial artist who confronts Lee in the Roman Colosseum. It's a long fight, culminating in Lee's use of the Ali shuffle and a calculated barrage of fast, direct, Wing Chun-style short range strikes and sweeping roundhouses with the occasional torpedo-like sidekick. And in perfect form, the man sometimes dubbed the first mixed martial artist ends the bout with a fatal choke.
2. The Big Boss (1971) – Factory Fight
Before discovering all his remaining cousins slain, and his romantic interest (also a cousin, but let's ignore that for the time being) kidnapped, Lee's defiant Chan stumbles upon the dead bodies of his other cousins, presumed missing, encased in ice at his employer's warehouse. Surprised by the owner and local crime boss' nephew with his accompanying goon squad, Lee proceeds to brutalize the group with cold, preconceived onslaughts ranging from flying flashlights to handsaws to salvaged daggers thrust back at his attackers. As the battle moves outdoors, Lee downs every last opponent, going so far as to punch one higher ranking employee through the warehouse wall (a moment with an unequivocal cartoonish streak). Even though the final confrontation in the film is motivated by incomparable rage, there's something in this scene that puts it on its own, distinguished level. It could be as simple as that final punch.
1. Fist of Fury (1972) – Chen vs. Japanese School
An easier decision couldn't have been reached. Fist of Fury, based partly on real events, is and was Lee's most nationalistically significant piece of work in his home country, affording him much approbation and gratitude from a repressed and in some sense downtrodden population. And much of that approbation comes from this particular scene. After learning of his master, the historical figure Huo Yuan Jia's death (suspected to be a clandestine murder carried out by the Japanese military), and having just been insulted by the rival Japanese school's top students and translator, Lee's Chen descends upon the enemy dojo and simply embarrasses the lot of them. It's Bruce Lee's definitive moment, his most historically-potent fight, and a vast showcase of his widespread capabilities.