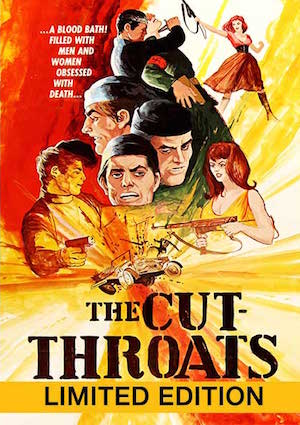 [Rating: Minor Rock Fist Down]
Vinegar Syndrome's DVD release of the 1969 Nazisploitation/sexploitation flick The Cut-Throats — limited to 1,500 copies — is a very basic one. It has a 2k restoration, along with the original trailer, and that's about it.
Frankly, I'm not surprised. I can't imagine anyone involved in this film really wanting to talk about it. Director John Hayes' film a tedious retread of The Dirty Dozen that trades some of the violence for sex and nudity, and ends up with a deficit of entertainment.
It has its trashily-appealing moments, some of which create a genuine sense of discomfort. Any interaction between a German soldier and a woman just oozes sleaze, from an early encounter on a lonely country road onward. That said: there's not nearly enough violence to really sustain interest, and pointlessly dialogue-heavy scenes fail in their attempt to introduce sympathy and pathos for the Americans sent to attack this base.
One would think that trading in the whole Nazisploitaion and sexploitation genres, things would at the very least be fascinating in a horrifying, "I can't look away" vein, but it's not inventive enough to equal Ilsa She-Wolf of the SS or even near SS Experiment Love Camp in terms of balls-out depravity. The Cut-Throats is simply an ineffective action movie, and a fairly limp bit of sexy time.
Let's look at it this way: I watched this movie in 20-minute increments as I exercised in my basement, figuring that this would be a fun movie to keep me entertained on the elliptical. After the first session and a half, I found myself absolutely dreading my daily workout, knowing that I had to slog through this for another two days.
That said, Vinegar Syndrome made this movie look great. As to why so much time and effort was invested in a movie that is basically just a giveaway, I've no idea, but if you're a fan of The Cut-Throats or simply wanting to confirm for yourself what I said above, you're not going to have to suffer through muddy audio or grainy footage.
While it's a struggle to make it through The Cut-Throats, one could throw it on in the background for a party and find a few folks willing to take a peek.