This review appeared originally on KSNT-NBC, KTKA-ABC, and KTMJ-FOX, Kansas First News.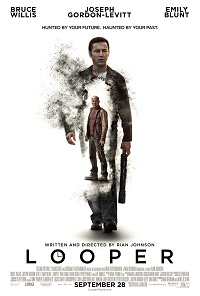 Bruce Willis plays the older version of Joseph Gordon-Levitt and the two men face off against each other in the new sci-fi movie Looper.
Time-travel movies can be tricky. The key to a good one is to lay down the rules of time travel quickly and then play within that sandbox while giving us a reason to care about the characters. Writer/director Rian Johnson's film Looper does that and then some.
Joseph Gordon-Levitt is a brash and selfish hitman who kills people sent back in time from the Mafia 30 years in the future. When his older, wiser future self comes through, he doesn't kill him (Willis), and the man wreaks havoc on the past.
Besides a challenging time-travel premise, a dark sense of humor, and some thrilling action scenes, Looper has the kind emotional weight that you wouldn't expect. Sure, Bruce Willis plays the grizzled old veteran, but Looper gives him a rare chance to flex some serious acting muscles.
In addition, as Gordon-Levitt starts the film, you think he's just doing a great Willis impression, but gradually he becomes a fully realized character as well. Kudos to makeup artist Kazuhiro Tsuji, who used contact lenses and prosthetics to make Joseph Gordon-Levitt appear to be a younger version of Willis. The only time it doesn't look natural are when the eyebrows look a little too drawn in, but then again, maybe that's just something the character does — ha!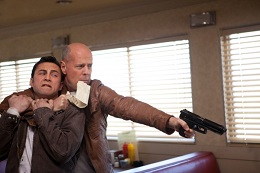 Johnson has all the bases covered in his time-travel sandbox, and the plot explores the bizarre opportunities one has when there are two versions of the same person in one timeline, but in Looper, it never feels like exposition. The journeys down multiple timelines, with superb supporting actors like Jeff Daniels and Paul Dano, always contain the inherent drama of the situation and play out as a natural part of the story. Because they seem organic, they're great illustrations of the time-travel concept as well as potent foreshadowing for future scenes.
I'm not going to spoil the second half of Looper, where the pace slows down and the characters grapple with the moral weight of their decisions, because Johnson's risky storytelling choices really pay off and you should experience the surprises for yourself.
Suffice it to say that after the indie high-school noir Brick (see #8), the twisty con-man adventure/romance The Brothers Bloom, and now Looper, Rian Johnson is certifiably a major talent.