Check out videos of all my movie reviews on KSNT-NBC, KTKA-ABC, and KTMJ-FOX, Kansas First News.
The best crime movies are able to strike that tricky balance between a tense plotting and solid character building.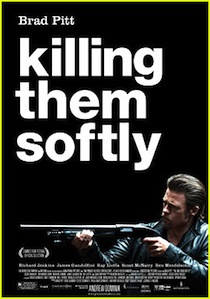 Dog Day Afternoon, Chinatown, and L.A. Confidential spend equal time building suspense and getting inside the heads of their unlucky protagonists. Even Pulp Fiction, which deconstructs the genre in the most thrilling of ways, spends lots of time allowing its gangsters to prosthelytize on all kinds of mundane subjects before doing their dirty work.
Killing Them Softly, on the other hand, favors the character side of things way more heavily. It's all the more complex and interesting for it, but calling this movie a thriller at all is a bit of a stretch.
Director Andrew Dominik (The Assassination of Jesse James by the Coward Robert Ford, Chopper) dissects the criminal psyche with loads of conversation between lowlifes, all during the 2008 economic crisis and first election of President Obama.
Essentially, Killing Them Softly is an ensemble piece, but Brad Pitt plays Jackie Cogan (who used to be the title character in the book Cogan's Trade by George V. Higgins from which the movie is adapted), a hitman-enforcer type who cleans up other people's messes. When a couple of scuzzy, heroin-addled dum-dums (Scoot McNairy and Ben Mendelsohn) knock off a mob card game, Cogan hires another professional killer (James Gandolfini) to help him take the losers out — and nothing goes as planned.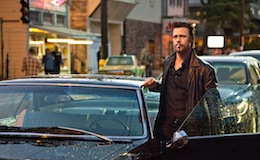 Dominik indulges his curiosity often with close-ups on nasty, sweaty men who have backed themselves into all kinds of tight corners. All the while, Dominik is seemingly ignoring whatever plot development might seem important at the time. His fetish for the banality of their lives makes up the bulk of Killing Them Softly. The dialogue is equally crude, disgusting, and revealing while the political overtones come off more and more heavy-handed as the movie progresses.
But Killing Them Softly finds its own rhythm and eventually its own way of building dread, punctuated by bravura cinematic moments that won't soon be forgotten — like a graphic slo-motion murder and a hazy, drugged conversation that switches POV and slips in and out of consciousness.
The trailer makes it seem like a fast-moving story with lots of punchlines, but it doesn't unfold that way. Dominik takes his time and is operating strictly art-house machinery. It's a bleakly funny movie too, with Pitt providing the film's final, wicked punchline in the only moment where his pulse seems to be raised above normal.