Here's my TV review with clips of The Hangover Part III and Fast & Furious 6 with Dave Hall on KCTV5′s It's Your Morning.
Check out my full print review of The Hangover Part III. Below is my full Fast & Furious 6 print review, as it appeared originally on Lawrence.com: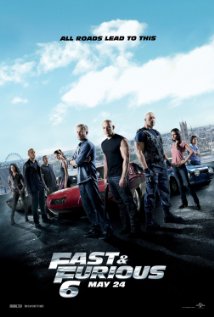 The budgets have been getting larger and the star power heavier for the long-running Fast & Furious franchise. After adding Dwayne "The Rock" Johnson two years ago with the so-dumb-it's-fun Fast Five, the movie was rewarded with a huge domestic gross of $209 million, surprising everyone in Hollywood.
For Fast & Furious 6, director Justin Lin puts the same elements that made Fast Five successful (fast cars, macho posturing, thrilling fight scenes, larger-than-life action, and his main characters' "code of honor") in the juicer and mixes it all up. Like its immediate predecessor, the sixth installment has no nutritional value, but what comfort food does?
In case you missed the first five movies (and to show you how little the plot actually matters in these films), the opening credit scene summarizes them all in the span of one blaring pop song. This time around, ex-con Vin Diesel (who can barely be bothered to open his mouth when he speaks), former cop Paul Walker (who makes underplaying an understatement), and the rest of their band of merry street-racing thieves become the good guys when they team up with their rival from the last film, DSS agent Hobbs (Johnson, who delivers the most ordinary line of dialogue as if it were a catch phrase), to stop another heist gang — one that threatens national security, of course.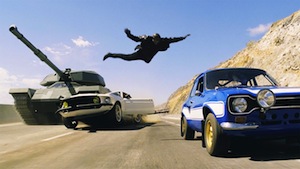 All efforts to ground the story in some kind of emotional realism are perfunctory and laughable at best. The actors alternate between heavy earnestness and jokey familiarity, but they exist mainly for the same reason as the tricked-out cars: as bodies to be put into motion. And oh how Lin puts them into motion.
Not only does Fast & Furious 6 feature car chase after car chase that consistently top the one before it (and challenges what we currently know about physics and the resilience of the human body), but the fight scenes are also exciting, visceral, and more importantly — well-choreographed and shot.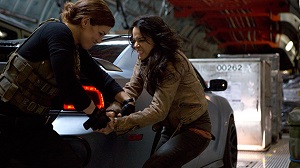 Say what you will about the ridiculousness of the story, but the screenplay does a great job of matching up specific actors (and stuntmen) with complementary skills to maximize the "fun" factor. (It doesn't hurt that mixed-martial-arts competitor-turned-actress Gina Carano has joined the franchise as Hobbs' partner, and another Fast & Furious character played by Michelle Rodriguez has been somehow resurrected.)
There is a lot of hollow talk about codes of honor (which really just amount to wanting to protect their family)  and some really corny dialogue and delivery (usually from Diesel and Johnson), but the light tone and breakneck pace of Fast & Furious 6 make these things easy to forgive. Lin has become top-flight action director, capable of making an audience alternately hold its breath and cheer in the same scene. It's nice to know he's out there breathing new life into old action franchises especially when movies like A Good Day to Die Hard show just how tired they can become.