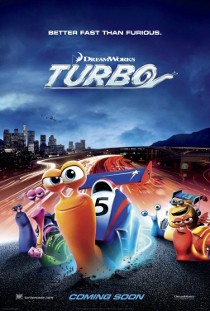 DreamWorks' Turbo is a good reminder that most animated movies fail to reach the heights or depths of live-action theatrical films. Most fall somewhere in between.
That's not to say this tale about a snail competing in the Indianapolis 500 isn't a good movie. Turbo is a cute, fun, and mostly entertaining 96-minute story about chasing impossible dreams and the complicated relationships between brothers that's likely to please — but not wow — the whole family.
Our story centers around two pairs of brothers who share quite a bit in common, even though one pair is human and the other are snails. We're introduced first to Theo (Ryan Reynolds), the dreamer snail who yearns of nothing more than being fast enough to race his idol (a charismatic human driver voiced by Bill Hader), and his far more down-to-earth brother Chet (Paul Giamatti).
A pair of accidents involving Theo get the pair banished from their garden home and provide Theo with the unbelievable speed which allows the snail to chase his dreams.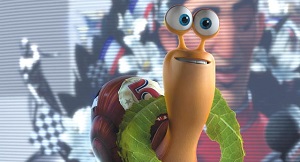 Theo and Chet find new homes with a pair of human brothers who own their own taco restaurant and food truck. Much like Theo, Tito (Michael Peña) is the wide-eyed dreamer of the pair whose previous attempts at drumming up buisness have included a monkey petting zoo and superhero costumes for both he and his far more conservative brother Angelo (Luis Guzmán).
Theo takes to his new surroundings and powers with an ease that Chet simply can't condone or share. The pair find new friends in Tito's group of snail racers (voiced by Samuel L. Jackson, Snoop Dogg, Maya Rudolph, Mike Bell, and Ben Schwartz). Mostly used for comic relief, the other snails other main purpose is to support Theo when his own brother turns his back on him.
Seeing how he can turn Theo's speed into a way to boost the profits of the the struggling Dos Bros Tacos and the small businesses of their neighbors (voiced by Michelle Rodriguez, Richard Jenkins, Ken Jeong), Tito sets out against his brother's wishes to enter Theo, now renamed Turbo, into the Indy 500.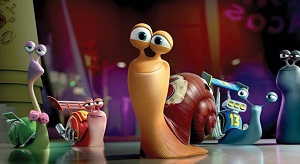 If you can get over the oddball plot of a tiny snail (who can understand but can't communicate with humans) racing against full-sized Indy cars (and somehow isn't smushed into a tiny stain in the first five seconds of the race), then the movie has some charm and a nice message about following your dreams (albeit after you've been given a super-powered advantage).
The movie's unusual soundtrack is worth mentioning, as it offers everything from Tom Jones to Pitbull to a remix of Survivor's "Eye of the Tiger." Although some of the songs work quite well to help tell the story, the wide range is at times distracting as the movie doesn't strive for a consistent sound.
Turbo is hardly racing to break new ground as we've seen animated racing films done better, and not all that long ago. It lacks the heart of the original Cars, or even the goofy spy shenanigans of its sequel. Younger audiences and racing fans are the movie's obvious target audience, while others may grow a little weary of the the antics of a racing snail.
Still, for an animated family outing Turbo provides at least a little distraction on a hot summer day.