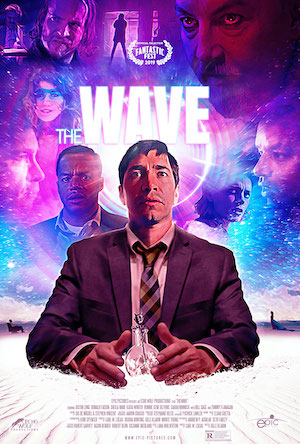 [Rating: Swiss Fist]
The Wave (out from Epic Pictures on VOD today, and screening at the Alamo Drafthouse Mainstreet on January 29), written and produced by Carl W. Lucas, is the directorial debut from Gille Klabin. It manages to answer the question, "Is it possible to enjoy a film where you care nothing for any of the characters?" The short answer is, "Kinda?"
"Justin Long (Die Hard 4.0, Accepted) and Donald Faison (Scrubs, Clueless) lead the unique modern-day parable that follows Frank (Long), an opportunistic insurance lawyer, who thinks he's in for the time of his life when he goes out on the town to celebrate an upcoming promotion with his co-worker, Jeff (Faison). But their night takes a turn for the bizarre when Frank is dosed with a hallucinogen that completely alters his perception of the world, taking him on a psychedelic quest through board meetings, nightclubs, shootouts, and alternate dimensions. As Frank ping-pongs between reality and fantasy, he finds himself on a mission to find a missing girl, himself… and his wallet."
The Wave is visually amazing. The switching back and forth between dimensions and points in time is striking. The various points where Frank starts to trip hard each have their own specific sense of madness (a boardroom presentation which turns to a vision of Hell is particularly impressive), and the viewer really does get a sense of just how profoundly affected Frank has been by this psychedelic dosing. In short, both because of the effects and the fact that the background details end up being so important, you find yourself completely unable to look away.
You're rewarded for that attention, thankfully, with plot twists and turns that are astonishing and hilarious and poignant and really impressive. There's little to no wasted time here. If something's depicted or said on-screen, it's worth paying attention to, because it's going to pop up again later in a context which will have you reevaluating previous scenes and encounters with these characters.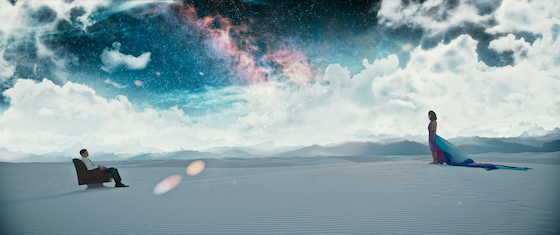 That said, however, the characters are nothing. Frank's the sort of guy who'd legitimately be a villain in any other movie, thanks to the way he goes about his job and how he interacts with his wife. His wife, Cheryl (Sarah Minnich), is a harridan – just a shrieking mess of a character, frequently heard only a scream from a cell phone. Jeff is the party-party guy, and were it not for one particularly perfectly-delivered speech when confronted by drug dealer Ritchie (Ronnie Gene Blevins), his performance would be imminently forgettable. Long as Frank manages to do a good amount with what he's given, but the character is so milquetoast for so long that his eventual manic acceptance of what's going on comes too far out of left field to feel as much fun as it potentially could have.
Oh, and then there's the character Theresa (Sheila Vand), who Frank falls for and becomes some kind of mystical pixie dream girl. Her sole purpose is to show Frank the error of his ways and allow him to reach some sort of entitled white-dude enlightenment. Sigh. Yawn.
Calling The Wave the Boondock Saints of drug movies might be overstating things a little, but it's kind of the same thing: lots of visual panache, overloaded performances, and a plot thin enough to see through. This movie looks and sounds cool, and I'm sure that if I were 20 years younger, I'd have lost my fucking mind while I was watching it.
As it is, The Wave was a hollow experience. The veneer is very pretty, and it's been shined up something wonderful, but it's a movie that is only appreciable if you watch it with no attempt to dig deep into what it's trying to say. Maybe take some drugs.