This review originally appeared in shorter form on KSNT-NBC, KTKA-ABC, and KTMJ-FOX, Kansas First News.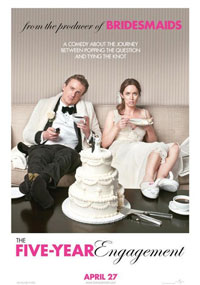 Jason Segel and director Nicholas Stoller wrote both Forgetting Sarah Marshall and The Muppets, and they're back for another out-of-nowhere big win with The Five-Year Engagement.
Segel stars as a guy who proposes to his girlfriend—played by Emily Blunt—but the marriage gets sidetracked for five years as the couple keeps waiting for the right moment.
Segel and Blunt have terrific chemistry right off the bat, and the movie is filled with very funny supporting performances from Chris Pratt, Alison Brie, Jacki Weaver, Mindy Kaling, Brian Posehn, and Kevin Hart, among others. Rhys Ifans is also spot-on and fairly low-key for what turns out to be the "villain" of the piece.
Thanks to a sincere script and a layered performance from Jason Segel, the film also believes wholeheartedly in actual romance — which I think is a concept that romantic comedies often "say" they support, but rarely have the chops to back it up. Too many times it feels like modern romcoms are just going through the motions.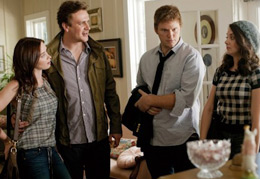 What further sets The Five-Year Engagement apart from other formulaic romantic comedies is that it takes time to let its characters breathe. The movie's a little long because of this decision, but the drama feels more real and the comedy's funnier because of it. It also approaches a level of melancholy that comedies don't often strive for or even go near.
The Five-Year Engagement treats its characters with respect and it doesn't downplay their relationship troubles. Even in the midst of some pretty raunchy humor, there is a lot of heart and it doesn't feel like someone is pulling the strings—the emotion actually feels earned.
And that's not something you can say very often in this genre.