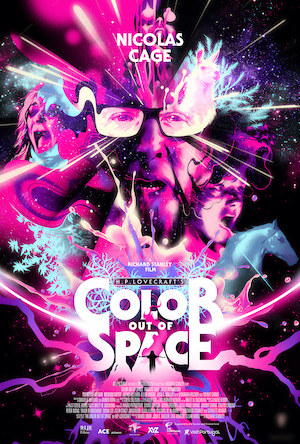 [Rating: Minor Rock Fist Down]
Early on in director Richard Stanley's H.P. Lovecraft adaptation Color Out of Space, the film shows actor Elliot Knight as Ward Phillips reading a paperback copy of Algernon Blackwood's novella, The Willows. It's a pleasant little in-joke for those familiar with Lovecraft's love for that story, which the author described as a work wherein "art and restraint in narrative reach their very highest development, and an impression of lasting poignancy is produced without a single strained passage or a single false note." Clever, yes, but that quote could easily be said to be the very antithesis of Stanley's film.
The sheer amount of expectations for director Stanley's Color Out of Space almost crush the upcoming RLJE Films feature release under their combined weight. It's the Australian director's first non-documentary feature since 1994's Brave, after Stanley's disastrous removal as director of The Island of Dr. Moreau in 1996, as documented in the astonishing documentary, Lost Soul: The Doomed Journey of Richard Stanley's Island of Dr. Moreau.
Additionally, it's the first big-deal, feature-length adaptation of a Lovecraft work in ages, as well. While there have been numerous shorts, anthologies, and smaller-budget features in recent years, the last time anyone notably tackled the author's work was the 2001 Stuart Gordon film, Dagon, and even that's pushing the limits of "big deal."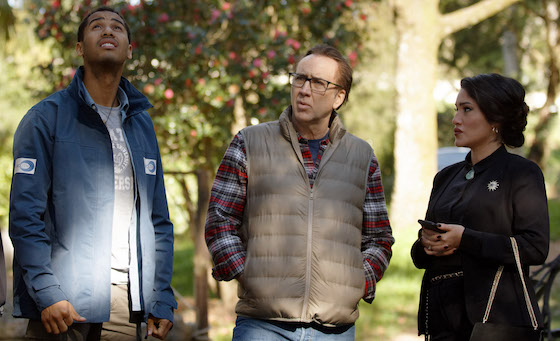 Thus, this marks the return of a notable director, tackling an author whose work has been receiving more and more notice in recent years, and so, it's near-impossible to go in without having some form of expectations, be it as a fan of Stanley, Lovecraft, or both. Being as how I'm on that "both" line, I'd like to apologize in advance for how inside-baseball this review is going to get.
"After a meteorite lands in the front yard of their farm, Nathan Gardner (Nicolas Cage) and his family find themselves battling a mutant extraterrestrial organism as it infects their minds and bodies, transforming their quiet rural life into a technicolor nightmare."
The plot is an expanded take on Lovecraft's 1927 short story, and the slug above nicely could be used to summarize either Stanley's film or Lovecraft's story. However, the new adaptation goes far beyond the basics of the author's work. Firstly, it's updated for the modern world, with Internet issues forming one aspect of conflict, caused by the Gardner family's move to the woods near the town of Arkham. That's but one of many issues which seemingly plaguing the family: scion Nathan has a bit of a drinking problem, mother Theresa (Joely Richardson) had a double mastectomy six months prior, eldest son Benny (Brendan Meyer) smokes too much weed, and daughter Lavinia (Madeleine Arthur) hates it out in the middle of nowhere.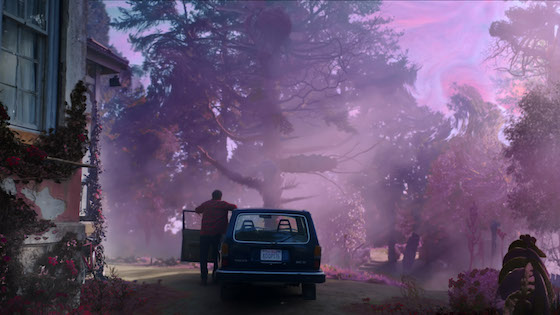 Theresa works as some sort of freelance Wall Street advisor, hence the internet issues causing stress between her and Nathan, who is raising alpacas, for some reason. The kids have chores, there's home-schooling going on, and it's all sort of a "back to nature" thing to recover from the near-loss of Theresa. Frankly, it's a lot to take in. The appeal of Lovecraft's work is that he provides a general sense of dread, and from there, your brain takes over and fills in the blanks with your own specific nightmares.
I mean, yes, Ryan Boyd posted on Twitter back in December, "wild how hp lovecraft had an entire career, just going "this monster…hoo boy i can't even describe it. you know? i will not describe it at all. just like, use your imagination," and they're not wrong at all. However, the thing is, the reason it works is because, in reading those lines, there's just enough information to let your imagination run amok. Trying to depict the vastness or utter implausibility of something requires technical abilities the likes of which are rarely seen on screen.
To that end, in Color Out of Space, we're given a lot of very red and purple highlights on things, some dodgy CGI – a mutated dragonfly, in particular, is so glossily out of place that it's distracting – and a collection of exceptional practical effects that, while very effective, unfortunately bring to mind a shadowy series of The Thing knock-offs.
The acting is almost universally over the top. Cage goes "full Cage," and while it wouldn't be out of place after the meteorite starts affecting the Gardners, the actor is that way nearly from the start, making it less a transformation, and more scenery-chewing mayhem. Richardson and Arthur's transformations are better portrayed, with young actor Julian Hilliard as Jack doing the best work, in terms of seeming to change. His work is muted, but astonishingly creepy, and most in line with Lovecraft's creeping sense of impending doom. Mayor Tooma (Q'orianka Kilcher) and weird forest-dwelling hippie Exra (Tommy Chong) are also unrelentingly played to the cheap seats.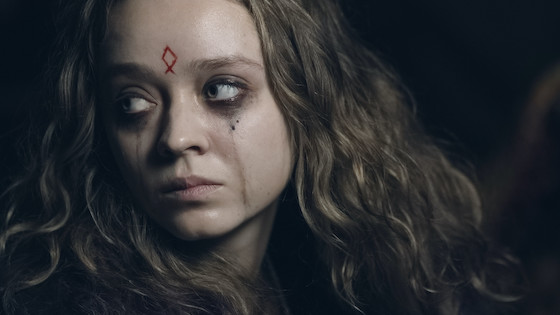 The casting of Knight as Phillips, the hydrologist through whose eyes we see the film, is welcome attack on Lovecraft's personal views on race. It's no secret that reading or consuming any product related to the author involves dealing with severely problematic views on race. That is to say, Lovecraft was unrepentantly racist, and his views frequently found their way into his writings, so Knight appearing in Color Out of Space is fantastic, as the actor is a gay person of color.
Books such as Victor LaValle's The Ballad of Black Tom and Matt Ruff's Lovecraft Country, has worked to reframe the author's work through the eyes of black protagonists in recent years. Stanley's new film ably follows in their footsteps with a nuanced portrayal from Knight, and is one of the few things about Color Out of Space which work without having to qualify it.
When the film works, it works really well, such as the performances by Knight and Hilliard, as well as the slow build to the reveal of the transformed creatures in all their sticky, practical glory. The score from Colin Stetson does a lot of heavy lifting, too, really doing the bulk of the work in contributing to the unceasing sense that things are not going well. It's absolutely unrelenting, and even more impressive than his work on Ari Aster's Hereditary. Additionally, the location adds production value, with the Gardners' home feeling as though it's ageless and well outside the normal day-to-day modern world.
Everything else, however, just left me feeling as though the movie kept coming up to the edge of what it could've been, and then stepping away when it was about to get cosmically horrific. The performances are outsized, but the story keeps throwing in aspects which distract from the terror which landed on the family's front lawn. Lavinia is shown reading a paperback edition of the Necronomicon, the famed work written by "Mad Arab" Abdul Alhazred found in so many of Lovecraft's Cthulu mythos stories, and her initial appearance in Color Out of Space's opening scene has her attempting to cast a spell. One has to appreciate Stanley attempting to connect his film to a larger Lovecraftian world, but the magickal aspects only detract from the story at hand.
When Color Out of Space commits to its basic premise – that of a family dealing with an unknown threat, and how it changes both themselves and how they relate to one another and the world and universe at large – it hits, and it hits hard. Every attempt to broaden the story, and paint things with a more general brush, come crashing down with just as much of a thud as the meteorite itself.