Patty Schemel of 90s rock band Hole has the remarkable fortune of having videotaped the hell out of her musical career. Wanting to document all the places the band traveled, she took a video camera with her and taped everything.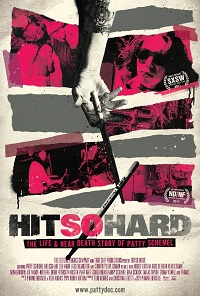 This behavior now allows for a remarkably thorough documentation of her addiction to alcohol, heroin, and other drugs.
The P. David Ebersole-directed film about her story, Hit So Hard: The Life & Near Death Story of Patty Schemel, starts at the Screenland Crossroads this Friday May 18 and is touring the world now, and it's a deeper movie than the "drummer addicted to drugs and alcohol" summary would otherwise suggest.
It's telling when a title card says, "Patty returned to Seattle after her first rehab on June 14, 1994."
Reading that, you know this will not be an easy story. The movie manages to be a cautionary story that's unflinching, yet neither exploits anyone nor preaches at the viewer. Hit So Hard is organized with Schemel's story as a through-line, but it's so much more than just her tale.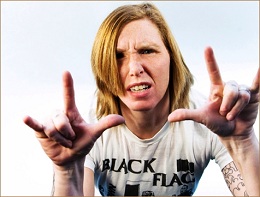 Not only does the film talk about Schemel's troubles, but the problems of those in bands around her — like her friend Kurt Cobain. It avoids eulogizing Cobain's death too much, but there are still a few awkward "where were you when he died?" moments. Still, it's a noteworthy point, especially as it overshadowed the death of Hole's bassist, Kristen Pfaff.
Hit So Hard, in addition to Schemel's videos, features astounding film of Kurt and Courtney at home with Frances Bean, live Hole footage, and interviews with a slew of people related to Schemel's story of descent and redemption.
They talk with every member of Hole (yes, even Courtney Love), as well as members of the Go-Gos, Veruca Salt, and Luscious Jackson. Even Sarah Vowell offers up her views (as "cultural critic"). These interviewees round out the film with views on music, drugs, homosexuality, and family, keeping Hit So Hard from just being a series of vignettes about Schemel's life, and allows the film to comment on a series of issues.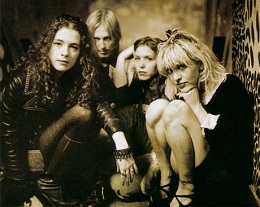 It helps that the film bounces around in terms of narrative, dropping you straight into Schemel as part of Hole, rather than building a straight linear narrative. This allows Hit So Hard to be grouped around the themes and topics it explores, rather than attacking them piecemeal.
Still, the film is primarily about how Patty Schemel went pretty far down. There are very shocking revelations regarding what she had to do to score at her lowest, but again — not exploitative. It'll involve you, draw you in, and in the end, really move you.