If you are dying to know how Han Solo made the Kessel Run in less than 12 parsecs, then you may consider the new standalone prequel Solo: A Star Wars Story required viewing. Co-written by Lawrence Kasdan (who also co-wrote The Empire Strikes Back, Return of the Jedi, and The Force Awakens), it has the feel of classic Star Wars movies but is missing the urgency of The Last Jedi.
To his credit, Kasdan knows Han Solo very well. Alden Ehrenreich is fine as the younger, cockier version of the character that is so defined by Harrison Ford in every filmgoers' mind, and all of the hoops that Kasdan has Han jump through—to get him in the cockpit of the Millenium Falcon with Chewie at his side—jive with everything that we know will come later. In fact, by the end of the film, Solo: A Star Wars Story is even dramatically satisfying. So why does it seem like it's missing some kind of a spark?
What's perhaps the most interesting aspect of the movie is seeing a Han Solo with a streak of idealism. When we meet him in Star Wars, he's a sarcastic grump who assumes everyone's out to get him, and Solo goes a long way towards getting him there. Ehrenreich's Solo flies by the seat of his pants and lucks into things, like a chance reunion with his former sweetheart Qi'ra (Emilia Clarke). He's also used to talking his way out of tight spots, such as the one he gets in with outlaws Beckett (Woody Harrelson) and Val (Thandie Newton). Han's chutzpah has carried him far, though not without his share of setbacks.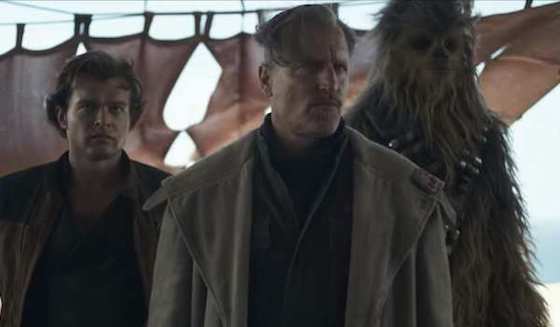 To my surprise, Harrelson is the standout of Solo, but it's partially because his character is central to the lesson Solo learns—and also because he feels familiar, like he's the sort of person Han could have ended up being. Since he's not tied to another film, Harrelson is free to make Backett his own, and he delivers the most lived-in performance in the film.
Donald Glover is a perfect Lando Calrissian, although he doesn't have much to do that Lando didn't already do in Empire, which is one of the story's faults. Kasdan falls into the same trap that the George Lucas prequels fell into, where it settles too often for filling in the blanks left by what we've learned from the classic trilogy. When Solo breaks away from that constraint, such as with Lando's co-pilot L3-37 (voiced by Phoebe Waller-Bridge), a droid with a dry sense of humor who feels more human than many of the human characters, the movie briefly catches fire.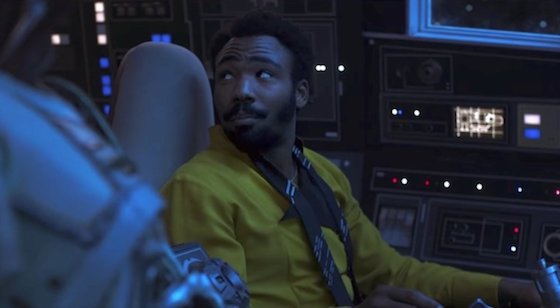 The best—and worst thing—you can say about Solo: A Star Wars Story is that it is a fun throwback. You may have noticed that I haven't mentioned the director yet. That's because Ron Howard, who took over midway through production for fired co-directors (now executive producers Phil Lord and Chris Miller, does a serviceable, admirable job of making the film seem coherent, but the real vision of the movie stems from Star Wars vet Kasdan, whose adherence to the past takes some of the wind out of Solo's sails. The movie is rarely hilarious or surprising, but it does add some depth (if very little color) to the legend of Han Solo.
If there's a sequel, it would be nice to see someone take it over who is willing to take some chances. Hell, give it to Glover and his Atlanta production team. They re-invent the 30-minute, single-camera TV show each week, turning each episode into a thrilling short film that could tackle any number of subjects with humor and subtlety. Could Lando: A Star Wars Story be next?