From the moment this movie was announced, we all knew what the Baywatch movie would be: dumb, crude, over the top schlock aimed at teenage boys and maybe whatever is left of the "fan base" (if that is the correct terminology) from the 90s TV series.
Unfortunately, whatever comedy gold there was to mine from this simple minded concept — a property ripe for lampooning — seems to have been left on the writing room floor in order to needlessly beat some serious R-rated raunchiness into an already perverse idea.
Baywatch features Dwayne Johnson as David Hasselhoff (aka Mitch Buchannon), the Lt. of an elite team of Baywatch lifeguards. When Mitch realizes there is a drug lord working his beach, the cops refuse to take him seriously even when he has evidence early on, for no other reason other than to lessen the credibility of the Baywatch squad. Not to be looked down on by anyone and damn this thing called jurisdiction, gung-ho Mitch and his team of beautiful people decide to take the law into their own hands.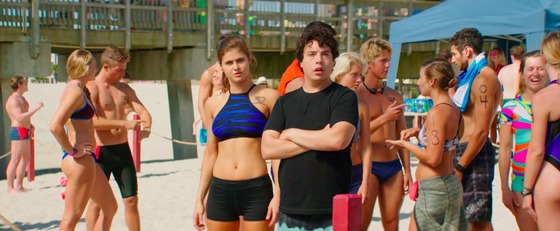 Obviously the entire concept is ridiculous. It's lifeguards acting like cops, intercut with on-the-nose sexual innuendo. I hate to draw the obvious comparison to the 21 Jump Street movies but those movies at least knew they took advantage of how silly it was. There are times when it seems like everyone is in on the joke and then scenes where it appears everyone but the actors know it's all supposed to be a good joke.
The real struggle comes when director Seth Gordon (Horrible Bosses) tries to transition from the long stretches of comic mishaps into the action oriented moments, most of which look poorly shot in front of a green screen. There are some decent action sequences, an attempted rescue while a yacht burns is okay, but the transitions are clunky and poorly executed.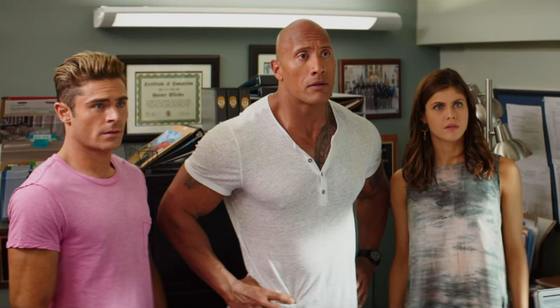 Then again, as a comedy, it seems like a total misfire as well. While the show played more subtly on the sexual innuendo — it is a show made famous for Pamela Anderson running in slow motion after all — the movie goes all in on their R-rating, delivering what amounts to 2 hours of jokes about dicks and tits and boners and masturbation. It's a shame, too, because the cast is pretty decent. Zac Efron may play the same lovable frat-boy douche in every movie, but there is some genuine chemistry with The Rock that is wasted on obvious jokes.
The rest of the cast is solid. Jon Bass stands out as the goofy newcomer to the squad who obsesses over CJ. Ah, CJ. Everyone loved Pam Anderson back in the day, I guess. Kelly Rohrbach takes over the character that everyone is sure to be talking about. She's solid and she's definitely sexy as hell, and even kinda looks like Pam A. back before all the surgeries. The real beauty is that, despite the lackluster script, she has some acting chops as well.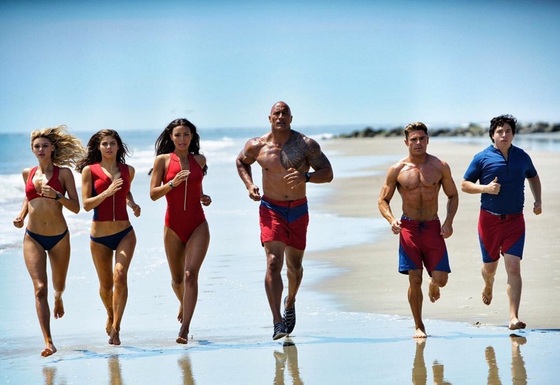 You'd think The Rock would be able to salvage this mess, and I kinda think that was the hope. But as much fun as he is, and he's good for the most part here, he feels miscast as the leader of this band of overzealous beach bods. It might have something to do with the fact that it seems like he's in the reboot/adaptation of just about everything, but he just doesn't feel right here. That being said, he's still rare bonus points for this flick.
But, like I said before, it's pushing two hours and it feels long. There are long stretches where nothing much is going on other than arguments over who is looking at whose boobs. But most of the raunchy jokes seem so blatantly obvious, it's hard to give it much credit.
Look, Baywatch has its audience and they're not going to care about how dumb this movie is. There are some fun moments but nothing real laugh-out-loud funny, and that's taking into consideration the reactions of the full theatre of moviegoers at the screening I attended. But hey, everyone looks good. That may be all that really matters here for some. The women are hot. I didn't mention Ilfenesh Hadera and Alexandra Daddario, but they all look good. The guys look like they worked extra hard on their abs and pecs. And they do that slow motion thing a lot. And I do mean A LOT. So, that's something, I guess.