Check out videos of all my movie reviews on KSNT-NBC, KTKA-ABC, and KTMJ-FOX, Kansas First News.
On Blu-ray and DVD this week are two movies from last year that take chances with their screenplays. One is a sci-fi movie starring Bruce Willis and the other is a horror flick starring Jennifer Lawrence.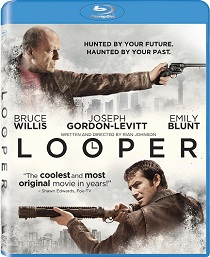 Looper (2012)
Looper, starring Joseph Gordon-Levitt and Bruce Willis, does what great science-fiction does. It takes a far-out premise like one-way time travel and makes you think about all the possibilities and problems it would cause. But Looper also engages the heart and asks a lot of personal questions as well.
If you had the opportunity, what would you ask your future self? How far would you go to save a loved one? What would you sacrifice for the greater god of humanity? Gordon-Levitt and Willis play the younger and older versions of the same character, a selfish mob hitman, who discovers these answers for himself in one of the most original movies of the year.
Here's my original review of Looper.
The Looper Blu-ray has a great audio commentary with writer/director Rian Johnson and actors Joseph Gordon-Levitt and Emily Blunt, 36 minutes of deleted scenes with optional commentary, and three making-of featurettes.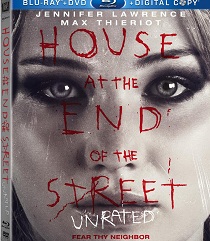 House at the End of the Street (2012)
Jennifer Lawrence doesn't fare so well though in the horror thriller House at the End of the Street, which starts out as a typical rebellious teen story with Lawrence hitting on the mysterious boy next door.
The movie isn't very scary, but it does pile a bunch of really tasteless twists on towards the end that make no sense and it almost becomes a comedy. On one hand, House at the End of the Street is a failure as a horror film, but as an exercise in desperation, it's kind of a hoot.
Extras are minimal and lame, featuring the trailer and a 10-minute making-of featurette.