This review originally appeared in shorter form on KSNT-NBC, KTKA-ABC, and KTMJ-FOX Kansas First News.
If you're looking to rent a new action movie or a romantic comedy this weekend, you might want to watch/read this first.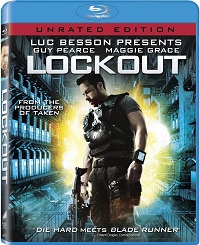 Lockout (2012)
Guy Pearce does his best Bruce Willis impression in Lockout, a silly, schlocky sci-fi action movie that rips off the premise of Escape From New York and tries way too hard to be funny.
In a futuristic prison orbiting in space, Pearce has been offered clemency if he can rescue the President's daughter from the hand of a prisoner who has taken control.
As you can imagine from that setup, the plot is beyond ridiculous, which would be easier to forgive if the dialogue was clever. It's not. The forced, faux-clever exchanges between Pearce and Maggie Grace are almost unbearable. The quote on the box says "Die Hard meets Blade Runner," but don't let that fool you. Lockout rips off  Die Hard, but has none of the natural humor or characterization, while nothing about it resembles Blade Runner whatsoever. Critics will say anything, right?
This digitally shot film has great clarity on Blu-ray, but the hi-def format also points out that the sets look like plastic, and the special effects look like they were created on a laptop. Two 10-minute featurettes don't add much value to the extra features either.
Salmon Fishing in the Yemen (2012)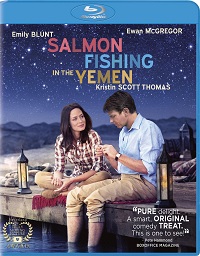 Salmon Fishing in the Yemen is a romantic comedy that's adapted from the popular Paul Torday novel and aimed at the art-house crowd, but is as mainstream and formulaic as an Ashton Kutcher/Katherine Heigl vehicle.
A rich Yemeni sheikh brings British salmon expert Ewan McGregor and consultant Emily Blunt to his desert country in hopes of transplanting the upstream-swimming fish there. I'll be damned if that crazy sheikh doesn't teach those button-up Brit to live a little and discover love …
Everything that happens from there on out is horribly predictable, and the tone varies from light and fluffy to over-the-top camp, especially with Kristin Scott Thomas as the cynical British press secretary.
Salmon Fishing in the Yemen may have a weird title, but it's about as by the books as it gets, despite the fact that its from director Lasse Hallström, who began his career with the unique coming-of-age-story My Life As A Dog.
Two short and paltry extra features aren't really even worth watching once. Note to studios: If you want to sell consumers on the Blu-ray format, offer up some decent extras and take full advantage of the disc's hi-def and high-storage capabilities!