This review originally appeared in shorter form on KSNT-NBC, KTKA-ABC, and KTMJ-FOX, Kansas First News.
Drive (2011)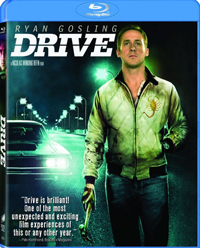 Out on DVD and Blu-ray this week is Drive, one of the best and most surprising movies of 2011. Ryan Gosling plays the Driver, a Hollywood stuntman who drives getaway cars by night and chooses his words very carefully. Even without the physical stature, Gosling's body language and quiet confidence create a character that seems to have a dark past.
When the Driver falls in love with next-door neighbor Carey Mulligan and develops a real relationship with her son, he breaks the strict code that allows him to move undetected n the underworld. Suddenly, he's got Ron Perlman and Albert Brooks on his back. These two play the most lived-in gangsters in recent memory, comedic and scary polar opposites of each other.
Drive, directed by Danish director Nicolas Winding Refn, is all style and tone. It's full of contrasting tones, like its synth-heavy 80s-inspired soundtrack and opening titles, even though its set in the present day. It's a neo-noir crime story you may feel like you've seen before, but it zigs when it should zag.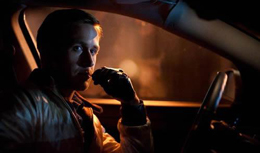 It's a slow-burn romantic fairy tale that suddenly turns dark and very violent, but director Nicholas Winding Refn is a master at developing suspense and menace, and every frame of this movie is dripping with both.
Drive is not your standard action movie fare. In fact, it's a fresh new take that's one of the most exciting movies in recent memory. Don't believe me? Check out this heart-pounding 2-minute sequence:
To Kill A Mockingbird (1962)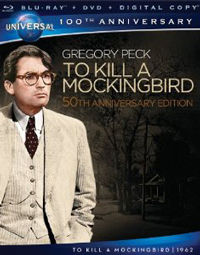 Also out this week on Blu-ray and DVD is To Kill A Mockingbird, digitally remastered and fully restored from its original 35mm film in this 50th Anniversary presentation.
Gregory Peck's portrayal of Southern lawyer and soft-spoken father Atticus Finch was recently voted the number-one greatest American movie hero of all-time by AFI, and remains an absolute icon of moral character.
The movie is a crisp adaptation of Harper Lee's Pulitzer Prize-winning novel, and still holds up as well today as it did in 1962. Rural Alabama in the 1930s is way more vivid here than it is in last year's overpraised The Help, and To Kill A Mockingbird has characters that are easier to identify with and less stereotypical as well.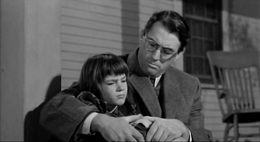 Because the story is related through young Scout and Jem, that childhood wonder and fear is never close behind. The subplot of "Boo" Radley (Robert Duvall) and the main plot of Tom Robinson's trial have themes that dovetail nicely, all made the more powerful by rick and detailed black-and-white cinematography, which has never looked better.
The package contains a Blu-ray, DVD, and a digital copy and is full of bonus features, like a feature-length documentary on the making of the film called Fearful Symmetry, interviews with the child actors as grown-up adults, interviews and and speeches from Gregory Peck, a featurette on the film's restoration process, and a commentary track with director Robert Mulligan and producer Alan Pakula.