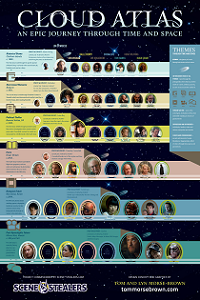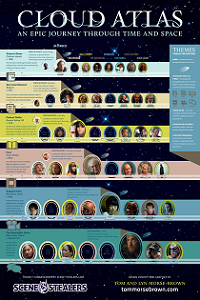 The collaboration of Andy Wachowski, Lana Wachowski, Tom Tykwer, and thousands of top-flight actors and film craftsmen produced Cloud Atlas, an adaptation of David Mitchell's novel that is among the most adventurous and awe-inspiring movies of the year. Not only are there hundreds of characters and plot threads, but they are stretched across time and space to form not one linear story, but a greater understanding of human nature.
Immediately after seeing the movie, we thought it would be a blast to try to delve into the intricate plot and theme structure of Cloud Atlas and try to map it all out. After graphic designers Tom Morse-Brown and Lyn Brown saw it, we knew we had some excited and willing collaborators. What they came up with was an infographic that clearly maps out genre, location, date, story, theme, characters, actors, archetypes, conflicts, turning points, a linking "comet" birthmark/tattoo, and actual artifacts passed down from generation to generation in the sprawling story.
It was a blast putting this together. Thanks again to Tom, Lyn, and Scene-Stealers contributor Trey Hock for making this happen.
Click here to see the full-sized version and download it or click on the Cloud Atlas infographic itself. Share away! If you are re-posting, please link back.