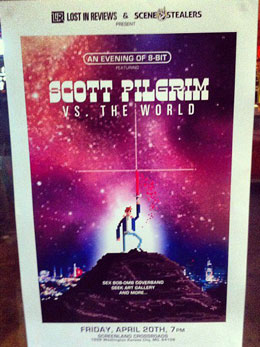 Well, that couldn't have gone much better!
Last night at the Screenland Crossroads, Scene Stealers and Lost in Reviews presented An Evening of 8-Bit Featuring Scott Pilgrim vs. The World! 
A sold-out Kansas City crowd drank plenty of Tallgrass 8-Bit Pale Ale, partook in an 8-bit videogame tournament, and checked out the awesome 8-bit/geek-inspired art gallery.
Right before the main attraction, the crowd was fired up and rocked out to a live performance of a Sex Bob-Omb cover band featuring Michelle Bacon of Deco Auto, Aaron "Barry" Swenson of Many Moods of Dad, and Cameron Hawk of The Dead Girls.
The shouted out "I love you, Sex Bob-Omb!" right before they launched into it was a particular highlight.
Here's some video of their first song, though you'll have to fast-forward a bit through my blathering to get to the good stuff.
And then, of course, the capacity crowd all watched Edgar Wright's kinetic cult classic Scott Pilgrim vs. The World in all its glory on the big screen. Seeing it for the third time, I was stuck by the way Wright uses camera movement and editing to keep the pace lightning-fast and to create a kind of neo-slapstick in the middle of some intense magical realism.
Thank you to Lost in Reviews for co-hosting, thanks to the Screenland for having us, thanks to Allied Integrated Marketing and Universal Studios for sending TONS of t-shirts, CD soundtracks, movie posters, and more so that everyone walked home with some amazing schwag–and most of all thanks to Edgar Wright for making a movie that inspires such community and for encouraging people like us to hold these events!