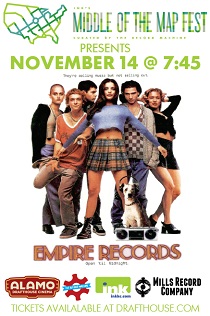 On Thursday, November 14, Middle of the Map Fest presents a 35mm screening of Empire Records at the Alamo Drafthouse Mainstreet. That, in and of itself, is pretty boss, right?
But, in an effort to make this all kinds of crazy Rex Manning Day awesome, there's even more! What, you ask? Well, check it out:
Antennas Up will be playing songs from the movie — we asked, but they won't tell us which ones. Mills Record Company will have a pop-up shop in the lobby. Sadly, they won't have any copies of the soundtrack (it's out of print), but owner Judy Mills promises "some select used, some average used $3 records, and some kick-ass new releases."
Live music, records, a legit print … If that sounds amazing to you, which it should, go grab tickets from the Alamo site —  tickets are $10.