We gave out a ton of free advance screening passes to the new Will Smith movie "Hancock," but didn't get to review it ourselves. If you were one of those people, or if you see "Hancock" anytime after it opens today, we'd like to know your opinion of it! As with our posting on "Get Smart" and "The Love Guru," we actually got another user-submitted movie review. Amanda Fletcher saw the film Monday night and immediately wrote this mini-review. Thanks, Amanda! Be sure to comment underneath and give us your thoughts on "Hancock." And, happy birthday, America!
Amanda's review: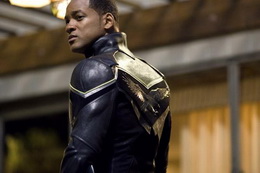 This is the summer for superheroes. You've got your Batman. You've got your Iron Man. You've got your Hulk. And now, we've got Hancock. This isn't a superhero movie in the traditional sense — there was no accompanying comic book on which the film was based. Instead, we meet Hancock (Will Smith), an unapologetic, alcoholic a-hole (but don't tell that to his face). He can fly. He's indestructible. But in fighting crime and saving lives, he recklessly destroys property, mouths off to both good guys and bad, and generally makes a bad name for himself. Everyone hates him. And he doesn't really care.
Enter Ray Embrey (played by the ever-adorable Jason Bateman), a PR guy who just wants to make a difference in the world. He teams up with Hancock to give him a whole new image. Hancock shapes up. He gives up the whiskey. He dons a rather, erm, tight superhero outfit. The first two-thirds of the movie is everything you would expect from the previews — sarcastic dialog delivered in that Will Smith style, cool special effects — but then there's this twist. It's really a cool twist, a real "ah-ha" moment. I don't want to ruin it. So I'll just say this: Hancock is about more than a drunken superhero turning his life around. It's about the origin of the superhero, the mythology and history behind it, and the consequences of being this way. This movie was not the "popcorn flick" I expected; it had way more heart. But at the same time, it didn't take itself too seriously. There were so many laugh-out-loud moments, it seemed the audience was constantly a-buzz.
All-in-all, I would definitely recommend this flick. As Eric

would say, "Two Rock Fists Up!"