The Twilight Saga: Breaking Dawn – Part 1 opened at 12:01am Friday morning — as millions of Twilight fans squealed with delight. My name is Michelle and I'm a Twilight fan. Don't hate me because I'm shallow.
I have a life. I have a college degree. I am a mother of two daughters.  I am gainfully employed in the tech industry.  And yet…I'm a card carrying Twi-Hard.  If loving The Twilight Saga is wrong, I don't want to be right. Everyone needs to enjoy this classic girl-vampire-werewolf tale.
Huffington Post's Rachel Weight is a Latin teacher who reads The New York Times. Rachel finds guilty pleasure in Twilight! According to Weight: "Even grown, intelligent, cultured women can enjoy and be passionate about a series of books written for teenage girls." Word.
I predict Twilight: Breaking Dawn – Part 1 will be the biggest film yet! Read my Top 10 Reasons Why Women Love Twilight to find out for yourself why so many educated, "normal" women –even mothers–go crazy for The Twilight Saga.
10. Twilight is a No-Calorie and Legal Addiction – Twilight addiction is not illegal, has zero calories with no long-term impact.  Except maybe your loss of dignity.  Twilight moms are ridiculed by friends, family and the media.  But overall, Twilight obsession is harmless.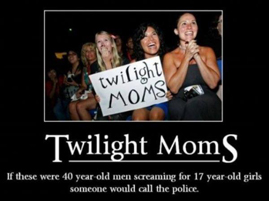 9. When Was the Last Time a Vampire and a Werewolf Fought Over You? – If you no longer get carded at liquor stores, the odds of two males competing for your love are practically non-existent. Say what you will — but having a vampire and a werewolf fight over you would be awesome.
8. Robert Pattinson is Dreamy – In The Twilight Saga series, actor Robert Pattinson plays vampire hero Edward Cullen. He's dead…he's still hot! The English accent is icing on the cake.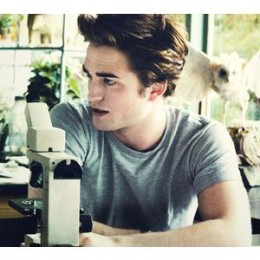 7. First Love is Romantic – Grown-ups have mortgages and responsibilities. Most women hardly have time to speak to their significant other, so it's nice to see a young couple in love. It's corny — so sue me!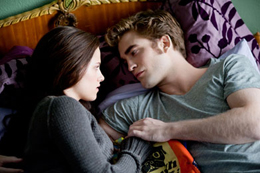 6. Main Characters Wait Until Marriage to Have Sex – In a culture that promotes push-up bras for 10-year-olds and Snooki from Jersey Shore is a role model, Bella Swan and Edward Cullen wait until after they are married to have sex. When was the last time anything in the popular media promoted promoted waiting for sex? Good luck trying to come up with a movie or TV series that promotes waiting until marriage to have sex.
5. Taylor Lautner's Six Pack – I know I could practically be his mother. I know it's wrong. But Taylor Lautner/Jacob Black has an awesome six-pack and he's not afraid to show it. For reasons completely unrelated to the story, Jacob Black is shirtless for 90% of the movies. The man could be reciting tax returns and most of the audience wouldn't care. Shallow but true.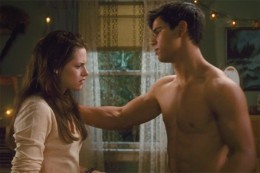 4. Bella Swan is Not a Supermodel Sex Kitten – Bella Swan is an average young woman.  She's pretty, but she's not Victoria's Secret material. I think women, especially moms, get tired of watching all the really hot chicks getting the guys. If Bella Swan can date an insanely hot (but dead) guy, there's hope for the rest of womankind.
3. Main Characters Have Dysfunctional Families – Bella and Edward put the FUN back in Dysfunctional!  Seriously. Bella's parents are divorced while Edward's family has to move every few years and a couple of Edward's siblings want to kill Bella sometimes. Every family has issues and this couple works it out.
2. Edward Cullen Has His Own Island – Money can't buy happiness but having your own island is one of the perks of being  immortal. The grind of daily life is brutal, so the idea of a boyfriend or husband with tons of cash to throw around and multiple homes all over the world doesn't sound bad.
1. Twilight is So Bad It's Good – Like a triple scoop of double-chocolate-chip ice cream, Twilight is bad for us.  The Twilight Saga does not increase brain activity or cure cancer.  The Twilight Saga is SO bad…it's GOOD.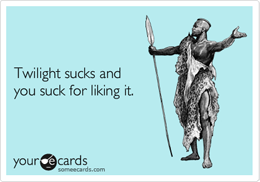 If you are a closet Twi-Hard or a proud public member of the Twilight Army of Fans, you need to check out the Scene Stealers review of Twilight: Breaking Dawn and the Top 5 Twilight Spoofs.