Though I may have been more excited about a couple of films from 2011, 2012 was a far more consistent year when it came to great filmmaking. So to wet your appetite here is the prelist list.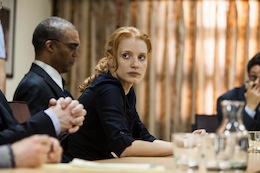 I give you The Runners Up (or 11 – 20 in no particular order).
Sound of My Voice is a compelling indie that should give hope to any young filmmakers and proves that solid story always works.
21 Jump Street is far funnier than it should have been.
Beyond the Black Rainbow shows a filmmaker's unwavering commitment to genre and it pays off beautifully.
Safety Not Guaranteed avoids the traps that most stories with an insane central character fall into, and doesn't choose quirk over character.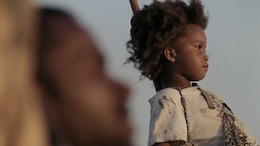 Seven Psychopaths gives a viewer crazy bloody action with wonderfully engaging characters.
Smashed shows us that you hardly need 90 minutes to tell a simple story heartbreakingly well.
Killing Them Softly gets a little preachy, and sometimes overreaches with style in spite of content, but it's bold filmmaking and worth seeing.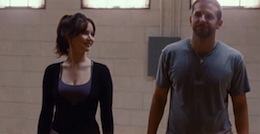 Compliance traps a few characters in a room and allows the actors to shine in disturbing brilliance.
Hello I Must Be Going is a wonderful reminder that sometimes a good story can be both honest and make you feel good.
Moonrise Kingdom allows Wes Anderson to explore some new emotional depths, and gives us perhaps his most tragically beautiful single scene ever.
I may have been able to make an even longer list, but enough of an intro, here is my Top 10 of 2012.
10. Django Unchained
It may not be his best, but what Quentin Tarantino lacks in smooth pacing and music that fits seamlessly he makes up for with an unapologetically bold approach. This film will divide critics and make many question the cultural appropriateness of the content, but that is exactly why it should exist. Why can't we make the pre Civil War era South into a revenge fantasy of the most just and ugly order? Tarantino may be pushing on just the right cultural pressure points with Django Unchained.
9. ParaNorman
Animated films often get left off my list. There are usually grittier more driven films to chose from. Laika Entertainment, the company that gave us Coraline in 2009, this year released ParaNorman. The commitment to effectively blending stop-motion animation techniques with modern computer-generated techniques, the attention to detail in the visual feel of Norman's world, and the simple story told in a new and unique way all make ParaNorman worthy of its 92 minutes.
8. The Imposter
I wanted to get a documentary into the list, because it was a strong year and there were a number of contenders. I chose The Imposter because it is impossible not to get sucked into the story, and the control that the filmmakers use to tell the story is imperceptible and complete. Each discovery that the viewer makes was laid out for them like so many breadcrumbs to the final reveal. Though director Bart Layton exerts his control over the telling of the story, he allows the viewers plenty of space to come to their own conclusions about a strange missing child from the States found years later in Europe.
7. Anna Karenina
I will be the first to admit that I have been a skeptic of director Joe Wright, but Anna Karenina is exceptionally well-executed visually reliant story-telling. Wright's use of his sets, art direction, and framing to tell his story, puts all of the power into his hands, and he does an exceptional job exploring the characters and culture in Tolstoy's classic novel.
6. Amour
If ever you have had to care for an ailing loved one, or been privy to the slow grueling ravages that end-of-life care brings, then you will understand just how close to the bone Michael Haneke's Amour cuts. It is the story of Georges and Anne. They are a lovely elderly married couple that now faces their final days together. Set entirely in the small apartment they share, Haneke shows us that our greatest loves also bind and cage us. Amour is striking in its honesty and heart.
5. Rust and Bone
I always appreciate risky filmmaking, and Jacques Audiard's film about a double amputee whale trainer and a bareknuckle boxer is about as risky as it gets. Marion Cotillard commits completely to the character of Stéphanie, and makes her raw and vulnerable, while still allowing her a huge amount of inner strength. I can guarantee you won't see another film like this one, and it is well worth your time.
4. Silver Linings Playbook
David O. Russell continues to make fascinating and complex films. A romantic comedy about two people with personality disorders should not work as well as Silver Linings Playbook does. Even the dance competition that Pat and Tiffany all but lose feels right within the context. Jennifer Lawrence continues to show off some real skills, and Robert De Niro turns in a more heartfelt supporting performance than I have seen from him in years.
3. Zero Dark Thirty
Kathryn Bigelow took a story that is fresh and politically charged and managed to make it about human beings instead of just crafting a soapbox. She shows brutal acts without condemnation or glamorization, and saves her most cinematic shot for last, once Maya's mission is over. Jessica Chastain allows herself to look raw and rough. She looks real, like a woman driven by her passion for finding this single person. Who knew this film could be so good?
2. Beasts of the Southern Wild
Beasts of the Southern Wild emerges from energetic and emotionally driven filmmaking. It is raw and dangerous, yet director Benh Zeitlin gives us a film that is both allegory and utterly real. Hushpuppy's fierce nature shows us fight and humanity in a six-year-old girl, and her father, Wink, is aggressive, ugly, and still somehow unimpeachable. Beasts of the Southern Wild is an undeniably magical film.
1. The Master
This is Paul Thomas Anderson's greatest achievement, and a stunning work of art. Like all important works, it is decisive, deliberate and will not appeal to everyone. The way Anderson uses his frame and sound, and the performances he elicits from Joaquin Phoenix, Philip Seymour Hoffman and Amy Adams are worthy of the highest praise. It is the best of 2012 because it shows deliberate vision and every aspect of this film is as near to perfection as one could hope. That said this film is a critical choice, and not a film to enter lightly. If a film about a tyrannical cult leader and an irredeemable drunkard does not appeal to you, then check out my #2 or #4 of 2012. They should treat you marginally better.