2011 was a pretty rough year for films. The summer was perhaps the worst in recent memory for big budget blowouts, but luckily there were some exceptional bright spots throughout this dark cinematic year.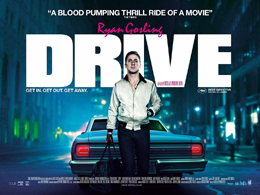 The films that comprise my top 10 are clever, funny, tragic, thought provoking and all illustrate a love for the craft of moviemaking.
Before we get to my Top 10 of 2011, I would like to mention a few films that almost made the cut. These films were great, but there are only ten spots in a top ten. Runners up include Take Shelter, Rango, Jane Eyre, and Crazy Stupid Love.
Here's Eric Melin's list of the Top 10 Movies of 2011.
Now let's get to the show. Here's my Top 10 of 2011.
10. The Descendants
Alexander Payne continues his reign as the king of the aging middle-aged men. In The Descendants, George Clooney gives one of his most compelling and vulnerable performances, and is surrounded by a stellar supporting cast, including the way-too-good Shailene Woodley, who plays his daughter. A thoroughly enjoyable film that is as funny as it is human.
9. The Artist
This film is the epitome of a critical darling. It is well-executed, pretty to look at and the performances by Jean Dujardin and Bérénice Bejo are solid and subtle. Wrap all of that into a silent film about making movies in the late twenties and we can talk for hours about the process of making films and the way motion pictures have changed throughout history. Singin' in the Rain and Sunset Boulevard may have told the same story when it was more topical, but The Artist is a lovely tip of the hat to a bygone era.
8. Midnight in Paris
As I was watching Midnight in Paris, I kept wondering why it has taken Woody Allen and Owen Wilson so long to work together. Owen Wilson's meek understated performances that carry humor in every digression melds so seamlessly with the self-deprecating, yet exuberant comedy of Woody Allen. A comedic fantasy that shows a deep love for Paris, and the longing to be in some better time in the past, Midnight in Paris was a welcomed breath of fresh air this past summer.
7. Pariah
Who in the heck is Dee Rees? Go and see Pariah, her debut feature and you'll know. This young writer/director has fashioned a story about Alike, a young African-American teen in New York, who is struggling to understand her sexuality, and also just make it graduation and beyond. Adepero Oduye as Alike had me engaged from the moment the film started. Her performance is utterly human. Though the story is specific and personal, it has a broad emotional appeal that extends far beyond race, gender, age or sexuality.
6. A Separation
This deceptively straightforward story about an Iranian couple struggling to find a way through their difficult relationship has all of the mastery one might expect from the late Krzysztof Kieslowski. Reminiscent of the personal and understated human dramas within The Decalogue, director Asghar Farhadi is relentless in his willingness to allow his characters to make understandable decisions that lead to unforgiving consequences. Easily the best foreign film I have seen this year, A Separation transcends such petty distinctions and is just one of the best films made in 2011.
5. Shame
Ugly has rarely looked so beautiful. Shame follows the story of Brandon, a New York ad man and sex addict, played with total abandon by the unstoppable Michael Fassbender. This film is emotionally brutal and does not let up. When Brandon's sister, Sissy (Carey Mulligan), shows up unexpectedly, Brandon's tenuous balance collapses completely. Mulligan turns in an amazing performance and is my personal pick for best supporting actress in 2011. As emotionally ruthless as Shame is, it is not devoid of hope. It kicks us repeatedly, but also offers a small but distinct reprieve that makes us wonder if our main characters will ever be all right.
4. Beginners
I felt like I had to get something in my top five to break up the non-stop emotional onslaught. Luckily, Mike Mills crafted Beginners, a funny and touching film about Oliver, a young middle-aged man dealing with the death of his parents, the revelation of his father's homosexuality, and Oliver's own skepticism concerning love and the longevity of relationships. Ewan McGregor and Melanie Laurent both give great performances as Oliver and Anna, but Christopher Plummer as Hal, Oliver's father, gives an unexpected and complete performance, which earned him a well-deserved nod from the KCFCC and other critics and awards groups.
3. Melancholia
Lars Von Trier may be a controversial individual. With his questionable comments at Cannes about sympathizing with the Nazis, Von Trier definitely raises some eyebrows. This provocateur can make a film though, and Melancholia is some film. Von Trier's exploration of his own depression at times seems to suck the air from the room. It is both lush and gorgeous, and stark and biting. Kirsten Dunst, as Justine, gives a performance that I honestly did not think she was capable of. Transcendent, Dunst seems to vacate the premises and leaves us with the prescient and depressed Justine, who craves the impending end of the world. Steel yourself for it, but do take the time to watch the starkly beautiful Melancholia.
2. The Tree of Life
Much has been said about The Tree of Life, which is a film that may be destined for as many 'Worst of 2011' lists as best. But to me that gets at the brilliance of Terrence Malick's latest masterpiece. It is a difficult film because it is less about telling a cohesive tight narrative and more about the emotional and spiritual journey that occurs while you're watching the film. It is two and a half hours of guided visual meditation that explores the traditional dynamics of a family in a small Texas town and the beginning and end of the universe. How you engage with this film will determine whether you love The Tree of Life or hate it.
1. Drive
I rarely get giddy while watching a film, but from the moment Drive started until its end, I had a grin on my face. I would see Nicholas Winding Refn's work of cinematic art two more times before its short theatrical run ended. There are a couple of things that make Drive the best film of 2011 for me. First is Refn's unbending commitment to the creation of a stylish and richly visual film, which is a stark contrast to the muddled garbage that is released theatrically most of the time. This is a film that shows a distinct and singular vision. The second is that Drive feels like the beginning of an exciting and fruitful director/actor partnership between Refn and Ryan Gosling, who plays the Driver. I can only hope that this is a partnership to rival Pollack and Redford or Scorsese and DeNiro, but even if it is short lived, Refn and Gosling have given us a work of art in Drive.