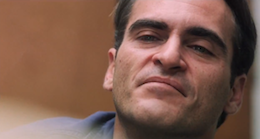 Alright, I drew the short straw, which means that after today's 10 list we can put 2012 away for good. Until the Oscars.
It was an exceptional year for film, as we saw new offerings from Paul Thomas Anderson, Wes Anderson, Quentin Tarantino, Peter Jackson, Rian Johnson and so many more. Ben Affleck proved himself. Joss Whedon went from a TV underdog to the writer/director behind one of the most successful movies of all time, and Christopher Nolan finished The Dark Knight trilogy in appropriately grand, albeit stupid fashion.
We saw some spectacular performances from Jaoquin Phoenix, Marion Cotillard, John Hawkes and Jessica Chastain. Denzel Washington reminded us why Robert Zemeckis should work with people more often. Stephen Soderbergh made a male stripper movie. 21 Jump Street turned what could have been a cheesy cash-in into a hyper-aware parody. Roger Deakins made an action movie. Daniel Day-Lewis got the voice right.
So here's to you, 2012. And here's my list of the films that moved, compelled and left a lasting impression.
10. Seven Psychopaths (Written/Directed by Martin McDonagh)
Whoever was saddled with marketing Seven Psychopaths, the latest from writer/director Martin McDonagh deserves a medal. The film, which is a hyper-meta comedy/drama/noir that deals with a fictionalized version of Hollywood is rife with industry references, writers block, alcoholism, mob bosses, cameos from Tom Waits, Harry Dean Stanton and Gabourey Sidibe, as well as the seven deranged people from the title – it doesn't exactly lend itself well to a 30-second ad spot.
But here's the thing: In McDonagh's hands it all makes sense. The single greatest accomplishment of Seven Psychopaths is that it's completely fictional and obviously so, but it somehow manages to be entertaining and engaging. The entire world is artifice, but we care about it anyway. Having an amazing ensemble doesn't hurt. Especially Sam Rockwell who does his best work since Confessions Of A Dangerous Mind.
Memorable moment: The Monk's Tale.
It's too good to spoil, but The Monk's Tale is an excellent example of how McDonagh manages to spin multiple thematic plates at the same time. It's pulpy, heartfelt and poignant. It also propels the story from a quaint narrative idea to something more substantial.
9. Looper (Written/Directed by Rian Johnson)
Rian Johnson has put unique spins on film noir (Brick) and caper films (The Brothers Bloom) already. Unsurprisingly, his take on Sci-Fi is filled with the same quiet insights and informed filmmaking we've come to expect. Looper uses the concept of time travel to break down circular nature of family and friendships. On the surface the film is a fast-moving Sci-Fi caper with some shaky logic that is anchored by outstanding performances from Joseph Gordon Levitt and Emily Blunt.
Memorable moment: A life in a montage.
After Levitt's character closes his loop, we're shown his entire life from that point until he's zapped back to the past to be disposed of. It's a phenomenal montage, that tells the entire story through pictures, serving as an economical silent film in the middle of an Indie Sci-Fi movie.
8. Lincoln (Written by Tony Kushner, Directed by Steven Spielberg)
Anyone worried that Spielberg had checked out as a director, content to make sentimental schlock for the rest of his days was quickly silenced (for now at least) by Lincoln, a poignant film that goes beyond mere biography. Much has been made about Daniel Day Lewis' transformation into the titular president, but Lincoln is a fantastic film from top to bottom. Kushner's script is incredibly economical, finding ample time for Mary Todd Lincoln, the Civil War and the political machinations that took place behind the scenes.
Memorable moment: The one about Ethan Allen.
Day-Lewis always throws himself into characters, but when he tells an anecdote about Ethan Allen, he disappears into the character completely.
7. Amour (Written/Directed by Michael Haneke)
Amour is a simple story told beautifully without any unnecessary sentiment. Haneke, who wrote the film after losing someone close to him in a similar fashion, deftly focuses on the details of the Georges and Anna's situation, the size of their small apartment, the wavering concern of their daughter, and the understanding and duty that comes with a lifelong partner. The film contains more truth than most people would like to admit to, but if you've ever been a party to an elderly person during their twilight years, it hits remarkably close to home.
Memorable moment: The look.
Some films are memorable for great set pieces, some for their cinematography some for their soundtracks, others because of a well or poorly placed twist. For Amour, the emotional punch comes from a look exchanged between Georges and Anna at their small kitchen table. And while that doesn't sound like much here, in the film it's upending.
6. Killing Them Softly (Written/Directed by Andrew Dominik)
It may have tanked at the box office, but Killing Them Softly was another fantastic collaboration between Dominik and Brad Pitt. The duo last worked together in another under appreciated gem, The Assassination Of Jesse James By The Coward Robert Ford. And like that film, Killing Them Softly is an allegory for a facet of American life. It's a solid crime film in its own right with fantastic performances from Scoot McNairy and Richard Jenkins. It lacks the canned twists and ratcheted suspense of a movie like The Departed, but it doubles-down on intensity, especially during the robbery that opens the film.
Memorable moment: The robbery and the final word (tie). A toss-up between the robbery that opens the film and Pitt's speech, which closes it. The robbery is a master class in building suspense without dramatic camera angles or kitschy edits. The speech cements the film's allegory and Dominik's indictment on a system that rewards big-time crooks while punishing the little guys in excess.
5. Django Unchained (Written/Directed by Quentin Tarantino)
Tarantino's blood-soaked revenge rampage through the Antebellum South may not have been his strongest movie in his catalog, but it's still more daring and original than most of the films released this year. It addresses slavery with the kind of casual cruelty that is almost more disturbing than some of the visceral horrors enacted on the slaves themselves. As an anachronistic piece of pastiche art, his motivations are far-flung and plentiful, touching on Spaghetti Westerns, Blaxploitation, modern music, and enough nods both subtle and overt to other westerns, you need a notepad to count them. But at the end of all of the references and reflections are well drawn characters, both good and evil, and a world that seems fully formed and informed by Tarantino's discerning taste. Jamie Foxx is wonderfully understated, but not simple. Christoph Waltz is a joy. And Samuel L. Jackson is vile on an almost Shakespearean level.
Memorable moment: "I Got a Name."
Tarantino has always had a great ear for music in his films, and one of his standout musical pairings in Django Unchained comes during a montage where we see Django enjoy his freedom, become friends and partners with Dr. King Shultz and get the hang of the bounty huntin' business — all set to Jim Croce's "I Got A Name." It's a poignant song choice, but avoids being schmaltzy thanks to the song's placement and the footage used during the montage.
4. Beasts Of The Southern Wild (Written by Lucy Alibar and Benh Zeitlin, Directed by Benh Zeitlin)
Beasts Of The Southern Wild is wondrous and wonderful. It creates a fantasy world out of the Bathtub, a decaying southern Delta community and places the storytelling entirely on the perspective of young Quvenzhané Wallis, which gives even the smallest detail a sense of naive awe. Wallis' is so natural as Hushpuppy that the entire film and premise are easier to believe simply by proxy. Of course, it doesn't hurt that it's visually astounding, full of ornate shot compositions that are a joy to behold.
Memorable moment: Fireworks, fireworks, fireworks.
As a standalone scene, the fireworks party in the Bathtub does an excellent job of summarizing the movie as a whole. Zeitlin's camera is low and always from the perspective of Hushpuppy. Yet like the young protagonist, it is always active and curious, flitting like a hummingbird from one place and one set of people to the next. Meanwhile, a voiceover delivered by Hushpuppy explains the inevitability of their lifestyle – and that she and her father are going to stay there anyway.
3. Silver Linings Playbook (Written/Directed By David O. Russell)
On paper, a romantic comedy that stars Bradley Cooper and Jennifer Lawrence has no business being ranked above Steven Spielberg, Quentin Tarantino and pretty much anyone else on this list. In practice, and in the hands of writer/director David O. Russell, Silver Linings Playbook manages to be something truly special. It's one part earnest story of a couple trying to work though their own baggage. It's one part a subversion of screwball comedies from the 1930s. It's one part parody of what passes as a romantic comedy today. But in total, it's a heartfelt story that manages to make you care about the two leads, their families and the outside hope that they have a shot at happiness.
Memorable moment: The dance.
The dance Cooper and Lawrence perform at the film's climax is both hilarious and heartwarming. As the two underdogs end up dancing more for themselves than for the competition. It's a well earned sweetness punctuated by some genuinely hilarious reactions from the film's ensemble.
2. The Master (Written/Directed by Paul Thomas Anderson)
You can't have a top 10 list of 2012 films without this movie appearing on it somewhere. I mean you can, but you'd be wrong.
The Master is Anderson at his most capable and gifted. Any doubt that may have lingered over his talent as a singular creative force after There Will Be Blood is answered definitively here, with a story about love, religion, post-war wandering and exploitation. Of course, it doesn't hurt that the film is held together by Joaquin Phoenix's best performance of his career as the mysterious and troubled Freddie Quell or Philip Seymour Hoffman's turn as the equally fascinating religious leader/swindler Lancaster Dodd. The Master is visually and narratively dense, but the result is a film so rich that additional considerations are unearthed on each repeat viewing. From top to bottom, it is mesmerizing.
Memorable moment: First reading.
In a scene that demonstrates both actors at the peak of their power, the first reading, in which Dodd asks Quell a serious of rapid-fire questions that Quell must answer without blinking, quickly lays bare the issues of the troubled subject and Dodd's method of exploiting the raw emotions he has uncovered.
1. Zero Dark Thirty (Written by Mark Boal, Directed by Kathryn Bigelow)
Bigelow and Boal's return to military genre they made their initial splash is a compelling and rich film that begins with the largest act of terrorism on U.S. soil and ends with the raid on Abbottabad, Pakistan. What happens in between is a frank and exhaustive look at the War on Terror, what it's cost and what it means. Argo was the easier and more traditional thriller and has gained wider approval. Zero Dark Thirty treats its subject matter with even-handed seriousness and ends not with a victory, but a cathartic realization of, "Now what?" It asks more questions than it answers and it never insults the audience's intelligence. The result is powerful, powerful filmmaking.
Memorable moment: The raid.
Even though we know how the raid plays out, the flight over the mountains into Pakistan and the raid of Osama bin Laden's compound in Abbottabad is so masterfully done that its nearly impossible to not be on the edge of your seat.