Eight movies and 10 years ago the enormously popular film series about the boy wizard from J.K. Rowling began. The quality of the "Harry Potter" movie adaptations has varied wildly over the years, and one of my major complaints is that as the books have progressed, so have their page counts. This meant more and more things had to be left out of the movies so the filmmakers could turn in movies that weren't egregiously long. As a moviegoer who hasn't read any of the novels, I'll be honest: It's been kind of alienating. Characters have done inexplicable things and plot points seem to happen for no other reason than, well—they have to. Because that's what the book says.
On the other hand, there have been two that stick out as emotional and exciting experiences on their own. what follows is my list (admittedly, a cheat on the numbers) for Top 10 Tuesday this week–the Top 8 Harry Potter Movies. If you have a list you'd like to contribute to the site, email me at eric@scene-stealers.com.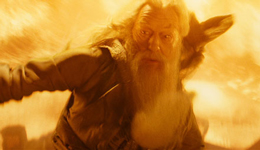 8. Harry Potter and the Half-Blood Prince (2009)
Director David Yates' second "Potter" film has some impressively atmospheric cinematography that is sacrificed at the hands of a bleary-eyed screenplay by "Potter" veteran Steve Kloves. More than any other film in the series, it's like a rough sketch that the filmmakers are hoping Potter fans will fill in with memories from the novel. Two budding romances—between Harry (Daniel Radcliffe) and Ginny Weasley (Bonnie Wright) and also between Hermione (Emma Watson) and Ron (Rupert Grint)—are badly mishandled. The relationships are vague and forced. The importance of the "half-blood prince" textbook is barely touched on. The supposedly questionable loyalty of Snape (Alan Rickman) is obvious from a maddening amount of foreshadowing. (I really felt sorry, however, for Yates in the newest film when he was forced to explain in a flashback what we had already figured out two movies ago.) Many of the film's "mysteries" don't work because their central conceit is that we aren't supposed to be sure what's really happening. Yet each one of these plot points are robbed of their inherent drama because they are all too obvious. The final showdown with Harry and Dumbledore (Michael Gambon) is unforgivably bungled, as Harry's courage is held in check in the most contrived way possible.
7. Harry Potter and the Goblet of Fire (2006)
Despite excising a major subplot, this film still bites off more than it can handle. It continually strands its three young leads in perpetual states of teen angst with little believable resolution. There is so much ground to cover in one event-filled school year that it feels incomplete, as if the actors knew they were allowed only one quick scene every half an hour to squeeze in all the details that only disciples of the books will pick up on. Everyone this time out assumes Harry's ego is getting the best of him, including his best friend Ron. This is the first of many moments where the characters turn on a dime because the dense plot must continue forward. Director Mike Newell skims too quickly over a great opportunity to showcase Harry, Ron, and Hermione's teen anxiety during the Yule Ball. Where TV's "Buffy the Vampire Slayer" had the time and ingenuity to elevate teenage insecurity into actually encapsulating the end of the world, "Goblet of Fire" throws in a couple sullen faces and lightning-fast character turnarounds that don't make sense. Newell ends up playing tag with his three leads, as they each trade off exhibiting one forced change after another. I empathize with the difficulty of trimming such a huge book, but fewer garnishes could have brought more focus. "Goblet of Fire" also does the unforgivable for any fantasy movie, telegraphing the twist ending so far ahead that when it inevitably arrives exactly how you had expected, you just want the movie to finally end.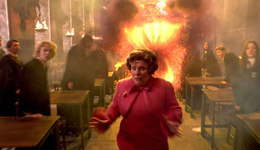 6. Harry Potter and the Order of the Phoenix (2007)
The politically-motivated Ministry of Magic and virtually everyone in the movie refuses to believe Harry when he tells them the vicious killer of his parents has returned. Nevermind Harry's track record of successes or the unique heritage he possesses. It's an annoying device to have him trying to convince people of what the audience already knows to be true throughout the entire film. We know there's something else at play, and it's a tedious wait with little payoff when Dumbledore's reasoning for leaving Harry out in the cold is finally revealed. It also hinges too much on an annoying "boy who cried wolf" device that stunts its drama. Dolores Umbridge, however, (played by a catty Imelda Staunton) steals the show. She's all fake courtesy and curt attitude—a smiling sadist. Like the best fascist leaders, she has an unwavering moral superiority that gets her through the "tough decisions" she must make while running a tight ship. Staunton makes this fiendishness very funny, eliciting laughs in the most unlikely of moments. As Sirius Black, Gary Oldman is the biggest disappointment, especially compared to what we've seen from him in previous films. His warmth towards Harry is obvious, but he gets little opportunity to expand his character beyond winking a lot to show his Godson he'll always be on his side.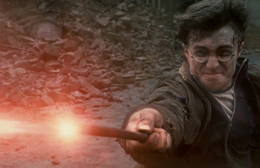 5. Harry Potter and the Deathly Hallows Part 2 (2011)
It's weird that Yates and crew gave Ron, Hermione, and Harry so much time to develop and deepen in "Part 1," because for the conclusion of the series, it's back to business as usual, cramming all the major elements of the plot into one movie. It feels very episodic in nature, and some of the episodes (like Harry's return to Hogwarts) work quite well. Others (like Harry's conversation with an important figure from his past)—well, not so much. If the similarities to "Star Wars" and "Lord of the Rings" were present before, they're even more obvious now, and Yates bungles some moments of built-in hugeness with very ordinary staging and a lack of dramatic weight. The world and the myth-making elements are all there, but it just isn't utilized as effectively as the movies that have influenced it. And, yes, unfortunately, the movie comes down to a whole lot more pointing of those infernal wands; what may be the least cinematic showdown ever.  All is not lost, but it's just a frustrating way to end the series—a return to the tepid and spotty results of movie numbers four, five, and six. Even the film's final moments lack the weight they needed.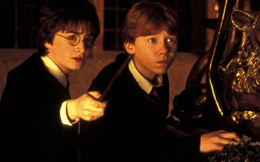 4. Harry Potter and the Chamber of Secrets (2002)
A little bit scarier than the first installment, "Chamber of Secrets" is also a bit long. But the art direction and special effects again are top notch, and since the extensive background info was already set up in the first film, this one was able to concentrate more on the mystery at hand—which actually works most of the time. Kenneth Branagh is a very funny surprise as the publicity-hungry wizard, and the late Richard Harris (so missed in later movies) was excellent again— a real bond was forming there between he and Radcliffe. The themes in these books and movies are so universal and simple, yet wrapped up in this hugely creative imaginary world. That's what helped to make the first two successful. "Chamber of Secrets" had a couple head-scratching scenes and dragged a bit in the middle (just like the first one did), but overall, it was fairly solid.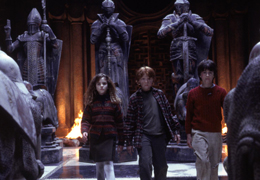 3. Harry Potter and the Sorcerer's Stone (2001)
Do you remember the first time you saw Hogwarts School of Witchcraft and Wizardry portrayed on film? What an exciting place it was, filled with all sorts of detail—like paintings populated by actual people! The special effects were inherent to the storytelling. The introduction to the fully formed, detailed world of wizards and muggles itself was a lot to take in, and first films in a series always benefit from portraying that world (look at "LOTR: Fellowship").  Harry's backstory was intriguing and special: The orphan who is treated like crap finds out that he's special and a whole new world opens up to him. The first Potter movie had the advantage of being just that—the first Potter movie. Before things got oppressive and heavy, there was just the right balance of danger and fun. Oh the days when the franchise was so young and full of promise …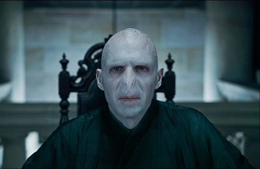 2. Harry Potter and the Deathly Hallows Part 1 (2010)
The decision to split "Deathly Hallows" into two movies couldn't have paid off more. Director Yates has the time to spend with Harry, Ron, and Hermione that he hadn't had up to this point and the movie is 100 percent better for it. The characters have time to breathe—or in the specific case of this movie—they have a lot of time to reflect on the dire nature of their situation and how strong their friendship is. This is the first to be freed completely—finally—from the confines of Hogwarts. Because the trio is way outside of that safety net, it's also scariest movie yet in the series. Characters make life-altering decisions, some lose their lives, and there are shades of the Third Reich as the Ministry of Magic starts rounding up those who aren't purebloods. "Harry Potter and the Deathly Hallows: Part 1" is the second-best in the series next to "The Prisoner of Azkaban," even though it doesn't really have an ending.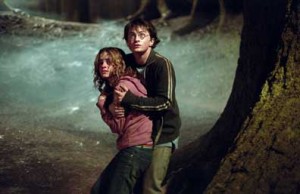 1. Harry Potter and the Prisoner of Azkaban (2004)
Director Alfonso Cuaron may not have followed the book, but he easily created the most emotionally true and stirring tale from a series that lost steam steadily after this go-round (with the exception of "Deathly Hallows Part 1."). It was the first movie to go really dark, reflecting the teenagers' growing pains, and Harry's growing unease with his past. This movie has all the heart that many of the other movies want to have and the visual style to transcend the series and stand alone as a great metaphor for teen angst. The final scene where Harry must realize his own potential in a very adult way (against terrifying cloaked Dementors) packs more of an emotional wallop than any that has come since. Considering all the supposedly dramatic things that happened in the five movies since then, that statement is a firm scolding to the directors that followed Cuaron. Maybe the three films that directly followed should have been split up into two movies, because there were plenty of subplots and side adventures that could have filled up their running times and given the characters enough time to register the big changes they were going through. Now that the series is over, I can safely say that "Azkaban" is the only Potter movie that works on its own.