This weekend, J.J. Abrams channels his inner Steven Spielberg (who actually produced the film) in "Super 8." The film is equal parts "E.T." and "Close Encounters of the Third Kind," and it takes place in 1979. It revolves around a group of young kids who discover something extraordinary while filming a Super 8mm movie. We haven't seen a movie like this in quite awhile, and this mix of the coming-of-age tenets and sci-fi/adventure/mystery elements got me thinking about similar movies from the 1980s. Some straddle more of the sci-fi and others are scarier, like "Super 8." Rather than do 10, we'll just keep the theme going. Here is the Top 8 1980s Kid-Centric Adventure Movies.
If you have a Top 10 you'd like to contribute, email me at eric@scene-stealers.com.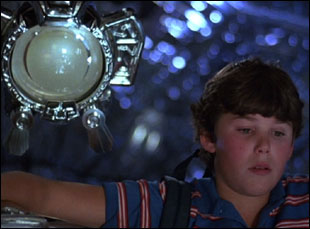 8. Flight of the Navigator (1986)
This one is still fresh in my mind, having just included it on my First Contact /UFO Top 10 list, so I thought I'd start off with it. Obviously I mentioned "E.T." in the introduction and you all know about that one, so I'm leaving it off this list. "Flight of the Navigator" is similar, even if it starts differently. It features a 12-year old boy (Joey Cramer, although not the one from Aerosmith) who is abducted by aliens in 1978, but awakens to find its 1986. He then has the ("E.T."-like ) adventure of a lifetime trying to help a cute little robot named Max (voiced by Paul Reubens) get back to its home planet. It's got some pretty sweet CGI for its time, and is really kind of strange, especially for a Disney movie.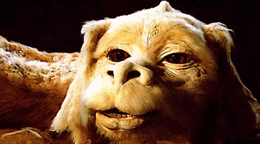 7. The NeverEnding Story (1984)
One of the qualifications for being on this list is that the main character has to be a kid and has to be living in contemporary times. Since German director Wolfgang Peterson's "The NeverEnding Story" begins with a quiet boy who loves to read and then goes into the story he's reading, I've included it. (At the same time, I excised "The Princess Bride" because once the storybook begins, we are no longer following a child.) The boy in the creepy and awkward "NeverEnding Story" ends up riding around on this bizarre talking cat-dragon beast named Falcor in the land of Fantasia, and by the end is tormenting the bullies who chased him at school. It's also kind of a cultural touchstone now—thanks to the ever-present CGI, they don't make 'em like this anymore!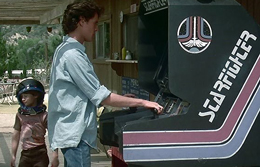 6. The Last Starfighter (1984)
A trailer-park teenager (Lance Guest) spends all his time playing a videogame called Starfighter and is all of a sudden whisked into every kid's fantasy—he becomes an actual starship pilot in a far away galaxy. You see, the arcade game was a test designed to find someone with "the gift" and now (Robert Preston from "The Music Man" tells him) he must defend the galaxy against the Ko-Dan Armada. Thank God he had the expertise and tenacity to use his gunstar's secret weapon, the Death Blossom! Sadly, the real "Last Starfighter" arcade game promised in the film's credits from Atari was never to be, as the company's VP thought it would be too expensive. (Good thing someone created a freeware version.)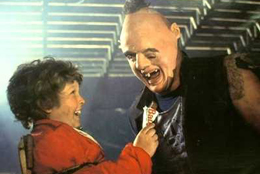 5. The Goonies (1985)
I'm going to get a lot of crap for this not being higher on the list, but I never saw this one as a kid, so my attachment to it is nil. In other words, The Goonies are not good enough for me, despite the fact that Spielberg produced this nerdy-kid adventure and wrote the original story it was based on. Richard Donner directed it, and Sean Astin, Corey Feldman, and Josh Brolin are just three of the kids who star in it and also went on to do other recognizable things. As the poor kids (whose homes are getting foreclosed on soon) look for the treasure of a pirate named One-Eyed Willie, the fat one who everyone calls Chunk (Jeff Cohen) run across another personality that would haunt kids' dreams forever—a deformed freak kept in a cave beneath a restaurant who is called Sloth (played by former Oakland Raider defensive lineman John Matuszak). The 80s were a different time, man. I'm pretty sure nobody would try to get away with something like that these days.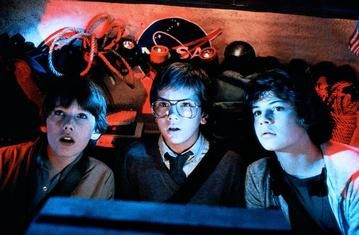 4. Explorers (1985)
Joe Dante, another Spielberg associate, was hot off the success of "Gremlins" when he directed this tale of three young boys who create a homemade spacecraft and dream of the ultimate escape. Th joy of the film is taking that premise seriously. This was Ethan Hawke and River Phoenix's first movie and the first half follows the kids' adventure template as they are contacted by aliens and build their ship, while the second part throws you for a loop and changes the tone of the movie quite drastically. What the friends find in space is actually—ahem—not what they expected. ("Super 8" throws you for a loop too, but it's because it turns out to be everything you already expected.)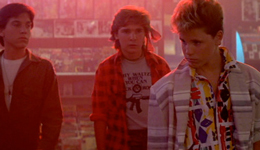 3. The Lost Boys (1987)
Believe it or not, the PG-13 "Super 8" has some pretty violent horror elements too, and some of it is pretty scary, so this entry fits in snugly on any list that it inspired, even if it was rated R. Joel Schumacher's "The Lost Boys" was essentially a two-story movie. One was about teenage Jason Patric and the bad crowd he fell in with, while the other half was about his younger brother Corey Haim and his annoying pal Corey Feldman, who reads too many horror comics and calls himself a vampire hunter. Of course, there are vampires in their new town, and they are headed up by the sexy/dangerous Kiefer Sutherland (Do we have him to blame for "Twilight"?). As silly as it all is (there is a strong level of camp humor to the whole thing), the discovery phase of the movie is pretty tension-filled and the coming of age themes are very strong.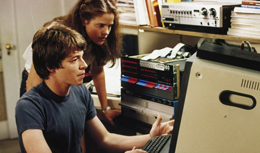 2. WarGames (1983)
It may actually be more of a thriller, but "WarGames," starring Matthew Broderick as a young hacker who mistakenly almost launches World War III, has elements of fantasy, sci-fi, and adventure too. It's all about taking the premise seriously, and boy does this movie ever do that. I remember being scared out of my mind during the second half of "WarGames." When Broderick elevates what he thinks is a game of Global Thermonuclear War to a reality, the stakes are high and all our Cold War fears are realized. Seeing the rising action through young Broderick's POV makes the film even more thrilling. What's weird is that the movie was pretty dead-on about the role computers would play in national security. Unfortunately, all of the "hacker thriller" copycats since "WarGames" have been really terrible.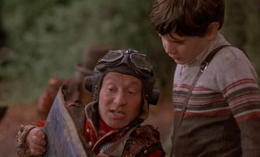 1. Time Bandits (1981)
This is a fantastic, original, campy, fun, and scary kids' adventure film and it was written by Monty Python's Terry Gilliam and Michael Palin and directed by Gilliam. An 11-year-old boy's bedroom wall suddenly becomes a portal through time and he stumbles into other dimensions with a band of nutty dwarves. They have stolen a map of holes in the space-time continuum and are gathering up as much treasure as they can from each era they land in. Not only does the movie give the boy (Craig Warnock) a chance to come into his own, but it also contains some really original old-school special effects and several memorable set pieces. More than any other film on this lit, it evokes a more innocent time (like they all do) but with a little malevolent, anti-authoritative sentiment thrown in for good measure. With appearances from John Cleese, Sean Connery, Ian Holm, and Palin, it's also the funniest film on the list — hands down.