This list comes to us from Sean O'Connell, a New York City-based writer who has also contributed Top 10 Worst Movie Husbands, Top 10 Movie Rain Scenes and  Top 10 Movie Brothers to Scene-Stealers. Now he's got a great list of awful movie neighbors for us. If you have a Top 10 you'd like to contribute, email me at eric@scene-stealers.com. Here's Sean:
I would have to say I probably live on the greatest block ever. It has the ultimate small town feel to it, and what makes this possible is great neighbors. The neighbors I have are amazing because you can borrow a hammer from them and they can borrow a cup of milk from you. Every morning when you wake up there is a smiling face to great you as you head off to work and summers are filled with backyard BBQs. Unfortunately though for every two great neighbors you have, there are always the bad ones that pop up. In my case, they live across the street. Every morning the screaming and yelling wakes me up like an alarm clock, their dog craps in my yard, and they steal my kid's toys from the front of my house when I am not looking. The police make more visits to their house than the mailman does. Needless to say, they drive me crazy and I always complain to my aunt (who also lives on the same block) about it all the time. She said to me the other day, "Sean, aren't there a lot of bad neighbors portrayed in the movies?" This got me thinking … Yes. there have been a fair share of bad neighbors over the years on the silver screen. I have to offer my apologies to Ben Tuthill, the neighbor from "Poltergeist," who just missed the cut. Why wouldn't he just let the Freelings watch the football game? Thank you to my Aunt Denise and my annoying neighbors for giving me the inspiration to write the Top 10 Worst Movie Neighbors of all time.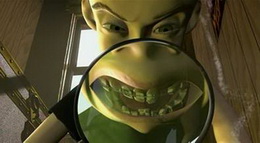 10. Sid Phillips – Toy Story (1995)
Being a bad neighbor doesn't just apply to those who are annoying to humans. The villain in this Pixar classic is a 10-year-old boy Sid (Eric Von Detton). While he never seems to bother Andy or his family at any point, he does terrorize toys. This is something that Woody (Tom Hanks) is constantly vigilant against. All of Andy's toys are aware of this vicious neighbor who was kicked out of summer camp, as Rex tells Buzz (Tim Allen) "He tortures toys just for fun!" It seems that a dog accompanies most bad neighbors, and the furry pest in this case is Scud. He is known to eat toys on command from his leader. The whole second half of the movie deals with heroes Woody and Buzz trying to escape from Sid's house of horrors. Sid gets his in the end as the toys come to life in his backyard moments before he launches Buzz into space on a rocket. I often wondered what happened to Sid after that, I mean that kid had to be in therapy for years. I'm still creeped out by Woody saying "We toys can see EVERYTHING!, so play nice!"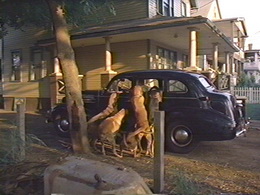 9. The Bumpuses – A Christmas Story (1983)
Like I wrote in the previous entry, bad neighbors usually come with dogs, and nothing is truer of the Parkers' hillbilly neighbors the Bumpuses. They actually owned 785 smelly hound dogs that apparently ignored every other human being on earth other than Mr. Parker (Darren McGavin). They attack the poor man every day when he comes home from work. Where are these damn hillbillies anyway? Do they really not care that their awful dogs are physically assaulting another person? The worst comes on Christmas morning as the dogs come crashing in at just the mere smell of turkey. So basically you can't have a decent meal with your family if you live next door to these fools because their dogs will literally crash the party. The only good thing that came out of this disaster was that the Parkers were introduced to Chinese turkey. I really have to give Mr. Parker credit on the way he dealt with his neighbors. He never confronted them or called the cops. He just yelled, "Son of bitches! Bumpuses!" and close the door on one of the dog's ears. If those dogs had attacked me, destroyed my house and the Bumpuses made no attempt to fix it, well I would have grabbed Ralphie's Red Rider BB gun and started picking off the smelly hounds one by one.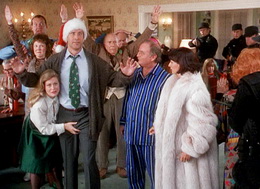 8. The Griswolds – National Lampoon's Christmas Vacation (1989)
The third entry on the list, and second Christmas movie, was a hard one for me to put down. Mainly because I love the Griswolds and they may be one of my favorite movie families of all time. I just asked myself one question to prove a point to myself: Would I want to live next to them? The answer was no. Clark Griswold (Chevy Chase) is so obsessed with the holidays that he puts just about every Christmas light in the state of Illinois on his house. When he has his grand unveiling he blinds his yuppie neighbors, Todd and Margo Chester (Nicholas Guest and Julia Louis-Dreyfus). Then the Griswolds invite all their extended family members over for the holiday, Cousin Eddie (Randy Quaid) and his Winnebago full of trashy family members and Snots the Dog tag along. So the Chesters are forced to see Cousin Eddie empty his toilet into the sewer system. I know we only see Clark viewing, but I am sure they saw it as well. Would you like to wake up to that sight? The Chesters house is also destroyed when Clark cuts down his Christmas tree, and he shoots icicles from his gutters into their living room window. Then the ultimate catastrophe happens to the Chesters after Christmas is interrupted by a crazed squirrel who is chased by Snots the dog. The squirrel and Snots attack poor Margo, who was finally going to stand up to the Griswolds.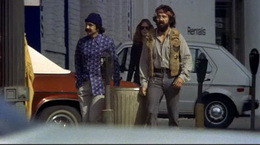 7. Cheech & Chong – Cheech & Chong's Next Movie (1980)
I have to start by saying that Mr. Neatnik (Sy Kramer) should have realized that living next to Cheech (Cheech Marin) and Chong (Thomas Chong) was going to be a lost cause. The state of the house rivaled the the "Animal House" Delta House. It was covered with dirt and had boarded up windows. As if that wasn't bad enough, Chong decides that he needs to play his guitar so loud that it actually creates noise pollution and breaks the windows of Mr. Neatnik's house as he tries to give piano lessons. Then Cheech and Chong decide to borrow Mr. Neatnik's car without asking, of course. When they run out of gas they fill it up with gasoline from a trashcan. This leads to the blowing up of Mr. Neatnik's car. Cheech and Chong do what any bad neighbor would do, return the car as if nothing happened. When Mr. Neatnik does stand up for himself he just gets ignored for his efforts. Oh yeah, Cheech also mistakenly pees on his head.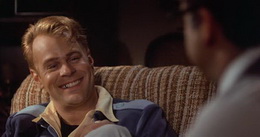 6. Vic & Ramona – Neighbors (1981)
It seems like the 80s were filled with movies that dealt with bad neighbors. In this case, we are dealing with Vic (Dan Aykroyd) and Ramona (Cathy Moriarty) who move in to their house in the middle of the night next to Earl and Enid Keese (John Belushi & Kathryn Walker). Vic is constant liar, which is proven by his story of his home made sauce (which comes from a jar) and the spaghetti that he bought from a fancy Italian restaurant called Ceasar's Garlic Wars, which is a small spaghetti and wine dealership at Valley Field Mall on Route 3, next to the Cinema Cineplex and the Singer Sewing Center. The restaurant doesn't exist and Vic made the spaghetti himself. Then Vic decides to eat Earl's daughter's edible panties, which leads to Earl punching out Vic. Ramona, on the other hand, is constantly trying to seduce Earl–and when she finally does succeed, she blackmails him. At one point when Earl sneaks out to meet Ramona, Vic is waiting on the roof of his car wearing scuba gear. These particular neighbors turn poor suburbanite Earl's life upside down. His own family starts to side with Vic and Ramona over him. When Earl finally decides to get revenge on Vic by driving his car into the swamp, it backfires. Vic tells him that their baby is in the truck. It turns out that baby is the dog (see what I mean about bad neighbors and their dogs) and he is not in the truck. I never really understood the end of the movie. SPOILER: Why does Earl decide to destroy his house and run away with these wackos? I guess he thought that they were such bad neighbors that he would spend the rest of his life with them. An interesting bit of trivia, Belushi was originally supposed to portray Vic and Aykroyd was to be Earl. They decided to switch weeks before filming and act against type.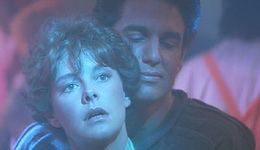 5. Jerry Dandridge – Fright Night (1985)
As Cliff Clavin would say, "Another 80's movie, another bad neighbor. What's up with that?" The culprit this time is Jerry Dandridge (Chris Sarandon), just your typical run of the mill vampire that feasts on prostitutes. Dandridge moves in to his house in the middle of the night next door to the Brewsters with the help of what appears to be his live-in male companion, Billy Cole. Charley Brewster (William Ragsdale) one day just happens to be looking out his window, instead of at his half-naked girlfriend Amy (Amanda Bearse), and sees Dandridge sucking blood from a lady of the night. Of course Charley does not have sex with Amy, rather he becomes obsessed with the fact that there is a vampire living next door. His mom decides to invite Dandridge over for dinner, mainly because she has the hots for him. This act has now broken rule #32 on the list of Vampire Don'ts: Don't invite a vampire into your house because now he can come over when ever he wants. The fact that he would come over now whenever he wants without asking by itself makes for a bad neighbor, regardless of the fact he is a vampire. Anyway, Dandrige does pop in at the Brewsters' house, wrecks Charley's room, and threatens to kill him. Then he goes outside and crashes Charley's car. He turns Charley's friend Evil Ed Thompson into a vampire and steals Amy away, and turns her into a vampire. SPOILER: Charley does get the last laugh as he and the Great Vampire Killer Peter Vincent (Roddy McDowell) kill Mr. Jerry Dandridge and save Amy. Although personally I would have let her die as well because she was annoying and would only grow up to become Marcie Rhodes from "Married with Children."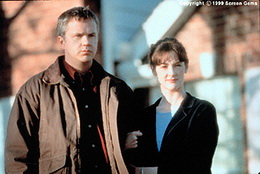 4. The Langs – Arlington Road (1999)
Michael Faraday (Jeff Bridges) is just a normal college history professor who teaches a class on terrorism at George Washington University. He is a widow (his FBI agent wife died in an explosion) and raises his nine year old son Grant. He has a new girlfriend Brooke (Hope Davis) and everything seems to be finally getting back to normal for Michael. Then one day the new neighbor's kid is injured in a reported fireworks accident. Michael rushes him to the emergency room, which sets up his first encounter with his new neighbors Oliver (Tim Robbins) & Cheryl (Joan Cusack). Michael slowly starts to suspect his neighbors of being terrorists. Haven't we all thought that about our neighbors from time to time? Nobody believes him and they think that he is paranoid. His girlfriend Brooke decides one day to trail Oliver's car and witnesses a suspicious package delivery in a garage. Brooke calls Michael & tells him she finally believes him, only to turn around and see Cheryl standing there. Brooke is found dead and the messages she left for Michael are erased. Then the Langs kidnap Grant, under the guise of a Scout camping trip. Once again, don't all neighbors kidnap their kids? Is that wrong? Michael rents a car and follows a van that he believes his son is being held captive in. SPOILER: The van eventually reaches FBI headquarters and Michael rips open the back door of the van to find not his son but a bomb. There is an explosion and Michael, along with 184 people, are killed. Grant is sent to live with relatives, Michael is villified in the press as a terrorist, and the Langs get away. They staked Michael out from the beginning just to set him up as the fall guy and–oh yeah–kill his girlfriend and forever ruin the image of him in his son's eyes. They rightfully deserve the number-four spot.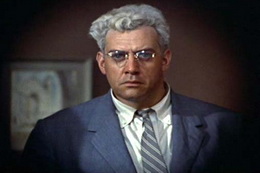 3. Lars Thorwald – Rear Window (1954)
This was another tough one for me as well, mainly because I really don't know who the bad neighbor is. L. B. "Jeff" Jeffries (Jimmy Stewart) is a photographer who is recovering from a broken leg. He is confined to his apartment in a wheelchair and is slowly going crazy from the boredom. So instead of spending time with his amazingly beautiful girlfriend Lisa (Grace Kelly), he decides to pass the hours by spying on his neighbors through the lens of his camera. Really Jeff? Grace Kelly worships the ground you walk (I mean roll) on and you would rather look at lonely women, a songwriter, some married couples, and a salesman? If it weren't for Lars Thorwald (Raymond Burr) the salesman, it would be Jeff's name on this list. It turns out Lars lives with his bedridden wife who one day just magically disappears. Jeff sees Lars cleaning a knife and a handsaw, tying a large packing crate with heavy rope, making late-night trips carrying a large case. Jeff is convinced that Lars killed his wife and being the good brave boyfriend that he is, he sends Lisa over there with a note saying "What have you done with her?" (SPOILER) A neighbor's dog starts poking around in the garden where the wife's body may or may not be buried, So Lars decides to break the dog's neck. Lars catches Lisa in his apartment, attempts to rough her up, but the police arrive just in time. Lars looks across the courtyard to realize that Jeff is the one sending notes and calling the police. Lars breaks in to Jeff's apartment and throws him out the window. Good thing their was a group of cops standing there to break his fall. So Lars just ekes out Jeff as the bad neighbor because he killed his wife, then a dog, tried to beat up Grace Kelly, and threw an invalid out the window. Way to go, Lars!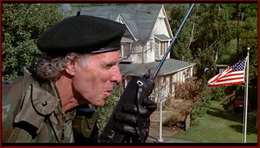 2. Ray Peterson, Mark Rumsfield, Art Weingartner, Ricky Butler, and the Klopeks – The 'Burbs (1989)
This movie is a cinematic study the behavior of bad neighbors. I had to include everyone on this list because they all have their own awful moments; there is no neighborly love here. It turns out one day the Klopeks just arrive on this somewhat peaceful street in the on Mayfield Place in suburban Hinckley Hills, Iowa. No one ever sees a moving truck and the Klopeks keep to themselves. Ray Peterson (Tom Hanks) is a stressed out husband and father who decides he needs to have a stay-cation (that's a vacation at home). He is being constantly badgered by his annoying neighbors Art Weingartner (Rick Ducommun), Mark Rumsfield (Bruce Dern), and teenager Ricky Butler (Corey Feldman). Art and Mark believe the Klopeks to be mass murders because they are so reclusive. The only time anyone sees them is at night digging in their backyard. Then the old man up the block, Walter Seznick, disappears one day leaving behind only his toupee and his dog, Queenie. Art is convinced that an old man would never leave his toupee behind and is convinced the Klopeks killed him. Then Ray's dog digs up a human femur bone in the backyard, which they start to believe belongs to Walt. Ray is finally convinced that they should break in to Klopeks' house and search for the dead bodies. Throughout the movie each neighbor does awful things like dumping garbage in the street, shorting out the electrical lines, throwing loud parties with obnoxious friends, breaking and entering, destruction of property, shooting off live ammunition, and of course (SPOILER) accidentally breaking the gas line in the Klopeks' house and blowing it up. At the end of the movie, it starts to look like the Klopeks are innocent. Walter had a heart attack and moved in with family. The Klopeks were taking in his mail and that is why they had his toupee. The police arrive with the Klopeks and want to arrest Ray. Ray then flips out on Art screaming "We're the lunatics, not them!" So as Ray is being taken to the hospital for fire burns, Dr. Klopek (Henry Gibson) pays a visit to him in the ambulance. It seems the doctor believes that Ray saw the skull of the former owner of the house in the furnace. A fight ensues as Dr. Klopek attempts to kill Ray. The Klopeks steal the ambulance and try to drive away. They fail and crash into their own car. The trunk pops open to reveal a collection of bones, proving that the Klopeks were mass murders all along. That has to be the worst street ever.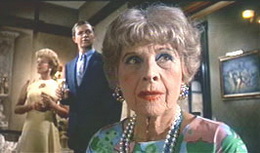 1. Minnie & Roman Castevet – Rosemary's Baby (1968)
To me, this one just seemed like a no-brainer. Rosemary Woodhouse (Mia Farrow) is a young wife who just moved into a beautiful New York City apartment building called the Bramford with her struggling actor husband Guy (John Cassavetes). The Bramford is known for some weird events and bizarre tenants over the years. Rosemary's neighbors are a seemingly harmless old couple named Minnie (Ruth Gordon) and Roman Castevet (Sidney Blackmer). It turns out that this elderly couple is not harmless at all, rather, they are devil worshipers and part of a coven. They have a master plan to bring the son of Satan to life by mating the devil and an unsuspecting spouse. Their first choice takes a header off the building, which leaves them to turn to Rosemary. The Castevets spend a lot of time with Guy, convincing him his career will take off if he agrees to give up his first born. SPOILER: The great husband that he is (by the way, you should see my Top 10 list on bad movie husbands), he agrees to let Satan rape his wife. Minnie makes a chocolate mousse for the Woodhouses to eat on the night they decide to conceive a baby. Rosemary finds that the mousse has a chalky under taste and throws it away after a few bites. Minnie had actually drugged Rosemary in order to carry out her master plan. Rosemary does get impregnated and is talked out of seeing her obstetrician to see Dr. Saperstein instead, who turns out (you guessed it) to be part of the coven. Rosemary is having a difficult pregnancy, and wouldn't you if you were carrying the spawn of Satan? Rosemary eventually discovers that her neighbors are part of a cult and that Roman is the son of a famed Satan worshiper. The Castevets decide to induce labor, and convince Rosemary the baby died upon delivery. She hears the cries of a baby from her room and follows the sounds. They eventually lead her to the coven and Minnie convinces her to be the mother of the son of Satan. If you ask me, I would take my whacked-out neighbors over Minnie any day and I will never accept chocolate mousse from a neighbor again. Ruth Gordon ("Harold and Maude") received a well deserved Best Supporting Actress Award for her turn as Minnie.