This weekend, the new James Bond film "Quantum of Solace" raked in a huge take of $67 million in America alone. For Scene-Stealers sitegoer Will Dawson, this is very exciting. He's got a lot of favorite Bond movies, but has instead, for us he decided to create a list of the top 10 worst James Bond films from the franchise's 46 years. Some of these movies, says Will, have their moments, but for the most part these are the Bond movies that there are just no excuses for. And he didn't even include Timothy Dalton! I smell some controversy … If you have an idea for your own Top 10 list you'd like to submit, email me at eric@scene-stealers.com! Will's list starts now: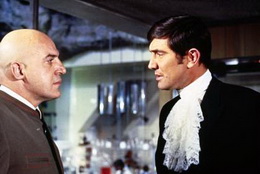 10. On Her Majesty's Secret Service (1969)
The problem with this movie isn't that the storyline or the supporting cast is bad, in fact, that is far from it. The story and the action sequences are actually some of the better ones in the entire series. Diana Rigg is a very intriguing Bond girl and Telly Savalas had probably the best characterization of villain Blofeld in the entire James Bond franchise. The film's only problem can be surmised in two words: George Lazenby. The one-time only Bond's acting is so wooden and unbelievable that you keep hoping Sean Connery is going to come in and save the day, but he doesn't, leaving us with the mess that is Lazenby. Surprisingly, Lazenby wasn't fired by the producers. He quit the role, claiming that Bond would become something of anti-authority figure for the Vietnam generation.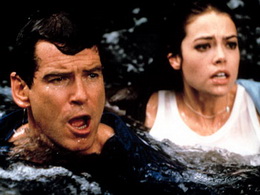 9. The World Is Not Enough (1999)

The third in the Pierce Brosnan Bond series suffers from not enough memorable moments. Robert Carlyle (one of my favorite actors) is used ineffectively as the villain, and although Sophie Marceau is pretty seductive as the other villain, it is Denise Richards who provides the film's only memorable moments. (And by memorable, I mean extremely annoying!) She is Dr. Christmas Jones. Richards has not only has the worst Bond-girl name in the history of the franchise, but she is also one of the worst actresses to portray a Bond girl. Instead of coming off as sexy and stylish, she comes off trashy and bitchy. Unfortunately, this isn't the only time an actress' performance as a Bond girl has had mixed results at best. Really bad Bond pun:
Bond: "I've always wanted to have Christmas in Turkey."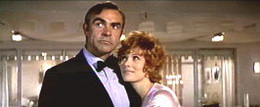 8. Diamonds Are Forever (1971)
After Lazenby left the role, Sean Connery returned as 007 in this over-the-top outing that has a ridiculous plot, annoying Bond girls, and very bizarre villains. The plot of the film revolves around Blofeld (played this time by Charles Gray of "Rocky Horror Picture Show" fame) trying to put diamonds in his laser beam to destroy the world. Jill St. John is Tiffany Case, who is not only Denise Richards-annoying, but also has absolutely no chemistry with Sean Connery. Connery also seems to be bored in the role that made him a star; it's probably a good thing that he took the money and ran. Note the strange homosexual underscores between the two Bond henchmen, Mr. Kidd and Mr. Wint. Here is an example:
Mr. Kidd: Well, they're both aboard, and I must say Miss Case seems quite attractive… [Mr. Wint glares at him]
Mr. Kidd: …For a lady. [pause]
Mr. Kidd: Heh heh heh heh!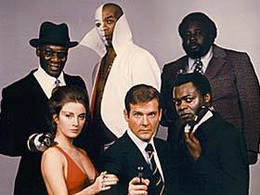 7. Live and Let Die (1973)
The first Roger Moore movie on this list and certainly not the last, "Live and Let Die" combines plot elements taken from blaxpoitation phenomenon "Shaft" and southern-hick TV comedies like "Hee Haw". The stunts are unrealistic even for a Bond flick (In one scene, Bond escapes by jumping on top of crocodiles!), and there are definite racial overtones and stereotypes (The villains are all black and Bond has to save a white woman from the clutches of the evil black men). Another horrible thing about this film was the introduction of Sheriff J.W. Pepper, a character that was created possibly to make the Bond series "less British," which means "less snobby" in the eyes of American audiences. On the plus side, Jane Seymour (Oh, Dr. Quinn!) is incredibly hot as Solitaire and Paul McCartney's theme song is pretty sweet.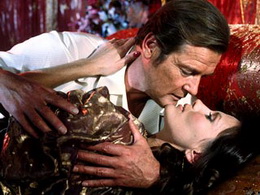 6. Octopussy (1983)
This is the worst titled Bond movie of all time. In the film, Bond (Moore again) travels to India and encounters the title character on a manmade island where she trains women in "business." I'm uncertain what follows next because the only thing I can remember are the numerous double entendres as Bond makes references to Octopussy's name and wonders how she got it (According to her, it was because she had a fondness for octopi). Anyway, Maud Adams, who portrays our title heroine, is too stiff and lacks the vital chemistry with Moore that is needed in a Bond Film. However, this is Homer Simpson's favorite James Bond movie as evidenced in this line from "The Simpsons":
"You know what I like from you Brits, Octopussy. I must have seen that movie [pause]….twice."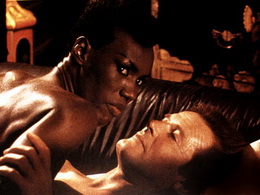 5. A View To A Kill (1985)
Moore's last outing as Bond is just as difficult to watch today as it probably was back then (It came out two years before I was born.) From the out-of-place Duran Duran title song, to the final scene atop San Franciso's Golden Gate Bridge, this movie is one giant mess. It certainly doesn't help matters that Moore was pushing 60 around the time he was making this movie and looks out of shape and out of place as our hero. Christopher Walken is miscast as Max Zornin, a supposed Nazi superchild-turned-trained KGB agent. The convoluted plot revolves around trying to destroy Silicon Valley. And then there's Grace Jones. Moore, not surprisingly, later regretted to having taken part in the production at all.
4. The Man With The Golden Gun (1974)
Britt Ekland as the most obnoxious Bond Girl? Check. A villian with three nipples? Check. Hervé Villechaize (who you may know better as Tattoo from TV's "Fantasy Island")? Check. The reappearance of the obnoxious J.W. Pepper from "Live and Let Die"? Checkmate. This is a desperate and bad Bond movie. Moore's second outing as Bond is so strange that I really don't know what to think of it. On the one hand, it is unintentionally hilarious. On the other hand, it's so damned weird. Just thinking about Christopher Lee taking off his shirt and revealing his third nipple makes me cringe. And seriously, "the Plane!! the Plane!" guy from "Fantasy Island" as a Bond henchman? What the hell?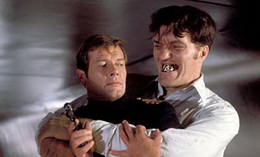 3. Moonraker (1979)
Alright, I know it seems that I'm knocking Roger Moore unfairly, but I'm not. It just so happens that the majority of Bond Films that Moore were in were extremely corny and unbelievable, and this definitely is the most unbelievable of them all. Trying to cash in on the "Star Wars" phenomenon, the producers decided to put Bond in space, with horrible results. From meeting Lois Chiles, who portrays Dr. Holly Goodhead as though she's merely reading her lines, to a battle between U.S. Space Marines and Hugo Drax's henchmen, this movie is another great travesty in the history of Bond movies. Not even the reappearance of Jaws (Richard Kiel) from 1977's "The Spy Who Loved Me" could save this movie from the cheesiness that characterized Moore's absolute worst outing as Bond.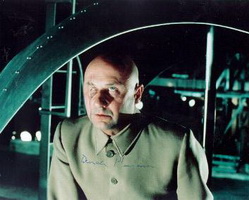 2. You Only Live Twice (1967)
This is my least favorite of the Connery Bond films mostly because this Bond film is the first bad movie in the series. There is too much gadgetry that serves no point, the Bond girls are completely unmemorable, and the plot involving Blofeld (this time played by Donald Pleasance of "The Great Escape" and "Halloween" fame) trying to use his laser to bring about world destruction is ridiculous. However, not any of these moments can compare to the one where Bond has to undergo plastic surgery to look like a Japanese local. Not only does Connery not even remotely resemble a Japanese person, but he also comes across as a dumb stereotypical Caucasian male trying to impersonate a person of Asian descent. Offensive? Oh, yeah. However, this was only the worst Bond movie until…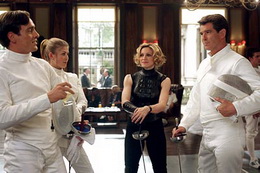 1. Die Another Day (2002)
From Madonna's horrible title song, to Halle Berry's messy performance as Jinx (Berry supposedly was to get her own franchise after "Die Another Day" was completed!), this movie is one giant stinking pile of shit. If you want to talk about all the things that are wrong about James Bond movies—well here they all are. Awful villains (including a man who has a diamond-incrusted forehead), an over-reliance on CGI (a car chase in a melting ice hotel), blatant product placement (including one close-up of a Norelco electric razor), and badly misused actors (examples include Pierce Brosnan as Bond, Michael Madsen as a Felix Leiter knockoff, and Madonna's horrible two-minute cameo as—get this—a fencing instructor) make this the dismally worst one in the series. The good thing that came out of this crapfest was the complete reboot of the franchise— a new version of "Casino Royale" with Daniel Craig. This is also the last appearance of M's secretary Miss Moneypenney, whose constant flirtatious tension with Bond was a regular feature of most Bond films. In "Die Another Day," she is seduced by Bond … by way of virtual-reality glasses. How horrible. Truly a new low.