Last week, I issued a challenge to the Scene-Stealers Army to come up with your own Top 10 lists, and I'm happy to say that you responded. This week, while I'm in Los Angeles for the Siggraph 2008 Computer Animation Festival, I was looking for someone to hold steady with the Top 10 Tuesday. That someone is Tony Sams, who submitted this excellent Top 10 list of his favorite voyeuristic movies no less than one day after I asked users for their own lists. Someone's got to be first, and now that's we've broken the levee, who's next? You? We'll publish your Top 10 on here on Scene-Stealers for everyone in cyberspace to enjoy for all of eternity! Send your submissions to info@scene-stealers.com. Without further ado, here are the Top 10 Voyeuristic Films, as submitted by Tony Sams.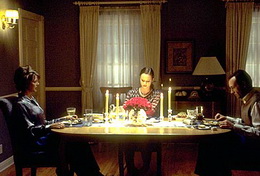 10. American Beauty (1999)
An American family. The Burnhams live in the suburbs; mom sells real estate, chants motivational mantras and drives an M-class Mercedes; Dad barely holds down a dead-end job, and dreams about a high school cheerleader. Meanwhile, their teenage daughter has taken up with the boy next door, who happens to be a drug dealer and camcorder-wielding voyeur (Wes Bentley): "Video helps me remember… I need to remember." I have mixed feelings about this film, but every time it gets too pretentious ("That bag is the most beautiful thing in the world," Bentley again), it somehow manages to reel itself back in with an undeniable level of humanity thanks to Kevin Spacey and Annette Bening's pitch-perfect performances.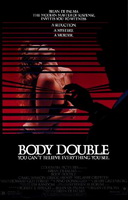 9. Body Double (1984)
Brian De Palma has often been dubbed the sleazy Hitchcock. I personally like that description. Making Hitchcockian thrillers has always been a strong point, however to brand De Palma a Hitchcock knockoff is grossly unfair. "Body Double" follows Jake Scully (Craig Wasson), a horror film actor fallen on hard times. Meeting up with a fellow actor at an audition, Scully is done a favor and set up with a house sitting gig at a luxurious home. Jake soon becomes obsessed with using a telescope to see into the bedroom of neighbor Gloria Revelle (Deborah Shelton) who just happens to perform an erotic striptease every evening in front of her bedroom window. As Jake becomes more and more enchanted with Gloria, he follows her one afternoon from a trip to the shopping mall (in one of the film's most elaborate sequences) to a walk on the beach. Once the two finally meet, things quickly go south. "Body Double," along with De Palma's "Sisters," "Dressed to Kill," and "Blow Out" are all great examples of the director's talent and ability to tap into the Hitchcock verve while running along his own path.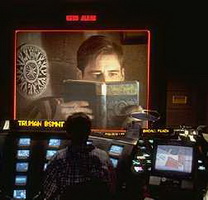 8. The Truman Show (1998)
Born and raised on camera, Truman (Jim Carrey) has no idea that every person in the world has been following his every movement. To him, his life is just a life like any other. He went to school, he made friends, he had girlfriends, he married, and he went to work each day and dreamed of better things. Fans of the show are more like voyeurs than viewers, but their intimate connection with Truman begins and ends with the fact that most of them have grown as Truman has grown, and feel as if they are a part of his family. The dream-like quality to Truman's life reminds one of a real-life commercial for every product imaginable. The efforts of Christof (Truman's God-like director, played by an Oscar-nominated Ed Harris) reflect a whole world of self-righteous endeavors in science, religion, and the arts.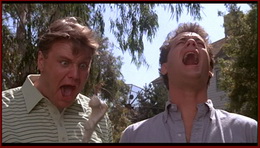 7. The 'Burbs (1989)
This comedy directed by Joe Dante (Gremlins), might not be to everyone's taste but I think it's a silly, entertaining little movie. Ray (Tom Hanks) and Carol (Carrie Fisher) Peterson are living out their quaint little existence in a stereotypical suburban neighborhood. It's all green grass and culs-de-sac until a mysterious family, the Klopeks, move in next door. Ray's two neighbors, freeloader Art (Rick Ducommun) and military nutcase Rumsfield (Bruce Dern) believe the Klopeks are actually a family of murderers who killed Walter, the old curmudgeon from next door. Ray, along with the other neighbors-turn-detectives, attempt to solve the mystery by going through the Klopek's trash, breaking in to their house and other wacky schemes to gain evidence that the new neighbors are actually murdering Satanists. Add Corey Feldman, and blammo-you've got an '80s comedy!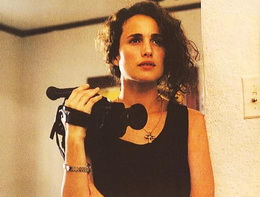 6. sex, lies, and videotape (1989)
This is one of those films where not much appears to actually happen. However, Steven Soderbergh's use of first-person camera work, a brilliant screenplay and some unexpectedly deep performances from all four lead actors, led him to win the Palm D'Or at the Cannes Film Festival. Steven Soderbergh wrote this tale of voyeurism and secrecy in eight days, and filmed it in five weeks on a budget of $1.2 million. "S, L & V" generated enough of a buzz to provide Miramax with their first big success, two years prior to Tarantino's arrival, and helped open the door for another independent film revolution.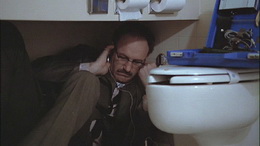 5. The Conversation (1974)
Harry Caul (Gene Hackman) is an invader of privacy. The best in the business. He can record any conversation between two people anywhere. "The Conversation" is a timely, low-budget masterpiece of the 1970s. It was written, produced, and released by director Francis Ford Coppola during the Watergate era (and between his two "Godfather" films). During a time of heightened concern over the violation of civil liberties, its claustrophobic themes of the destruction of privacy, alienation, voyeurism, and paranoia effectively responded to the growing threats of eavesdropping and the violation of personal liberties. In the 1974 Oscar competition, "The Conversation" competed for Best Picture with Coppola's own sequel "The Godfather, Part II" (1974).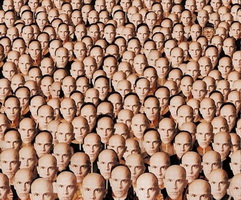 4. Being John Malkovich (1999)
Have you ever wanted to walk in someone else's shoes? In Spike Jonze's feature debut "Being John Malkovich," the director explores the themes of identity, celebrity, and manipulation, in a manner that is fresh and inventive. Somehow, Jonze and writer Charlie Kaufman blend all of these elements together without missing a beat. The film's premise is as offbeat as it is difficult to properly describe in a few sentences. One day, while searching for a lost file behind a cabinet in his office, Craig (John Cusack) discovers a hidden door. Venturing through it, he is sucked into a portal that lands him inside the brain of actor (jewel thief) John Malkovich, where Craig can look out the actor's eyes and experience what he feels. It's the ultimate in voyeurism. If you've yet to see this visionary and highly imaginative film, go check it out.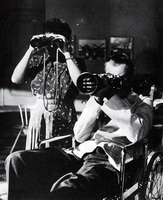 3. Rear Window (1954)
Rear Window is an intriguing visual study of obsessive human curiosity. During a heat wave, news photographer L.B. Jefferies (James Stewart) finds himself confined by a broken leg to a wheelchair in his Greenwich Village apartment. Each day and into the night, he has little to do but gaze out his rear window at the activities of his neighbors in the surrounding apartments. When Jefferies proclaims that he suspects his neighbor, jewelry salesman Lars Thorwald (Raymond Burr), has murdered his wife, no one pays much attention. Meanwhile, having learnt that Jefferies has been spying on him, Thorwald decides to pay him a visit. Remarkably, the camera angles are largely from the protagonist's own apartment, so as the viewer you see the inhabitants of the other apartments almost entirely from his point of view, making you an accomplice in his voyeuristic surveillance.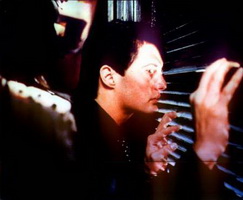 2. Blue Velvet (1986)
David Lynch peeks behind the picket fences of small-town America to reveal a world of voyeurism, sadism, and madness. From the opening shots, Lynch turns the Technicolor Norman Rockwell images of middle-class suburbia into a vision on the edge of nightmare. After his father collapses, college student Jeffery (Kyle MacLachlan) returns home and stumbles across a severed human ear in a vacant lot. With the help of a naive high school girl (Laura Dern), he turns junior detective and uncovers a terrifying yet darkly compelling world of voyeurism and sex. Drawn deeper into the brutal world of drug dealer and blackmailer Frank Booth, played with frightening brilliance by Dennis Hopper, Jeffery loses his innocence when confronted with pure, unexplainable evil. "Blue Velvet" is a disturbing film that delves into the darkest reaches of brutality. Now it's dark…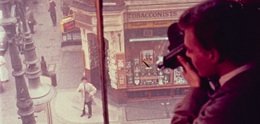 1. Peeping Tom (1960)
"The only really satisfactory way to dispose of 'Peeping Tom' would be to shovel it up and flush it swiftly down the nearest sewer," one critic proclaimed. Joining in, others called it "sick," "nasty," and "beastly." The film was pulled from theaters in less than a week, and the controversy all but ended director Michael Powell's big-screen career. It wasn't until the late '70s, when Martin Scorsese celebrated the film, that it began finding audiences again. "Peeping Tom" centers on Mark Lewis (Carl Boehm), a shy, reclusive young man who spends his days as a focus puller at a film studio and his nights killing women and filming the murders. Most of the tension in "Peeping Tom" comes from the scenes of people looking at things they shouldn't. When Helen (Anna Massey), Mark's sweet downstairs neighbor, invades his stash of snuff films, and it's sort of easy to sympathize with her eagerness to watch, even if what she's looking at is terrible.