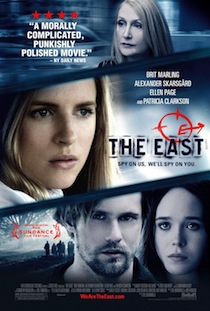 2013 was a banner year for film. Some of my personal favorites have included the visually immersive Gravity, the captivating and unsentimental 12 Years A Slave, Spike Jonze' sci-fi romance Her, and the melancholy Inside Llewyn Davis.
Unlike most past years, the films that are my faves are getting a lot of attention elsewhere. You can read about most of them in Eric's Top 10 Movies of 2013. Since this year in film was so impressive I can go to my to my second stringers. These films would have made a best of list most other years.
This is my list of the Top 10 Underrated Films of 2013. Make sure to check them out once you've waded through the best of the best. I'm sure you'll be pleasantly surprised with the depth of quality films that 2013 produced.
Spring Breakers

This movie made the list because it's a deceptive and subversive film that pulls in the very group of people it satirizes. You may walk away unsure of exactly how you feel about everything you've just seen, at the same time you'll be spewing lines of Alien's endlessly quotable dialogue. All of this is wrapped up in some of the most beautiful black light photography I've ever seen in a film.
Harmony Korine is a mad genius who never quite gives away his intentions, but there are enough subtle clues to make this film one of the more satisfying and troubling 2013. If you skipped it because you thought it looked dumb, you should really give this one a chance.
The Bling Ring

The Bling Ring is Sofia Coppola's dramatic sister to Harmony Korine's mad fairytale, Spring Breakers. The subject is a group of wealthy teens that live in the valley, and rob young Hollywood stars and reality television personalities when they are away at parties.
Coppola's craft as a director just keeps getting better and better. There may not be a likeable character in the bunch and Coppola's critique is necessarily ambiguous, but The Bling Ring's timeliness and the intractability of the problems at its core, make it a fascinating and unsettling watch.
The next two films on the list are the epitome of visionary works. They push against our literary narrative cravings, and instead only work on us through the tone establishing visuals. They are film poetry that takes time to unpack and explore. They also traverse some truly dark emotional territory and made many viewers uncomfortable, which is why the critical response was negative or underwhelming.

I think that they are two of the more striking films of 2013, and definitely worth your time.
Stoker

Park Chan-wook's first U.S. film was a box office failure and the response from critics was a mixed bag. Many saw the characters as cold and not relatable, but Park, who gave us the original Oldboy, has always treated characters as secondary to stunning visuals that carry his story. Even Park's stories are simple and straightforward, so that Park can focus on twisting the viewer's emotional response to such extremes that it either delights or horrifies.
Stoker tells the story of India, a teen girl, whose father recently died in a freak automobile accident. At the funeral, India's uncle Charlie appears to pay his condolences and tell India of her strange legacy. Perhaps Park's pairing of homicidal violence with sexual ecstasy in Stoker pushed American viewers too far, but I think it's more likely that this film just never found its audience.
Only God Forgives

If you want to hate every character onscreen while being eye-blasted with some of the most lush and overt visuals that you can find, then Only God Forgives is for you. This one tanked critically and financially, and seemed doomed from the start. Nicolas Winding Refn appeared handcuffed restricted by the unexpected success of Drive.
Those that are familiar with Refn's work understand that this director uses violence to distill different emotions, desires or psychological states. In Valhalla Rising violence was paired with religious beliefs and the search for the spiritual. Drive works so well, because violence is used in opposition to romantic love. The conflict strikes a cord in us all especially when we understand that a scorpion can never remove its sting without sacrificing itself.
When Refn returns to his uber-broodish style of his earlier films and pairs taboo sexual behaviors and a striking Oedipal complex with violence in Only God Forgives, it wasn't so surprising that a lot of people wondered what the hell they had just seen.
Yes, this movie is difficult, both in content and the psychological challenge it offers the viewer, but if you're into challenging cinema and crave a break from stamped out dialogue driven cinema, then you should check out Only God Forgives
Documentaries, niche independents and works from female artists are unfortunately regularly overlooked. 2013 was a banner year for all of these categories.
Frances Ha

This film was co-written and stars Greta Gerwig who is one of a handful of multitalented women who wrote, starred in, and directed excellent features this year.
Directed by Noah Baumbach, Frances Ha tells the story of Frances and her friend Sophie as they grow up, grow apart, and learn to augment or forfeit their dreams of artistic world domination. Frances Ha will appeal to artists or creatives in there late twenties or older who have had to face their own compromises.
More people should pay attention to both Noah Baumbach and Greta Gerwig. They are smart, funny and able to tell simple poignant stories very well.
The Act of Killing

Documentaries of a quality and caliber beyond the drivel proffered by the History Channel are usually hard sells to the general public. These films are almost always driven by the passion of the artists who make them.
That is definitely true of The Act of Killing, and I can honestly say that I have never seen a film that has made me feel the way Joshua Oppenheimer's documentary does.
In The Act of Killing, Oppenheimer asks former Indonesian gangsters and death squad leaders, who now hold governmental offices on the local and national levels, to recount and reenact the atrocities they committed. They are not just agreeable to the idea; they are shockingly enthusiastic.
This documentary doesn't just question the men central to the story, but by humanizing these gangsters and warlords, Oppenheimer questions each of us. Oppenheimer makes this issue not about a few deviant people, but shows this violence as something central to human interaction.
Stories We Tell

Sarah Polley's documentary begins as an exploration of family, focusing on her mother, Diane, but this innovative and thoughtful documentary quickly evolves into a mystery about Sarah's own parentage. Finally Stories We Tell opens up to include all of us by emphasizing the myth and legends that grow within all families, and the bonds that form because of or in spite of our genetic links.
Polley did receive some negative criticism for her use of reenactment without explicitly specifying the nature of that footage. I think this a minor critique since the "truth" exists in the voices of each of Polley's friends and family members who recount their tales.
The East

The East started as a simple idea from co-writers Brit Marling and Zal Batmanglij, how to update the espionage thriller for a world that no longer has unified, identifiable enemies and a world in which espionage itself is becoming increasingly privatized.
Marling's and Batmanglij's script is smart and puts the emphasis on the characters, and Batmanglij's direction is largely pragmatic and doesn't interfere with the solid performances from an excellent cast, including Marling as the lead.
The most incredible thing about The East is something that you might not even notice. Its cast is built evenly around men and women, and emphasizes women in strong and complex roles. It works beautifully, because it's meant to disappear into the background. Watch this film, which proves that casting only men in political thrillers, or films of any kind, is utter marketing claptrap.
In a World…

Want to know how to make a smart, funny comedy with emotionally engaging characters and subtle comments on social issues? Just ask Lake Bell. The writer, director, and star of In a World… knocks away the soapbox and instead makes the rampant inequality in the entertainment industry funny and personal.
In a World… focuses on a father daughter rivalry. At the core of their competition, a coveted movie trailer which revives the phrase "In a world." The script is great and the cast is filled with charming underrated talent. You really should give this one a shot.
From very small to oh-so-large, I'm going to end my discussion of 2013 on a big big note.
Pacific Rim

Compared to every other film on this list, Pacific Rim raked it in at the box office, but for an ambitious and expensive kaiju adaptation, this film was still a financial disappointment.
I can't say I'm surprised. Kaiju has been a genre that Western audiences have always struggled with. Our cathartic reaction is different. Instead of dispelling fear, most audiences in the states give an ironic chuckle, because of how silly the images on screen seem. We don't understand it, when kaiju is treated with even a touch of seriousness.
But kaiju began serious. Pacific Rim is a cinematic love letter to the evolved kaiju of the 1990s. Guillermo del Toro maintained his diligence when translating the tenets of kaiju to his film. He even had a detailed awareness of moving from suitmation to the digital world. He doesn't get everything right, but he comes very close. It's a fun action film, but even more than that Pacific Rim describes a genre to the uninitiated.
That's it. That's my Top 10 Underrated Movies of 2013. There are a lot of Best of 2013 lists out there, and I'd encourage you to check them all out. In a year like this one, it's hard to go wrong.