So, friends of Scene-Stealers, it's entirely true, I voluntarily subjected myself to the new "Rambo" movie this weekend and as such, you can expect my print review shortly. However, while I attempt to sort out that multidirectional action and issue-filled cupcake of obscene cinema violence, I figured now would be a pretty bad-ass moment for a Sly Stallone Top 10. So here it is, hot off the presses, my picks for the best-of-the-best Stallone movie moments. I should mention from the get-go, I've never seen "Cop Land" so don't be appalled if the film, which I hear tell features an above-average performance from our man of the hour, is not listed below. [Eric's note: This Top 10 is worth the price of admission alone for the character names and quotes contained therein!]
10. Rocky II (1979) [writer / director]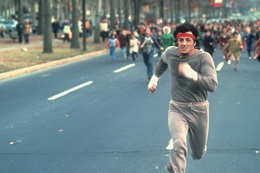 Almost as good as the original, "Rocky II" is essentially the second part of the first story. Apollo Creed and Rocky throw down the super-sweet rematch a short time after their classic bout which ends the Academy Award-winning first film. Stallone not only wrote but also directed this one, his second feature as a director, the first being "Paradise Alley" in 1978. There's plenty more Italian Stallion to come, but thankfully this installment squeaked in at number 10 and saved me from needing to include the Pepsi and Taco Bell ad that is "Demolition Man."
Gazo: How's about investing in condominiums? It's safe.
Rocky Balboa: Condominiums?
Gazo: Yeah, condominiums.
Rocky Balboa: I never use 'em.
9. Cobra (1986) [screenplay]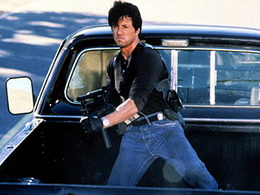 It's possible that the most memorable thing about Stallone's tough-guy cop-picture "Cobra" was the character's name – Marion "Cobra" Cobretti – and of course his costar, that Amazonian curiosity and then-significant other Brigitte Nielsen. Based on the novel "Fair Game" by Paula Gosling, "Cobra" is Stallone's version of Dirty Harry or Mad Max. It pits Stallone's repetitively-monikered hero against The Night Slasher, who dies a spectacular death. Crime is a disease. Meet the cure.
Night Slasher: The court is civilized, isn't it pig?
Cobretti: But I'm not. This is where the law stops and I start – sucker!
8. Judge Dredd (1995)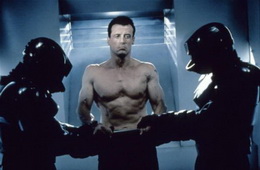 This incredibly flawed feature is my second favorite pop culture spin-off from the "Judge Dredd" graphic novels and comic books created by John Wagner -who also wrote the graphic novel "A History of Violence" -and Carlos Ezquerra. (My first being "I Am the Law," a killer song from one of the best thrash-metal records ever, "Among the Living" by Anthrax.) Stallone as Dredd was actually kind of genius casting, its just too bad it wasn't made on a budget by a fledgling director with handful of vision. A character like Judge Dredd is sacred stuff and I can only imagine the fervor it stirred up at ComicCon the year they announced a film was being made and Stallone was attached. Make no mistake, this is a bad film I recall with nostalgia – and let's face it they've only recently gotten any good at making comics into films, if they've done it at all. The straight truth is that it gave me a really good excuse to talk about Anthrax.
Herman Ferguson: I'm free, you're toast!
Judge Dredd: Actually, you're toast. I forgot to mention it: your new friends, they're cannibals.
7. Over the Top (1987) [screenplay]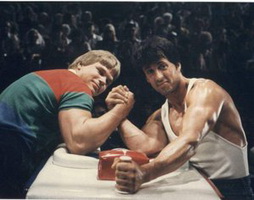 Dudes drinking gasoline, arm wrestling, trucker hats getting turned around as a sign of manly intensity- now that's what's missing from action films today. How can this not be a winner by the mere fact that it is a film about a trucker who arm-wrestles competitively? Consequently, an odd side note for any old school sci-fi fans, "Over the Top" was co-written by "Land of the Giants" star Gary Conway.
Lincoln Hawk: What are you trying to do? I gave you custody of the boy, I signed papres, what more do you want?
Jason Cutler: I'm trying to make things easy forf you, Hawk. You don't need Michael for a meal ticket anymore. You've got a free ride. So take the truck, take the money. Start a new life, START YOUR OWN FAMILY!
Lincoln Hawk: I've got a family! And when this is over, I'm comin' to get him.
6. Rocky IV (1985) [writer / director]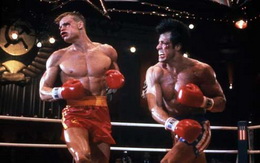 "Rocky IV" was a moment of great importance in my youth. I recall my mother driving me a ridiculous distance to the one fast food restaurant that still had "Rocky IV" promotional t-shirts with a USA glove and Russia glove impacting. The snowy training montage is my favorite of the whole "Rocky" series and you cannot underestimate the power of the Drago (Dolph Lundgren). Rocky thaws the ice of the cold war and James Brown gives us "Living in America" – now that's a winner.
Rocky: During this fight, I've seen a lot of changing, in the way you feel about me, and in the way I feel about you. In here, there were two guys killing each other, but I guess that's better than twenty million. I guess what I'm trying to say, is that if I can change, and you can change, everybody can change!
5. Tango and Cash (1989)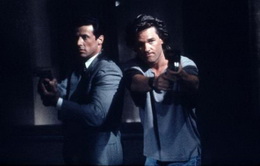 I can't help it, I love Kurt Russell – and the combo of Russell and Sly together is a fine proposition. Russell, as Gabriel Cash, provides the swagger as a slightly toned down version of his "Big Trouble in Little China" character Jack Burton, and Stallone gets to play it straight as Ray Tango. The form a duo of rival drug cops who strongly dislike each other and are framed by a drug lord and sent off to prison and out of the way. The prison break sequence is full of ridiculous slips and high wire acts – literally. Throw in a whole lot of Jack Palance and you've got Stallone Top 10 pick number five.
Gabriel Cash: You don't know anything about electricity, do you?
Ray Tango: No.
Gabriel Cash: As long as you're only touching one wire and you're not touching the ground, you don't get electrocuted.
Gabriel Cash: Um, right?
Ray Tango: I don't know.
Gabriel Cash: I don't either.
4. Cliffhanger (1993) [screenplay]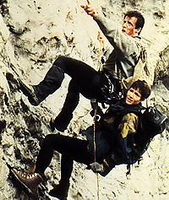 Say what you will about this high-anxiety chase/thriller, but I remember being fairly worked up during the climbing scenes and feeling pretty bad for Stallone's Gabe Walker as he mounts an offensive on a team of thieves high a top an icy mountain range. Clearly this type of character is a recurring theme in Stallone's work as he once again found a way to reinvent Rocky, this time as a rock climbing bad ass with a past. Directed by Renny Harlin, "Cliffhanger" costars Michael Rooker ("Henry: Portrait of a Serial Killer") and John Lithgow as Eric Qualen, the awesomely over the top and needlessly-melodramatic mastermind of a high-flying heist.
Gabe: Remember shithead! Keep your arms and legs in the vehicle at all time!
Eric Qualen: Kill a few people, they call you a murderer. Kill a million and you're a conqueror.
3. First Blood (1982) [screenplay]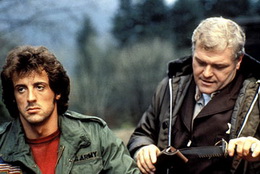 The new installment of "Rambo" is still attempting to navigate the strange and compelling storyline of troubled Vietnam vet John Rambo. The original was just that – an original. Whether from a survival standpoint or for the implications about treatment of vets and ramifications of war on the soldiers who live it, "First Blood" remains the only Rambo film with any credibility where it counts. Oddly enough, the new film does attempt to add to the existing story arc of the character, but in a way that garnered more than a few chuckles during the screening. What can you say, this one was so good it spawned a series of films – all of which are action films through and through – but the original had something else going on. Ultimately, it's too bad the film is the beginning of an action franchise centered around a vigilante killer who gets called in as the last resort when no one else can take out the bad guy, because as a single picture it stands up as a solid piece of work.
Trautman: You did everything to make this private war happen. You've done enough damage. This mission is over, Rambo. Do you understand me? This mission is over! Look at them out there! Look at them! If you won't end this now, they will kill you. Is that what you want? It's over Johnny. It's over!
Rambo: Nothing is over! Nothing! You just don't turn it off! It wasn't my war! You asked me, I didn't ask you! And I did what I had to do to win! But somebody wouldn't let us win! And I come back to the world and I see all those maggots at the airport, protesting me, spitting. Calling me baby killer and all kinds of vile crap! Who are they to protest me? Who are they? Unless they've been me and been there and know what the hell they're yelling about!
2. Victory (1981)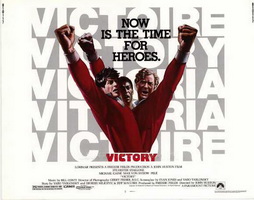 When I was a kid, I played soccer like my life depended on it. It was only a few years later that Dokken and then later The Beatles would occupy the hero slot in my world, but before all that soccer star Pele was the recipient of my admiration. Pele was in a movie, I was going to love that movie, and I did; it was called "Victory." The film stars the unlikely duo of Michael Caine and Sly Stallone as Allied prisoners of war in a prison camp who orchestrate a getaway under the stadium in which the rag-tag P.O.W. football team takes on the German National team in Nazi-controlled Paris. Acting and directing legend John Huston directed the picture. I haven't watched the film in years, but I remember through a haze of nostalgia thinking the film was surprisingly good and that Sly acquitted himself nicely as team goalie Captain Robert Hatch.
Hatch: Where do I stand for a corner kick?
Hatch: This frigging game is ruining my life.
1. Rocky (1976) [writer]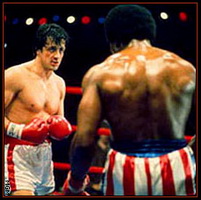 This one is the obvious choice and the right choice. "Rocky" is Stallone's most enduring character for a reason, it is an iconic and modern representation of the David and Goliath story, a power struggle that every everyman can cheer for. Stallone wrote "Rocky," a fact which is often lost on the unassuming film watcher, quite an accomplishment and when you add in the fact the movie won the Best Picture Oscar for 1976, it's even more impressive. Stallone is no lightweight when it comes to developing stories, few if any other actors can boast the roster of writing and screenplay credits that ride sidecar to Stallone's blockbuster box office track record. "Rocky" is a classic and Stallone literally deserves the credit for creating and embodying one of cinema's most most loved and recognizable characters.
Mickey: Your nose is broken.
Rocky: How does it look?
Mickey: Ah, it's an improvement.