I love the Scene-Stealers readers so much. Longtime sitegoer Andrew Reed, lately of Buenos Aires, and a blogger at Fighting the Youth, sent this in FROM HIS HONEYMOON on the Island of Turks and Caicos. Congratulations, sir, and thank you!! If you've got a Top 10 Tuesday idea that you'd like to get published on the site, just email me at eric@scene-stealers.com. I'll let Andrew take it from here:
American Cinema lost one of its greatest figures last week when Sidney Lumet passed away at the age of 86. Though recognized as a distinctive auteur, he never won an Oscar for Best Director, having to settle for an honorary award in 2005. Film buffs have long appreciated his work ever since his first theatrical feature, 1957's "12 Angry Men." But he never reached the contemporary popularity of his peer Martin Scorsese. "Taxi Driver" will always be more revered than "Dog Day Afternoon." Yet for all of Scorsese's brilliance, nobody was more New York than Lumet. If Scorsese is to movies as Led Zeppelin was to 1970s metal, Lumet is Black Sabbath. Heavy, distinctive, and more groundbreaking than given credit for. Between TV and movies, Lumet directed 72 projects over 55 years. Here's my best attempt to narrow it down to the ten best films of his career, a list that doesn't include "Fail-Safe," "The Hill," "Prince of the City," "Deathtrap," "Find Me Guilty," or "Equus." I'm sure you have your own favorites, so help celebrate Lumet's career by chiming in with your comments.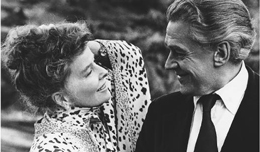 10. Long Day's Journey Into Night (1962)
In his fourth feature film, Lumet had both the opportunity and challenge to direct Eugene O'Neill's semi-autobiographical study of a family so morose that they've already come apart at the seams, and are simply trying to find a way to get on to the next day. Taking a stage play with only four characters who have no reason to get along and turn it into a movie is no easy task. Lumet gives it some atmosphere using drearily sets and a camera that acts as a voyeur to the unfolding misery. We almost feel guilty watching the ongoing trainwreck of a weekend through the prism of a series of stout performances. Katherine Hepburn's methodone-addicted mother stands out, both as the most powerful force in the family, and even alongside the rest of her oeuvre. In many ways, getting through this movie is the viewer's burden, but there are enough indelible moments to make it worthwhile.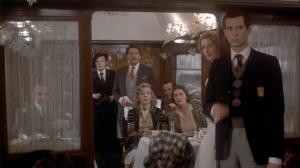 9. Murder on the Orient Express (1974)
Agatha Christie was notoriously hard on all movie adaptations of her plays, but said that Lumet's all-star production was the only adaptation of her work that she was completely satisfied with. If that isn't praise enough, she also said that Albert Finney's portroyal of her famous detective, Poirot was the closest to her vision of the character. The film toes the line between dark mystery and campy fun with Finney going just shy of winking at the camera throughout. The ending can be somewhat unsatisfying, but the way Lumet and Finney give Poirot command of the situation satisfies. In the end, few would consider the movie high art, but there's enough talent in the room that it has something for everyone.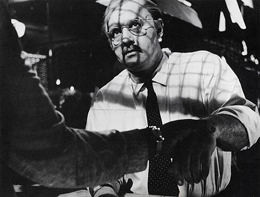 8. The Pawnbroker (1964)
The story of a New York pawn shop owner's struggle after surviving the Holocaust arrived before its time, and because of that it suffers certain flaws. There are some overly dramatized moments and some probable liberties taken with the actual history of the Holocaust. But Rod Steiger's cold mastery of the emotions running through a man who would likely have been better off perishing in the first place must be witnessed. Lumet pounds us with images of Nazi brutality, images that run through the head of Steiger's Sol Nazerman repeatedly. Nazerman will never get over the horrors he experienced, and too many of New York's seediest aspects repeatedly remind him of them. Nazerman is destined for more tragedy and loneliness, overlooking heartfelt offers of friendship by those around him. The film was notable as the first of its kind but also as the first American movie to violate the production code, depicting female nudity onscreen. The movie is obviously a complete downer, as it should be, but Steiger's performance is unforgettable.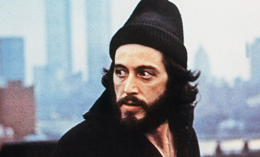 7. Serpico (1973)
If you had never seen anything by Lumet and wanted to start with his most exemplary work, you couldn't get more "Lumetian" than "Serpico," the true story of a New York City undercover cop who blew the whistle on rampant police corruption. As we'll see throughout this list, Lumet had a particular knack for showing people under pressure, some who overcome, some who crack, and in this case someone who holds fast to his integrity as the tension mounts. Ultimately that integrity is the only thing he retains, and the thing that saves him. In one of his first leading roles after his breakthrough performance in "The Godfather," Al Pacino set himself on the path to stardom as the titular character. The film's desperation reaches its climax in a necessarily graphic scene that brings the story to a head. Lumet's ability to put the viewer in the moment is what makes the story more than just a simple crime drama. In various ways, Frank Serpico pays dearly for his choices, and we can't help but sympathize.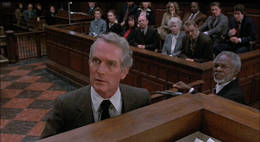 6. The Verdict (1982)
Working with David Mamet's script Lumet shows yet another character near the end of his rope, in this case solely by his own hand. Paul Newman plays Frank Galvin, an alcoholic ambulance-chaser who has seen a promising career basically pass him by. Completely broke and with nothing left, he stumbles into a job representing a family in a medical malpractice suit against a large Catholic hospital. Realizing the case represents his last chance to make a positive difference in the world, he chooses to decline the hospital's offer to settle out of court. In many of Lumet's films, people get what they deserve. But Galvin's situation lies completely in the gray area. He's clearly not an upstanding person, but is trying to do the right thing for once, all while succumbing to his personal demons. ESPN's Bill Simmons recently claimed "The Verdict" was his favorite Boston movie ever, and at the very least it goes down as one of the all-time great courtroom dramas.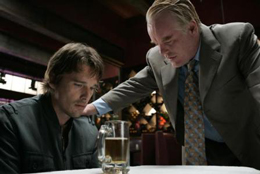 5. Before the Devil Knows You're Dead (2007)
What's more complicated? Having a pathetic excuse for a brother or being a pathetic excuse for a brother? How about both? One of Lumet's great abilities was understanding the complex relationships between his characters. And this 2007 movie showed both that the old dog had learned a few new tricks, and also that he knew how to play to his strengths. What would be a mediocre heist-gone-awry flick instills deep substance thanks to the way Lumet slowly brings us into one of the most dysfunctional pair of sons in movie history. Phillip Seymour Hoffman and Ethan Hawke are able to reap the subtleties of the situation and play off one another in a way that only brothers can. The fabric of the family already in place is unmovable despite all the tremendous events taking place, and the favorites keep being forgiven while the black sheep tread farther down the wrong path. This would turn out to be Lumet's last work. It showed that he still had vitality and could have likely continued making important, ground-breaking movies. He went out with a bang.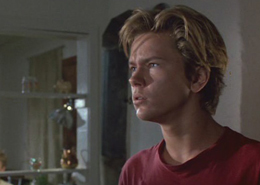 4. Running on Empty (1988)
The parents have to be on the run due to political activism gone awry. Every so often they have to bolt for a new location to keep ahead of the federal government. What could be a cheesy movie of the week transcends its genre to paint instead a complicated picture of an American family trying to deal with regret, even if the intentions were always good. The kids are victims of circumstance, and the oldest son is starting to deserve a life of his own. Nobody knows what the right choices are. This is River Phoenix's best film and best performance. But the scene that always comes to my mind is when the family's mother, played by Christine Lahti, has to ask her father for help. It is perhaps the best example of that aforementioned understanding of relationships, and chokes me up every time I see it. Everyone involved in this movie delivers a knockout performance. As the plot comes to a head the way it always does for this family, we see why this is the snapshot in time we've been granted. Life on the run has to end eventually, and this is the moment when the main characters begin to realize it.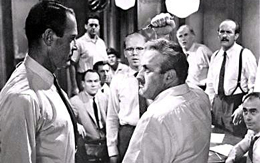 3. 12 Angry Men (1957)
I first saw this film in a junior high social studies class where we were supposed to be learning about government and laws or something. But I am guessing our teacher was just using that as a pretext to let us witness a great film. We were too young to care about great films, but old enough to realize we were watching one. Lumet's first feature remains an all-time classic, rated #7 all-time on the IMDb. Henry Fonda begins as the lone juror willing to look beyond the simple facts of a case and take his role in the justice system seriously. Much has been made of Lumet's camerawork in this film, starting with wide, overhead shots and gradually putting us right in the face of each juror as the heat literally and figuratively rises in the room. In the end, we realize that each of those 12 men brought their own perspective to the table, based on a lifetime of highs and lows. Did the jury get it right? We'll never know, but we know that at least the system did what it was supposed to do. Few directors have had such a successful first cinematic feature; lucky for all of us, Lumet never rested on his laurels.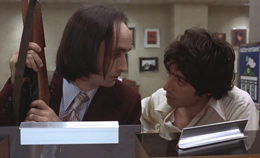 2. Dog Day Afternoon (1975)
Everything we've talked about so far brings us to #2 on the list: A hot day in New York where everyone involved is under pressure as things spiral farther and farther out of control. Inspired by a real story, Al Pacino and John Cazale play bank robbers who can't even stick to their half-baked plan. The stakes elevate as the media gets involved and in due time climb even higher thanks to the FBI. Pacino's Sonny Wortzik is a man a the end of his rope, but it's only after we learn more about the man that we begin to understand how he got there. Every moment in this film builds upon the previous one. It's part circus, but the fact that there are innocent hostages in that bank are a constant reminder that life and death are on the line. At the end of an excruciating day, we've witnessed a little bit of everything, and can't wait to watch it again.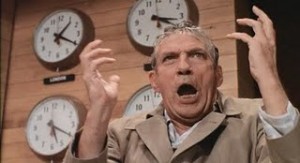 1. Network (1976)
You'll never see this one on broadcast television. It's a story with many levels, but the core point is all about the overhaul of the American news business and how it lost its purpose in pursuit of higher ratings. Looking at the film today, it is sadly prescient. Over the last 40 years, the news industry has shifted from information to infotainment to whatever profane word you would use to describe it today. That's not to say the movie is only about the message. The main engine setting the plot in motion is the immediate descent into madness when Howard Beale (Peter Finch) learns he's going to be fired. Beale's on-air antics draw a devoted fanbase and top ratings. The network immediately moves to exploit him with great success. Everyone but the biggest wigs ends up being a victim, even if it is only at the hands of their own ambition. There is romance, bromance, and scandal. There is heartbreak and violence. There are a ton of surprises, but in the end, none of the characters controls his destiny. "Network" has so many memorable moments. It's too hard to describe it in a blurb, and even Trey's recent Scene-Stealers feature had to leave a lot out. With each passing on-air bloviation, the film becomes more of a handbook for the eventual future. But at least Lumet and writer Paddy Chayefsky made it a fun ride.