Our Top 10 today is a very specific and quite unusual one. It comes to us from Scene-Stealers sitegoer and Moviefreak.com contributor George Schmidt, who has a thing for larger-than-life women, and it sounds like these lasses are responsible for more than one important moment in his life.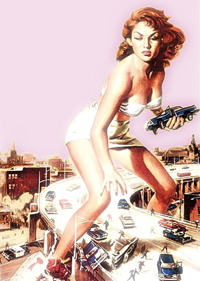 If you have a Top 10 of your own you'd like to submit, email me at eric@scene-stealers.com. Until then, enjoy George's towering list of Top 10 Sexiest Cinematic Giantesses. Here's George:
What is missing from today's cinema? Two words: giant women. Or specifically, giantess films. Sure science fiction has offered a few memorable moments for the silver screen in the past, but it's been a dearth of the sexy subgenre. What is it about large ladies (and for the record, I don't mean heavy women; that's another category altogether) that is so appealing? Is it the domination of a sexy woman in little (or no) clothing as a pure wet-dream fantasy? The powerful status of a woman literally towering above all of her domain? Or simply the guilty pleasure of seeing tiny men with ginormous babes?
There's a fetish as well (some more for 'vore': violence/gore factors, while the main strain seems to be 'gentle' ; I vote for the latter). Would it kill the powers to be to come up with some giant women films? There's a plethora of lovely women I'd love to see on the 'big' screen (Famke Janssen, Gina Gershon, Elisabeth Shue, Angelina Jolie, Parker Posey…well, the list goes on and on, and I'm sure many out there have their faves. If not, this list should help you start mulling it over!) There've been so many adaptations of TV shows lately, so when are they going to do a film version of "Land of the Giants" with say any number of MTV generation babes ballooned up to Brobdingnagian heights? The only film I know on the immediate horizon featuring a giantess is the upcoming animated film "Monsters vs. Aliens," which is probably fun for the whole family. It's a send-up of '50s sci-fi creature features with Reese Witherspoon voicing the young large lady. Anyway, here are my ten picks and reasons why. (Note: sadly some are only onscreen for a few moments and not an entire full length film. Hollywood get with the program!)
10. Marcia Strassman – "Honey, I Blew Up the Kid" (1992)
This inevitable sequel to the 1989 Disney hit "Honey, I Shrunk the Kids" continues the geeky adventures of intrepid scientist nerd Wayne Szalinski ('80s gorgon Rick Moranis) whose latest endeavor has accidentally caused his toddler to become a big kid on the block. In the film's climax, Strassman takes matters into her own hand when her youngest is threatened by the military. She zooms up to several hundred feet high (guesstimate: 200-foot mad mama) and scoops up the helicopter that's aiming for her son with a firm "Back off!" It's too bad Wayne didn't think of it earlier.
9. Elizabeth Hurley – "Bedazzled" (2000)
"Bedazzled" is a middling remake of the seminal 1967 British comedy that teamed Dudley Moore and Peter Cook—a Faustian tale about a noodnik (Brendan Fraser) with bad luck who makes a deal with the devil. The remake, however, gets a decidedly 21st century upgrade: the devil is in a red dress and in the comely form of Elizabeth Hurley. When the beleaguered Fraser attempts to get out of his otherworldly contract of fate, it only makes Satan steamed. In one brief, but memorable moment, Ms. Hurley gets her ya-yas out in anger in the form of what I can only term "sudden giantess". Oh, if Fraser only desired to get into Satan herself! See clip above: (begins @ 3:24) Sorry about the music — couldn't find any clips with the dialogue!
8. Jodi Ann Paterson –"Dude, Where's My Car?" (2000)
At the "climax" of this idiotic ode to stupidity (see redundancy), a gaggle of sexy aliens who are involved with some ridiculous scheme become so enraged with Seann William Scott and Ashton Kutcher's slacker morons that they merge into one "Super Hot Giant Alien" (played by former Playboy Playmate of the Year Paterson). The morphing results in a brief rampage at an arcade and a scene where she steps over a middle-aged father and his young son gazing at the wonder above them, which results in this exchange above.
Birthday Son: I want to go on that ride, Daddy.
Birthday Father: Me, too, Son. Me, too.
7. Dorothy Ford – "Jack and the Beanstalk" (1952)
Bud Abbott and Lou Costello's mildly amusing family film of the storybook classic casts Lou as Jack, told in fantasy-dream state, who is greeted at the top of the beanstalk's cloudy environs by Polly (Amazonian Ford). She is the Giant's main squeeze, but obviously wants nothing to do with the big lout and instead takes a liking to chubby Costello, including this pas de deux above.
6. Heidi Klum – "Ella Enchanted" (2004)
In this fractured fairy tale, Anne Hathaway is a Cinderella-type gal who encounters many storybook characters including a gaggle of giants. One of them is the German supermodel Heidi Klum, who is considerably taller than she appears on "Project Runway." She becomes the object of affection of one of Hathaway's friends and she gets a hold of more than his heart as shown in the clip above (:35 and :55).
5. Anita Ekberg –"Boccacio '70" (1962)
"Boccacio '70" is a compendium of vignettes from famous Italian filmmakers, including Federico Fellini, who allows his love of gargantuan gals take the shapely form of his muse Ekberg ("La Dolce Vita"). She is depicted here as a threat to society—or so the persnickety Dr. Antonio believes. When her image on a billboard endorsing milk comes to life in the form of a 100-foot goddess, she bedevils the prudish ass by playfully chasing him in the dead of night, eventually scooping him up to her mammoth chest. The metaphor of motherhood has never been so obvious. Got Milk indeed!
4. J.J. North & Tammy Parks – "Attack of the 60 Foot Centerfolds" (1995)
This schlocky send-up of '50s B-movies-cum-sexploitation flick made on the cheap is best seen on late-night cable TV. North and Parks are a pair of competitive models who want to increase the size of their breasts but instead become large lovelies. The result? Lots of painful puns and mediocre F/X. Ahmet and Dweezil Zappa explain their love for the movie in this series of clips, featuring plenty of movie moments—enough for you to get the picture.
3. Dorothy Provine – "The 30 Foot Bride of Candy Rock" (1959)
Previously mentioned funnyman Lou Costello made only one film after his split with fellow icon Bud Abbott, and sadly didn't live to see its release (he died five months prior after a heart attack from a bout of rheumatic fever). The movie is a high (pun intended)-concept-sci-fi romcom about a ne'er-do-well rubbish-collector-turned-inventor whose fiancée Emmy Lou (girl-next-door type Provine) is accidentally exposed to a mysterious fogbank in the local park. That spurts her to become the titular character (yes the couple do in fact get hitched, but as you can imagine the honeymoon doesn't go as planned!). Provine is fetching in a modified toga with a statuesque physique, underlined with a small, lovely voice that is only enhanced when she is displeased—as you can well imagin—at her newfound predicament. This film so needs a remake; say, Eva Mendes and Jack Black? "Heeyyyyyyyyyy Abbbotttttt!!!!!"
2. Allison Hayes/Daryl Hannah – "Attack of The 50 Foot Woman" (1958/1993)
Perhaps the grandmamma of all giantess films (well, at least in 1958, the first) is this tall tale about boozy heiress Nancy Archer (Hayes in the original, Hannah in the re-imagining) whose close encounter with a UFO causes her to inexplicably shoot up to 50 feet. Both films have the title character's unfaithful husband getting his comeuppance (the first one proves fatal, while the '93 version gets only a life lesson, in its neo-feminist treatise spin). Hayes' iconic bedsheet-bikini-clad behemoth was what awakened yours truly sexually, and started my appreciation of the giantess genre in general. While the '58 cult classic is a truly laughable exercise in Ed Wood-ian style over substance (Dig that ridiculous Plaster of Paris/paper mache hand and the transparent giants looming on the horizons!), the film is now revered as one of the most recognizable sci-fi titles. And, that poster: First of all, she's about 200 feet tall and it is now considered post-ironic artistry. (I have a framed reproduction myself.) So much for the hyped "attack," which only occurs in the final few moments of epic mediocrity—one trashed mansion, hotel bedroom, a town bar, amd just two fatalities. (The hussy her hubby was seeing gets hit by a beam and the adulterer is crushed to death in the palm of his betrothed. The shaking rag doll with a terrified voiceover is truly hypnotic!) 1958 version is above. 1993 version is below:
As for the newer movie, Hannah's makeover after her cosmic venture is borderline ridiculous (she looks like a refugee from the Pat Benatar "Love is A Battlefield" music video), but the forced perspective F/X are pretty impressive. Extra bonus fact: The movie was directed by comedy genius Christopher Guest.
1. Joy Harmon – "Village of the Giants" (1965)
The alpha and omega of giantess films: This sci-fi teen romp is about a pack of out-of-town joyriding teens led by Beau Bridges (!) that wind up in a small town after crashing their car in a rain storm. They stumble upon the resident "genius" (Ronnie Howard –Opie!) who has created a growth goo that they abscond in a fracas with the townies' teens. After ingesting the orange slab of gunk, the teens grow 30 feet tall and proceed to take over the town—after doing some groovy dancing of course. Harmon's Merrie (great moniker for a somewhat gentle, mischief-making giantess) is the standout from not one, not two, but four giant babes!! Her ample bodice is put on full display lovingly by schlockmeister Bert I. Gordon (Read initials as BIG—he also helmed giant films "The Cyclops", "The Amazing Colossal Man," and its sequel "War of the Colossal Beast." He also directed gi-ANT sci-fi flick "Empire of the Ants" and "Food of the Gods" which was a remake of "Ants" (!!!!), based ever-so-loosely on H.G. Wells' novel (!!!!!) ). Harmon's dance with "The Rifleman"'s Johnny Crawford is an iconic moment, as the tiny guy hangs from her swaying cleavage (see clips below). This is almost as great as the climactic showdown with her chest. This movie is truly memorable and a remake is so damn necessary (take your pick of any number of CW-worthy hotties or even a Jessica Alba/Jessica Biel /Jaime Pressly combo!). In summation, two words: Joy Harmon. Truly ginormous hottie!
**one last bit of trivia: Ms. Harmon was the wet-dream gal of George Kennedy, washing her car ever-so-suggestively in "Cool Hand Luke" (1968) and she is currently an owner of a bakery in California. Dance sequence is above, climactic cleavage reunion is below: