Finding a modern romantic movie to watch on Valentine's Day that doesn't make both of you want to wretch is pretty tough sometimes, what with the cookie-cutter romcoms starring any combination of Gerard Butler, Katherine Heigl, Ashton Kutcher, and/or Sarah Jessica Parker. If you're not careful, one of you will end up convincing the other to settle for something neither of you want to see. It may be hard to believe, but there are some romantic films that surprise and some that even work despite their formulaic underpinnings. This Top 10 list of top romantic movies will start with the easiest to swallow and get crazier as it goes. Each and every one of them is recommended for Valentine's Day movie watching.
If you have an idea for a Top 10 list, email me at eric@scene-stealers.com.
Here's 10 Modern Romantic Films That Don't Suck.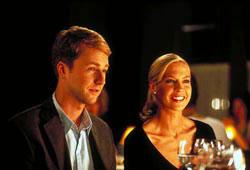 10. Keeping the Faith (2000)
Edward Norton's only movie as director so far (he's in preproduction on Motherless Brooklyn right now) finds the star of manly movies such as Fight Club and American History X delving into romantic movie fare. The premise also sounds like the beginning of a bad joke. Norton and Ben Stiller play two best friends, who also happen to be a priest and a rabbi—and, yes, they do walk into a bar. They both fall for the same girl, played by Jenna Elfman. If you can't lure your man to watch on Norton's name alone, surely Stiller will do the trick, as long as you stick to reminding him of the comedian's penchant for outrageous gross-out humor. There is nary an outrageous moment in this film, but Stiller and Norton have a natural repartee, and Elfman is so charming and effusive, it's a wonder she didn't turn up in more of these kinds of romantic films.
Anna: We have a chemistry together, I can't explain it.
Jacob: Well, chemistry's a funny thing.
Anna: Yes, it is. Are you speaking abstractly or specifically?
Jacob: Abstractly.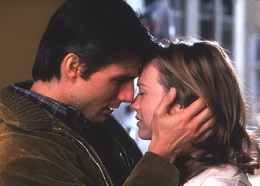 9. Jerry Maguire (1996)
Tom Cruise is back on top as an action hero after Mission: Impossible – Ghost Protocol, so it may difficult to remember when he played normal human beings in romantic movies really convincingly. But watch him as an agent who has to re-assess his life's priorities after losing all of his important clients in this charmer ad tell me it doesn't work. The only one who remains is washed-up football player Cuba Gooding, Jr. (in an Oscar-winning role that now seems so far away). Renee Zellweger is the girl who he courts and eventually helps him make that important change. Cameron Crowe wrote and directed this Best Picture nominee and, although it is covered in some light syrup, the mushy parts ("You had me at 'hello'") are nicely balanced with the more riotous moments. ("Show me the money!" is still funny in context, as overdone as it is!) Crowe emulated his idol Billy Wilder on this film, and it shows.
Jerry: What do you want from me? My soul?
Dorothy: Why not? I deserve that much.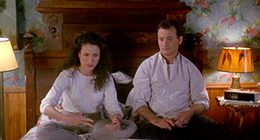 8. Groundhog Day (1993)
What guy doesn't like Bill Murray? Tell him this movie is fast becoming a classic and that it has a sci-fi twist, and he'll be totally in. He'll get what you promised, but you'll also get a sweet, if odd, romance movie with Murray and Andie MacDowell. This romantic film in disguise just seems to get better with time. As Murray's beleaguered weatherman keeps repeating the same day over and over again, the comedic stakes get higher and funnier. Murray's grumpy routine is a perfect fit for an ingenious script that not only explores its potential to the fullest, but throws in a nice dash of romantic comedy as well. Groundhog Day is also a nice bit of wish-fulfillment for anyone who wishes they could have about a hundred tries to finally get something right.
Ned: Phil, this is the best day of my life.
Phil: Mine too.
Rita: Mine too.
Ned: Where are we going?
Rita: Oh, let's not spoil it!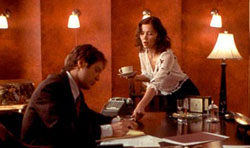 7. Secretary (2002)
OK, we're going from sci-fi to masochism. The list is officially getting weirder. There's a number of ways to sell this one to him: First, try to engage his more prurient interests. Tell him Maggie Gyllenhaal is naked a lot. If that doesn't work, tell him the movie is about bondage, discipline, dominance, and submission. Actually, that's not too far of a stretch. It may only gradually reveal itself as such, but Secretary humanizes people who are into sadism and masochism. Okay, this is becoming a hard sell for you now, right? When I tell you that it is a romantic movie, you'll just have to trust me. James Spader is the boss, and Gyllenhaal is the secretary. Secretary is about two people who need something more from a relationship, and for some, that need for dominance is perfectly balanced on the other side by someone else's desire to be completely submissive. When it's mutually beneficial, who are we to scoff at the perfect couple, even if it doesn't fit in with our view of what that may be? A romantic film about acceptance that rewards spanking and bad behavior? Count me in.
[Mr. Grey explains to Lee why he's firing her]
E. Edward Grey: It's your behavior.
Lee: What about my behavior?
E. Edward Grey: It's very bad.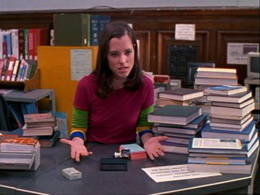 6. Party Girl (1995)
Tell him this film is about a hot girl, played by Parker Posey, who constantly throws all-night parties in her New York loft apartment rather than getting a real job. Don't tell him it is kind of a modern day re-telling of the Audrey Hepburn classic Breakfast at Tiffany's. After getting arrested, Posey eventually must straighten up and learn responsibility (plus, pay back her bail) through working a job as a library clerk. She even has time to pay attention to her friends a little more and fall in love with a falafel vendor. Like Breakfast at Tiffany's, Party Girl is not a completely solid romantic film, but it does have some very funny moments.
Derrick: And he looked in my eyes and he said "I don't understand you." Isn't that amazing, that he saw how complex I am?
Mary: Maybe he just didn't understand you.
Derrick: What do you mean?
Mary: You said he didn't understand English very well. Maybe he just… didn't understand you.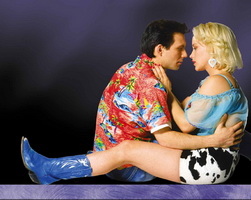 5. True Romance (1993)
The title says it all, and hopefully that will be all she needs to hear for you to convince her that this romantic movie from Hell is worth renting. If the pitch of Christian Slater and Patricia Arquette as star-crossed newlyweds isn't enough, tell her that hunky Brad Pitt makes one of his earliest and most memorable screen appearances here. Most guys like this one better than me, however. Quentin Tarantino wrote the script and probably should have directed it too, because Tony Scott's slick take on the material is a bit too hollow for my tastes. Be that as it may, most guys love this movie, and anytime you can get your girl to watch a film with this much machismo, gunplay, and drug humor, you might want to take advantage of it. Plus, it is actually a romantic movie, so maybe your better half will be feeling warm and fuzzy after all the killing stops.
Clarence: You're a whore ?
Alabama: I'm not a whore. I'm a call-girl. There's a difference, you know?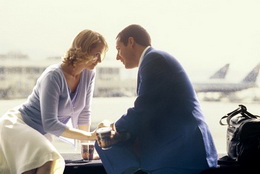 4. Punch-Drunk Love (2002)
Tell her it's an Adam Sandler romantic comedy, only instead of Drew Barrymore, he romances Emily Watson. You're telling the truth, but only a fraction of it. The director of There Will Be Blood is responsible for making this offbeat gem, a movie that channels Sandler's suppressed rage in a way less obvious and funny way than the overdone and formulaic Anger Management. She may realize something is up when Adam Sandler destroys a restaurant bathroom and then tries to continue his date undeterred. Perhaps she'll be onto you when Philip Seymour Hoffman the Mattress Man sends a bunch of dumbbell henchman after Sandler to pay for his phone-sex line charges. But maybe by the time Adam Sandler and Emily Watson share their first intimate moment together, she might finally be won over by this little film's distinctive charm. Just listen to this romantic film line from Sandler's character:
Barry: I have so much strength in me you have no idea. I have a love in my life. It makes me stronger than anything you can imagine. I would say 'that's that', Mattress Man.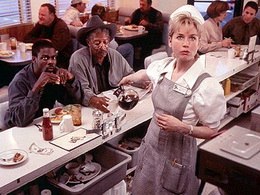 3. Nurse Betty (2000)
It may not be the best known of romantic films, despite a cast that makes it look really, really normal at first glance. The DVD cover with Renee Zellweger on the front, holding an autographed picture of a smiling Greg Kinnear, makes this one look like your average romantic comedy. It's not. Sure, Zellweger's Betty pines for soap opera star George McCord (Kinnear), but … after a nasty turn of events that has Chris Rock scalping her abusive, redneck husband (Aaron Eckhart, no stranger to bad romantic movies), Betty loses touch with reality and thinks McCord's TV character is a real person. What follows is a bizarre black comedy involving hitmen, drug money, and severe dementia. As Betty escapes her terrible reality into the fantasy world of a soap opera, she treks west to meet her true love, even if he is in reality a fictional character. Kind of sick, right? Morgan Freeman co-stars in a role that hilariously tweaks the upstanding, morally righteous characters he always plays — and gives him the most unlikely of movie romances. Neil LaBute's twisted tale builds up to a fever pitch and finally concludes with both a shootout and a suicide, yet still (somehow) manages a happy ending.
Betty Sizemore: Gosh! I haven't been this happy since I was 12.
George McCord: Okay, I'll bite. What happened when you were 12?
Betty Sizemore: I took my mom to Kansas City for Mothers' Day and I used the allowance I was saving. We went to lunch at Skies, this restaurant at the top of a building, and you can see the whole world from up there. It was our last special thing 'cause she died that year. It was a great day.
George McCord: You just gave me goose bumps from that. You know that? That is just great improv!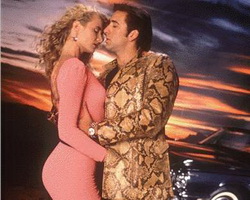 2. Wild at Heart (1990)
This twisted romantic film is as close as David Lynch will ever get to making a romantic comedy. It's romantic and it's funny, but don't call it a romcom. The intense love that Sailor (Nicolas Cage) and Lula (Laura Dern) have for each other is obvious from frame one. But romantic movies don't often veer into this territory. After the opening scene where Sailor brutally kills a man who attacks him on a stairwell, you may have a harder time convincing her to stick with it. It's worth it. With shocking violence, a darkly absurd sense of humor, and overt nods to The Wizard of Oz, Wild at Heart is a fairy-tale romance in Hell. Cage was at his magnetic, ridiculous best and Dern has never been sexier, which is saying a lot, since Willem Dafoe almost steals the show as the sleazy Bobby Peru.
Lula: One of these days the sun's gonna come up and burn a hole clean through the planet like a giant electrical x-ray.
Sailor: I wouldn't worry about that, Peanut. By then people'll prob'ly be drivin' Buicks to the moon.
1.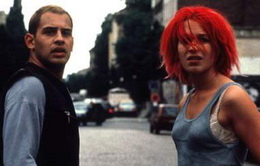 Run Lola Run (1999)
Guns. Gangsters. Thrilling action. All the things guys like. But tell her this movie is about a couple that is so in love that they are willing to do stupid dangerous things for each other, and you won't be lying. If you look at it that way, this is still one of the most romantic films on the list. Lola (Franka Potente) is deeply in love with her boyfriend. She'd have to be to run all over town doing desperate things like trying to retrieve the mob's drug money that he carelessly left behind. Like Groundhog Day, she gets numerous chances to make things right. Three alternate realities open up and with each tiny, slight difference, Lola's possibilities change drastically. She'll love the fact that the female character has all the brains and balls in this relationship, and you'll both be so engrossed in this clever, philosophically-challenging videogame of an action film that she'll probably forget that you ever sold it to her as a romantic comedy. It's a win-win!
Manni: What if I were in a coma, and the doc says, "One more day?"
Lola: I'd throw you into the ocean… Shock therapy.