They say all actors want to be rock stars and vice versa. There are a select few who are able to do both, but for the most part, we don't want musicians (especially not will.i.am in "Wolverine," in theaters now) in our movies and we don't want our movie stars (especially not Kevin Costner and Modern West, on tour now) on our stages. That's why the rock star cameo is a fun and harmless little way for our favorite rockers to appear for a short time (sometimes as themselves) and disappear before they can do any real harm to the movie. Many times, the rock star cameo sounds way cooler on paper (Keith Richards as Jack Sparrow's daddy "Pirate," for example) or just plain fizzles out (Neil Diamond in "Saving Silverman"). This list is proof that there is a way, however, to have rock star cameos that actually … well … rock. I know I missed some, so please leave comments below! If you have an idea for a Top 10, email me at eric@scene-stealers.com.
Runners-up: The Beach Boys and Rick Neilsen (from Cheap Trick) in the Fat Boys' "Disorderlies," Dave Pirner (Soul Asylum) and Evan Dando (Lemonheads) in "Reality Bites," Lemmy Kilmister (Motorhead) in "Airheads," Dave Grohl, Meat Loaf, and Ronnie James Dio in "Tenacious D: The Pick of Destiny."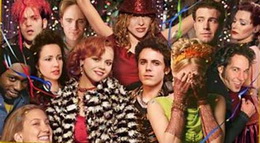 10. Elvis Costello, "200 Cigarettes" (1999)
The ensemble movie, set in 1981 and co-starring Ben Affleck, Casey Affleck, Dave Chappelle, Courtney Love, Jay Mohr, Christina Ricci, Janeane Garofalo, Kate Hudson, and Paul Rudd (sporting the worst sideburns ever), is pretty terrible and emblematic of the Gen X formula movie (with a dash of nostaligia), which makes Elvis Costello's cameo pretty unexpected. (Then again, he also cameoed in "Austin Powers: The Spy Who Shagged Me," so I guess he'll do just about anything.) Costello is the huge crush of Martha Plimpton's character. She's throwing a big new Year's Bash and is worried no one will come. But come they do and all manner of drama and relationships is discussed. At the party, she eventually passes out in the kitchen and misses the arrival of her idol. At the end of the movie, the weirdest couples end of pairing off—one of them being Elvis, but not with his admirer. It should also be noted that David Johansen of the New York Dolls (and Buster Poindexter fame…ugh.) is in this movie too, although it's not really a cameo.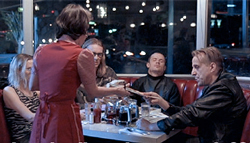 9. Flea, Aimee Mann, and Jimmie Dale Gilmore, "The Big Lebowski" (1998)
"Okay. So we take ze money you haf on you, und ve calls it eefen. Ve don't care. Ve still vant ze money, Lebowski, or ve f*** you up." We also know the nihilists from the Coen brothers' cult classic "The Big Lebowski." But did you know that two of the nihilists were played by big rock stars? Nihilist #2, or Kieffer, as he's known in the script is played by Red Hot Chili Peppers' bassist Flea, while the girlfriend of Nihilist #3 (otherwise known as Nihilist Woman in the script) is none other than Aimee Mann. Mann's bleach-white hair and lanky body are perfect for the role, which is way bigger than you might think. After all, she's the one who sacrificed her toe. (That's her on the left, and him second from right.) Country-rock singer/songwriter Jimmie Dale Gilmore is also in the film as one of Walter's Vietnam vet bowling buddies. He's the one Walter accuses of cheating by brandishing a gun.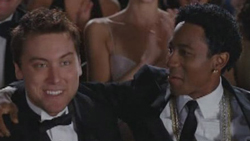 8. Lance Bass, "Tropic Thunder" (2008)
OK, he's not really a rocker, but this this cameo gets a lot of credit for just being plain creative. In 2006, the 'N Sync'er and former teen heartthrob to millions of girls came out of the closet. Two years later, he made his second cameo in a Ben Stiller film (more on that later) when he appeared in the vicious war-movie-set Hollywood satire "Tropic Thunder." In the movie, rapper/actor Alpa Chino (Brandon T. Jackson) seems to be hiding something under his tough veneer. He also keeps referring to someone named "Lance," and later confesses it's his boyfriend. I remember thinking, "Lance—like Lance Bass." Sure enough, during the last scene of the film at the Oscar ceremony that year, Chino's got you-know-who on his arm.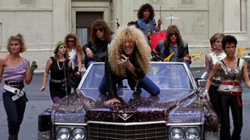 7. Twisted Sister, "Pee-Wee's Big Adventure" (1985)
Pee-Wee (Paul Reubens) is being chased by studio security through the Warner Bros. backlot when he all of a sudden the pounding orchestral music comes to a screeching halt and we see a bushy-haired blonde dude straddling a car and trying to look tough. He's singing something about the Devil. It's lead singer Dee Snider with his band Twisted Sister behind him and a bunch of chicks that looked like they stepped off "The Road Warrior" set but with more make-up. They're filming the music video for their never-a-hit single "Burn in Hell." (Not quite as harmless as "I Wanna Rock"!) As Santa and a dazed Godzilla come around the corner chasing Pee-Wee in a big sleigh being dragged by a boat, the band disperses quickly. Pee-Wee—a loner, a rebel—remains unflappable. "How ya doin'?" he yelps joyously as he rides off. Tim Burton's directorial debut is still the funniest movie he's ever done. What's that? Do I hear calls for a Pee-Wee/Burton reunion?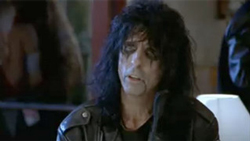 6. Alice Cooper, "Wayne's World" (1992)
This cameo is a perfect example of playing against type, and it probably has something to do with a bit of an Alice Cooper re-emergence around the early nineties. Not only does he encourage the lovable metalheads to stay and hang out with him and the band, he turns out to be some kind of Milwaukee history buff. As Wayne (Mike Myers) and Garth (Dana Carvey) are wandering around backstage flashing their passes proudly to everyone they see, they run into Alice and the band. Eschewing the party-hard atmosphere of most hard rock bands, Alice engages them in a discussion of French missionaries and explorers from the late 16th century and Algonquin word origins. Curious indeed.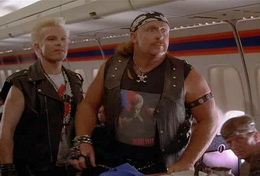 5. Billy Idol, "The Wedding Singer" (1998)
How many washed-up 80s rockers get to save the day in a hugely popular romantic comedy? Since Adam Sandler's "The Wedding Singer" takes place in 1985 but was filmed in 1998, that means Billy Idol was 43 years old playing himself at 29 when he showed up on that fateful plane ride with Sandler and Drew Barrymore. Not only does Idol introduce Sandler's win-her-back acoustic number over the airplane intercom, but he also blocks Barrymore's Don Johnson-looking fiancée from getting anywhere near him with a sly "How you doin' sir? Chicken or fish?" He also has the most devilish look on his face ever when one lady in first class asks, "What's the mile-high club?" This appearance alone probably upped his nostalgic "cool" factor for a good 5 years or so.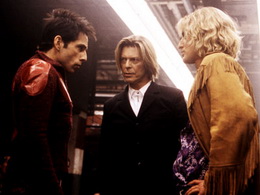 4. David Bowie, "Zoolander"(2001)
It all gets too dangerous when male supermodels Derek Zoolander (Ben Stiller) and Hansel (Owen Wilson) decide to settle their beef on the runway at the old Members Only warehouse with a "Rocky"-like "walk-off." There's only one person with the fortitude and experience to judge this spur-of-the-moment meeting of the feeble minds—former glam rock king David Bowie. Bowie is a serious actor in his own right (from playing an alien in Nicolas Roeg's "The Man Who Fell to Earth" in 1976 to playing inventor Nikola Tesla in Christopher Nolan's 2006 thriller "The Prestige"), and he shows impeccable comic timing when he volunteers his services at a late-night party and covers the ground rules with his competitors. It should also be noted that his cameo on Ricky Gervais' "Extras" doesn't count because it's a TV show, but it's actually way funnier. Bowie improvises a song on the piano about Gervais' "little fat man with the pug-nosed face" that has me in stitches every time I hear it.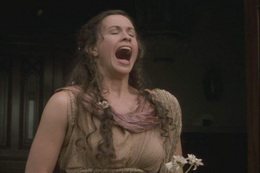 3. Alanis Morrisette, "Dogma" (1999)
I'm not a big Alanis Morrisette fan, so when her cameo in Kevin Smith's "Dogma" was first leaked, I was pretty poo-poo about the whole thing. When I found out that he had cast her as God, I thought—"Wow, is he trying to say something about her music?" Yikes. But this is one of those instances when you just have to trust that the director saw something that you hadn't. I mean, he is the freaking director after all—who are we to sit here and judge before we even see the film? Since then, I try to remain pretty open about all casting news I hear. The statement—that God is a woman (or in woman form at least)—was enough. All Smith was trying to do was push our buttons, after all. What Morrissette brought to her small but ultimately HUGE role is this little-girl impish kind of playfulness that completely suited the conclusion to a pretty far-out religious adventure film that flirted with some pretty heavy subjects. Smith was right—she was perfect for the part.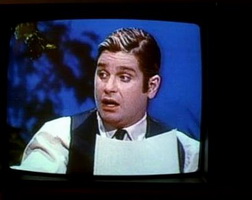 2. Ozzy Osbourne, "Trick or Treat" (1986)
Way before the Prince of Darkness became a stuttering reality TV star, Ozzy was about as dangerous as you could get in heavy metal. Back in the 80s (before the Internet), his supposedly Satanic lyrics and rumors of him biting the heads off bats onstage were real enough to scare the beejezus out of younger metal fans. (After the bat actual incident, which happened just once on accident with a dead bat in Des Moines, phone calls to the Wisconsin Humane Society on the same 1982 tour warned that Osbourne would be slaughtering a goat onstage in Milwaukee.) That's why his cameo in the backwards-masking horror flick "Trick or Treat" is so much fun. No, he's not the possessed rock star—instead, Ozzy plays a man of the cloth. He's shown on the TV—in the background of two separate scenes—railing against the evils of rock n' roll pornography and the "sick people" who listen to it. In one clip, he's passionately denouncing an album called "Do It Like A Dog." Gene Simmons of KISS also cameos in the film as a DJ named Nuke, but it's not nearly as funny or cool as Ozzy's part.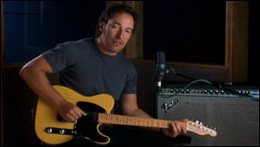 1. Bruce Springsteen, "High Fidelity" (2000)
Rob Gordon (John Cusack) is obsessed with music and he can't seem to take the next step in his adult life. In Stephen Frears' brilliant adaptation of the novel (a book that speaks to me louder than almost any other), Rob also consistently breaks the fourth wall and speaks directly to the audience. In the book by Nick Hornby, the main character wishes he could handle his past girlfriends as well as the musician does in the Bruce Springsteen song "Bobby Jean." In the movie, Rob has a conversation in his head out loud with the Boss, who shows up strumming a guitar in the studio, to offer some sage advice. At that point in the movie, he may be the only person that Rob will actually listen to. He lies on his pillow, looking up to the ceiling and has the conversation all by himself. "Thanks, Boss," he says, saluting after it's over. (Watch it at the link above. Now.)