Beyond the fairly funny opening sketch where hosts James Franco and Anne Hathaway go into Alec Baldwin's dreams "Inception"-style, and another pre-taped segment of auto-tuned 2010 movies, this year's Academy Awards were pretty lackluster. Thank God Hollywood legend and 94-year-old stroke survivor Kirk Douglas was on hand to lend the hosts a hand and bring some spontaneity to the show. (That, and Melissa Leo's f-bomb ensured an early peak.) Here are the Top 10 Reasons the 2011 Oscars Sucked. If you'd like to contribute a Top 10 list, email eric@scene-stealers.com.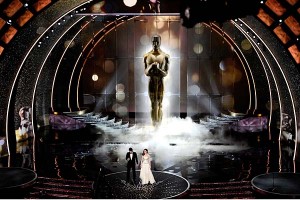 10. Tributes to Past Winners Never Gelled
Before I launch into a bunch of negativity, here's one huge compliment. The set design was amazing. The several layers of video imagery on multiple screens including that huge arc behind the presenters was amazing. IF ONLY they had been able to tie what they were doing into the video they were presenting! When "Gone With the Wind" was introduced, the screens changed to show all kinds of iconic images from the movie, but it didn't come off on TV at all—and then nobody talked about the movie. That was just weird. When Justin Timberlake invited us to enter the world of "Shrek's" Far Far Away like it was going to be some magical event, there was just an awkward pause and a quick cut to the set changing. Mila Kunis' joke "You missed a spot" didn't even register. I'm sure it was more spectacular in the Kodak Theater, but it didn't have the thematic pull or visual impressiveness at home.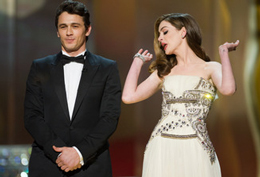 9. Hathaway Trying Too Hard
Again, this is a minor complaint. We're working our way up to the big offenders still. In a nutshell, Anne Hathaway was a good host. Had she been given a better co-host and better jokes, that would have helped, but she looked genuinely excited to be there at least. Sometimes, a little too excited. One miscalculation: They underused her singing talents in a lame, abbreviated 'almost-song' ("On My Own") about Hugh Jackman abandoning her as a singing partner. On the plus, her comic timing was pretty right on most of the night—but poor Anne just looked exasperated. She put on a brave face as the night went on (and on), but between her whooping ("Hilary Swank, whoooo!") and her gasping reverence (deserved I suppose for Mr. Douglas, but still too showy), she looked like she was trying too hard. I don't really blame her though. She basically had to muster all the enthusiasm for the hosting duo by herself. Maybe they should do what the song said and give her another shot—on her own.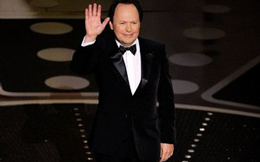 8. Bringing Billy Crystal Back Only Reminds Us What We're Missing
Mr. Crystal is the undisputed modern king of Oscar hosts, and when he was announced, the audience burst out cheering. And with good reason—Crystal has a superb track record of hosting in his eight years between 1990 and 2004. He always has the rare ability to poke fun and pay tribute to the nominated films without coming across bitter or angry, and he could always follow up an unexpected event with a great one-liner. So when it turned out all he was doing was introducing a Bob Hope tribute (the classic Oscar host of yesteryear), all the segment really did was remind us how badly they were both missed at that very moment.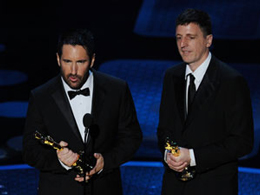 7. Early Awards Predicted Later Surprises That Never Happened
When Wally Pfister beat Roger Deakins for Cinematography and "Alice in Wonderland" won for Art Direction, it looked as if the night might be full of surprises. Hell, even first-time nominee and Nine Inch Nails frontman Trent Reznor won an Oscar (with Atticus Ross, for the "The Social Network" score), beating such luminaries as Hans Zimmer and Alexandre Desplat. But as the night wore on, it was clear that the only surprises would be in the technical categories. As the show itself would run out of steam, everything else began to fall into place as most pundits had predicted (see #1).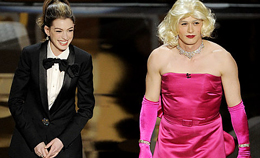 6. Franco In A Dress
Hathaway had been wearing a tuxedo when she sang her song about Jackman. That was the supposed reason for the lamest and most desperate laugh of the night—Franco coming out in a pink dress with a blonde wig. Specifically, he was aping Marilyn Monroe in "Gentleman Prefer Blondes," strolling out all frumpy and hunched over to make it "funnier." Instead, it just reeked of desperation. "You got to wear a tuxedo, so I wore this," he said to Hathaway. What a punchline! Oh, wait, that wasn't it: He added, "The weird part is, I just got a text message from Charlie Sheen." Ugh. This dovetails nicely into #2…
5. Those Godawful Songs
Last year, they got rid of them, but this year, they were back! Even winner Randy Newman joked about the low number of nominees in the Original Song Category: "To hell with it. You couldn't find a fifth song?" The better question should have been: If these were the nest you could find, shouldn't you have skipped this category this year completely? Newman's voice was barely there, and A.R. Rahman and Florence Welch performed what seemed to be a song introduction rather than an actual song. Zachary Levi and Mandy Moore dueted on a middling tune from Disney's "Tangled," but the funniest part of the songs came when Jennifer Hudson introduced Gwyneth Paltrow as a "singing sensation and country music's newest star." She then proceeded to sing "Coming Home"from "Country Strong" into to a big, weird-looking white microphone with nary a hint of camp, much less any twang. Country music indeed. Thank God they were all abbreviated versions of the songs.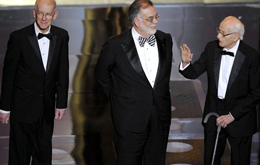 4. Lifetime Achievement Awards – Poof! They're Gone
It's bad enough that the Academy has cut this portion of the awards from the telecast, but his year was an unforgivable fake-out. First, there was a whole ONE-MINUTE montage of Jean-Luc Godard, Kevin Brownlow, Eli Wallach, and Francis Ford Coppola getting their awards at a ceremony late last year. How generous!
Then, to add insult to injury, three of the winners took the stage to thunderous applause and—wait for it—the telecast cut to commercial! I guess making time for a tribute to film's living legends isn't as important as Gwyneth Paltrow's new singing career.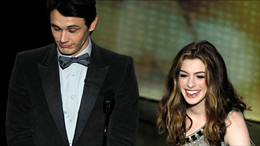 3. Franco Bored And Above It All
All the hype about multi-hyphenate James Franco was saying "What can't he do?" Well, now we know. During the ABC Red Carpet special, he looked pissed off that he even had to be interviewed and that overall attitude carried right on into the Kodak Theater as Franco basically slept through the entire show. Or at least it looked like was sleeping. His body was upright and his mouth was moving, but Franco his eyelids were half-closed and it looked like he might nod off at any moment. He had no chemistry with Hathaway and tossed off even his most basic introductions with a demeanor that bordered on outright contempt. For an Oscar-nominated actor to get a gig like this and then not even be able to fake enthusiasm is kind of weird. Maybe he got some bad news that afternoon. That's the only thing I can think of. Whatever the reason, you can bet that Franco will not be asked back to host another Oscar show.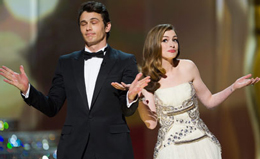 2. Awful Writing
As Norm Macdonald tweeted earlier in the night, "Hey watching this show raises an interesting question. Is there a writers strike or something?" Seriously. Franco joking about inappropriate movie titles like "Winter's Bone"? That joke is so old that Dana Carvey and Mike Myers beat it to death weeks ago on "Saturday Night Live." Maybe Franco was all sleepy-eyed and surly because he knew he didn't have any good jokes.
At least bad writing also contributed to the show's funniest moment of the night, a cutaway to Joel and Ethan Coen looking bored during Oprah's plodding introduction of the Best Documentary category.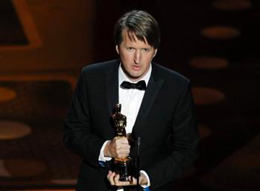 1. Tom Hooper and "The King's Speech"
After adventurous Best Picture winners like "The Hurt Locker" and "No Country for Old Men," I guess it was time to anoint a more traditional winner, eh? OK, so this isn't nearly as bad as the travesty that was "Crash" winning Best Picture in 2006, but Tom Hooper beating David Fincher for Best Director will go down in history as one of the most egregious snubs ever. Despite what the early awards were telling us (as "The King's Speech" was beat again and again), the feel-good period drama went on to win the two biggest awards of the night. By the time they got to Best Picture, the producers had even given up trying to hide who was going to win, as Colin Firth's voice narrated and tied together the montage of all 10 nominees. Oh well. At least Fincher and company can take heart. Like Steven Spielberg said: The losers are joining the ranks of "Citizen Kane" and "Raging Bull," so there are worse things than becoming a timeless classic, I guess.