Elliot Kort and Abby Olcese are the Two Awesome Movie Nerds from Lawrence, KS.  If you have a Top 10 list of your own, email me at eric@scene-stealers.com. Here are their Top 10 Favorite Product Placement Movies:
These films are lumped together for one specific reason: there are too many brands represented to argue that any one of them are the focus point. However, we applaud them for their ability to mock product placement while simultaneously supporting it. Therefore, the Top 10 slots are reserved for product placements so sly, so creative, or so utterly blatant that we can't help but celebrate them. Each of the following stands alone for its own unique brand of merchandising. And, if you doubt the power of cinematic advertising, check your own collection of stuff and see what overlaps. You might be surprised.
Honorable mentions:
"Zoolander": Starbucks, Bulova watches, MTV, Aveda, Macintosh computers, Time Magazine
"Josie and the Pussycats": Target, Tide, McDonald's, Ford Mustang
"Wayne's World": Doritos, Reebok, Pizza Hut, Pepsi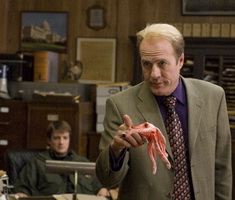 10. Mr. Pibb – "Slither" (2006)
Abby: You know product placement in a movie works when you don't just remember it, but that movie becomes the reason you like the product. Sure, I drank my share of Mr. Pibb (or "Pibb Extra" as they call it these days) during my childhood. But it was the profanity-laden outburst from Mayor Jack MacReady (perennial bad guy Gregg Henry)  about how much he needed the sugary Dr. Pepper taste-alike ("It's the only coke I like!" he claims) that placed Mr. Pibb in my soft-drink pantheon. I can't drink it without thinking about "Slither," and I can't watch "Slither" without thinking about Mr. Pibb. Now that's product placement.
Jack MacReady: Goddamn Brenda exploding like a water balloon, worms driving my friends around like they're goddamn skin-cars, people are spitting acid at me, turning you into cottage cheese, and now there's no f@#king goddamn Mr. Pibb?
9. TiVo – "Tropic Thunder" (2008)
Elliot: Seriously, when Matthew McConaughey's super Hollywood agent Rick Peck runs out of the Laos jungle clutching this digital video recorder for his star client Tugg Speedman (Ben Stiller), you can't tell me you didn't wonder just for a second about what you had set to record on your own DVR? And to know that a TiVo can also serve as a deterrent to RPGs? That just makes me all the more likely to buy this particular little black box. Here is a handy little video with every TiVo mention from the "Tropic Thunder" edited down to 1:34. Beware if you haven't seen the movie cuz it kinda spoils the ending. Seriously.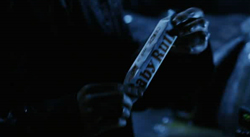 8. Baby Ruth – "Hellboy" (2004)
Abby: This exceptional bit of product placement shows up right at the beginning, when Professor Broom (John Hurt) offers one to the then-infant Hellboy (later played by Ron Perlman). Now, candy bars as peace offerings show up so often in movies that it's pretty much a cliché. But I let it slide with this movie, because a) I like Baby Ruths and b) "Hellboy" is badass. If Guillermo Del Toro wants to make Baby Ruth the candy bar of choice for demonic paranormal investigators, so be it. I'll bite. Here's a link to suggestions for throwing a Hellboy party. Hint: Bring some Baby Ruths.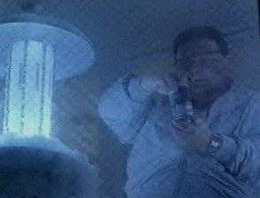 7. Barbasol shaving cream – "Jurassic Park" (1993)
Elliot: In this groundbreaking CGI-filled Spielberg epic, the Barbasol can-turned embryo carrier from Dennis Nedry (Wayne Knight, better known as Newman on "Seinfeld") is the most prominent bit of placement. However, I also contend that water has never received better marketing. The cup of H20, shaken rhythmically by the stomping of a nearby T-Rex, became an instant visual icon of cinema. For years to come, any glass of water pulsating with movement automatically reminds of "Jurassic Park," even if not initially intended. The joint advertisement of hydration and a silky-smooth shave earn "Jurassic Park" a spot on our list.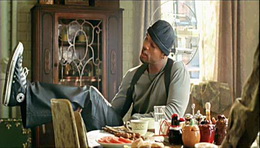 6. Converse All-Stars – "I, Robot" (2004)
Abby: I remember when "I, Robot" came out. I had just bought my first pair of Converse hi-tops. Imagine my excitement when I watched the movie and noted "Hey! Will Smith wears Chucks, too!" What's more, Will Smith's sneakers aren't just a cheeky product placement. They are an example of how "old school" he considers himself. Smith's character only believes in things he thinks will stand the test of time. Robots are not one of these things. Chuck Taylors, on the other hand, have been around since my grandfather was in school, and have survived countless fashion trends over the years. These babies have staying power. Smith's choice of footwear isn't just name-dropping. It's a character trait. Check out some hot Chuck video from "I, Robot."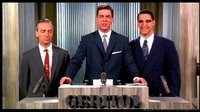 5. Geritol – "Quiz Show" (1994)
Elliot: Sure, the quiz show "21" was rigged. Sure, Charles Van Doren cheated on the show by knowing the questions ahead of time. Sure, the tonic-based Geritol (which sponsored the show at the time of the controversy) isn't on the market nowadays. Nonetheless, the supplement displayed front and center in the Robert Redford-helmed "Quiz Show" harkens to a time when product placement on television meant your product was right out in the open, placed squarely in front of the whirring cameras and eager audiences. Oh, weren't those the days? Here's a scene that prominently features Geritol on the podium of the game show ("Twenty-One"). In real life, Geritol's sales dropped off to pre-show sponsorship levels after the scandal erupted.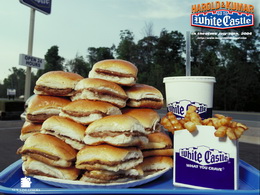 4. White Castle – "Harold & Kumar Go to White Castle" (2004)
Abby: This is the best kind of product placement anyone could ask for (unless you don't enjoy being associated with stoners) because the name of the company is right there in the damn title of the film! The movie has a spot in the "White Castle Hall of Fame" section of the White Castle website, so I'm going to assume those guys were down with the shout out. It had been years since I'd last heard of or even thought about White Castle burgers before this movie came out. After its release, I had to give them a try. I did. They're pretty bad. But I guess if you've got the late-night munchies, they'll do.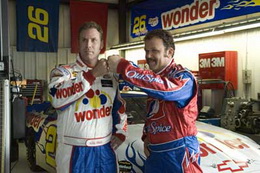 3. Wonder Bread – "Talladega Nights: The Ballad of Ricky Bobby" (2006)

Elliot: I can hear the disagreement already. "Shouldn't 'Talladega Nights' only get an honorable mention? I mean, Jesus, did you SEE all of those brands?" Yes, fair reader, I hear your gripe. However, the film's main product (emblazoned on the hood of Ricky Bobby's stock car) is undeniable. This film doesn't feature product placement. It beats you over the head with it at every breakneck turn.
Abby (sorry, had to comment!): So do Fig Newtons, but I guess Wonder Bread counts more because it's on Ricky Bobby's uniform.
Elliot: To redirect, we must also acknowledge the most aggressive advertisement ever: "Hi, this is Ricky Bobby. If you don't chew Big Red, then f*@# you!!"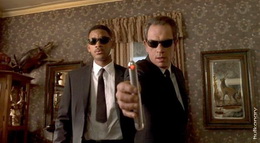 2. Ray Ban sunglasses – "Men in Black" (1997)
Elliot: As we approach the top of the list, we must pay homage to the fusion of product placement and story development. Case in point: "Men in Black." As soon as those Ray Ban shades become a tool of the alien-policing trade instead of just a simple accessory, the film becomes the perfect intersection of art and commerce. Is this good? Is this bad? It depends on whom you ask. But I think we can all agree that (at least in this instance), it's a pretty seamless marriage.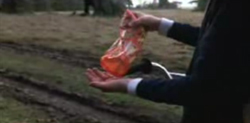 1. Reese's Pieces – "E.T. The Extra-Terrestrial" (1982)
Abby: Remember what I said earlier about candy bars as peace offerings? This movie is the reason that cliché exists. Steven Spielberg's iconic movie made Reese's Pieces the official candy of intergalactic friendship. Forget M&Ms. Aliens don't go in for that crap. It's all about the peanut butter. Mars, Inc. really missed the boat when they passed on the chance to put M&Ms in the movie. The reasons why aren't clear, but whatever they might have been, Hershey foods benefited mightily from the tie-in. From Time magazine that year: "Reese's Pieces, a steady but unspectacular-selling brand of candy, has blossomed into an unexpected summer hit. Sales of the peanut butter-flavored candy shot up 65% in June after the release of 'E.T.: The Extra-Terrestrial,' which is filling movie theaters at a record clip." Watch Elliott (Henry Thomas) lure E.T. with Reese's Pieces right here.