Will Dawson, our friend who blogs at View From Across the Pond, contributed the Top 10 lists of the worst Christmas movies ever among other things, and today he weighs in on the career of one of moviedom's greatest actors. Here's Will: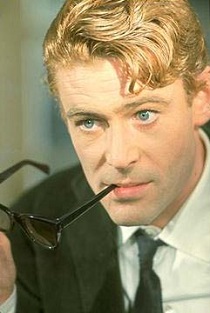 With the recent passing of Peter O'Toole, the world has lost the last great hellraiser of movie history.  Along with fellow compatriots Richard Harris, Oliver Reed, Robert Shaw, and Richard Burton, O'Toole had a singular mission to drink every pub dry and bed every woman, all while making some of the greatest movies of all time. While it is true that O'Toole's output waned in later years, there is no denying that the man was at the top of his profession from the 1960s to the 1970s.  It is a complete travesty that the man never won an Oscar, being nominated 8 times for Best Actor and only gaining an Honorary Award in 2003.  But this list is not about what should have been, but instead what is: Some of the greatest performances in the history of film.
The following had to represent the best of O'Toole's filmography, which was considerable.  A few honorable mentions include What's New Pussycat?, The Last Emperor, Man of LaMancha, and yes, even Caligula.
10. Goodbye Mr. Chips (1969)
This musical remake of the 1939 Robert Donant film features O'Toole as the titular Mr. Chipping who falls in love with a lady (Petula Clark) who teaches him to come out of his shell and to help lead his school.  While it is true that the music can be grating at times and it is overlong, there is no denying the sincerity and earnestness that O'Toole brings to the role and the chemistry Petula Clark and Peter O'Toole is great.
9. How To Steal A Million (1965)
A Comedy-Heist film directed by the great William Wyler and costarring Audrey Hepburn, this film features probably the two most beautiful people of 1960s film as they dabble in the world of heists and art forgery! This reviewer loves a good heist movie and this is no exception.  The banter between O'Toole and the immortal Hepburn also makes this film a must for any O'Toole fan.
8. Venus (2006)
Peter O'Toole's last Oscar nomination came for this highly personal movie, a role that he probably had been waiting for all his life.  The film follows the relationship between washed-up actor Maurice (O'Toole) and a young promiscuous woman named Jesse (Jodie Whitaker), and how an unlikely relationship blossoms between the two of them.  O'Toole plays the part not only with tons of pathos as expected, but also with a hint of reprehensibility, something that in the hands of a lesser actor would have been surely lost.  It also is fascinating to see life paralleling art in that O'Toole is basically the character he is playing.
7. The Stunt Man (1980)
Another great O'Toole film that resulted in another Oscar nomination for O'Toole, The Stunt Man follows O'Toole as a director who will stop at nothing in creating a masterpiece film…even if that includes killing off stunt men or emotionally manipulating his leading lady.  It is obvious how much fun O'Toole is having playing the megalomaniacal director Eli Cross and this film represents one of the best O'Toole's career.
6. Lord Jim (1965)
Perhaps the most underrated movie of O'Toole's career, Lord Jim (based on the novel by Joseph Conrad) follows the tale of Jim, a sailor who has to prove his redemption after abandoning his ship.  While this film was unfavorably compared to Lawrence of Arabia when it was released, the film does have its own merit including amazing cinematography, a great story, and a remarkable performance by O'Toole as the young sailor undergoing a moral dilemma.
5. The Ruling Class (1972)
Another role that was absolutely made for O'Toole The Ruling Class follows the tale of the 14th Earl of Gurney (O'Toole).  Earl Gurney believes that he is Jesus Christ incarnate, until after running into the Electric Messiah who claims he is Jesus.  After this encounter, Gurney believes he is Jack the Ripper and then proceeds to murder all of his relatives.  A great satire of the British class system, The Ruling Class shows O'Toole again at his awesome crazy best.
4. Becket (1964)
Featuring a dynamite performance by Richard Burton and O'Toole's first portrayal of British Monarch Henry II, Becket tells the story of the conflict between Henry and Thomas Becket.  A profoundly spiritual story at its core, the movie is interested in the conflicts between God and Humans, Justice and Injustice, and ultimately friendship.  A must-see film for fans of both O'Toole and Burton.  Interesting fact: Burton and O'Toole were both nominated for Best Actor and they both lost…to Rex Harrison for My Fair Lady.
3. My Favorite Year (1980)
A great Hellraiser role that only could have been played by Peter O'Toole, My Favorite Year tells the story of a young TV writer who has to take care of his idol, Allen Swan (O'Toole).  This includes making sure that Swan does not drink or sexually harasses any female staffers, two things that the old screen idol is addicted to.  While it is great to see O'Toole playing a character that was probably the truest to what he was off screen, the movie does have a big heart and is ultimately about finding redemption and becoming true to who you are.
2. The Lion in Winter (1968)
This author's personal favorite Peter O'Toole movie and the one that he probably had the best chance of winning the Oscar for, The Lion in Winter features O'Toole in his second best performance as English Monarch Henry II during Christmas as he interacts with his estranged wife, Eleanor of Aquitaine (the immortal Katherine Hepburn).  Add into this mix a bunch of disgruntled sons and the King of France all vying for the throne of England, you have one hell of a movie!  The pairing between Katherine Hepburn and Peter O'Toole was one for the ages and Hepburn rightly won the Best Actress award.  O'Toole was nominated but was once again locked out of the win…due to Clifford Robertson winning for Charley.
1. Lawrence of Arabia (1962)
O'Toole's first major role and the movie that made him a star, Lawrence of Arabia is one of the greatest movies of all time and O'Toole creates one of the greatest roles in film history.  His Lawrence is a man who both detests and loves war at the same time, capturing the nuances of a man who was one of the 20th Century's most remarkable historical characters.  The friendship between Lawrence and Sharif Ali (Omar Sharif, also in his first major film) is also one of the great friendships in movie history, and the transformation that Lawrence undertakes from British colonial to hardened war veteran is one of the greatest character arcs in all of film. Due to O'Toole's acting, audiences are left with an immortal role that will live on forever.  Here's to you Peter!