Much has been written about Paul Newman since his passing this past weekend. Many of the newspaper biographies I've read focused on his love of racing, his charity work, and his compassion. Some even suggested that he loved those other things more than acting. Well, this Top 10 list is about his enormous contribution to movies. Newman had the classic good looks of a movie star, but looked for more in a role than whatever the popular trend of the day was. He very rarely played a straight hero, and almost always tried to do something different (he was reportedly quite angry at himself for the lapse of judgment that allowed him to appear in the disaster flick "The Towering Inferno"). Here are ten movies that would not have been the same without him. (Off topic: We are still getting great Top 10 lists sent in by Scene-Stealers readers. If you've got one of your own, and you'd like to see it on the site, just email me at info@scene-stealers.com!)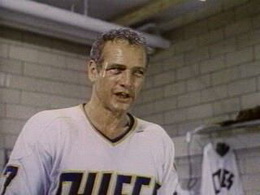 10. Slap Shot (1977)
I got an email from a friend of mine yesterday morning about how saddened hockey fans everywhere are about Newman's death, which just goes to show the massive cult following that this vulgar and spirited underdog movie has. In some respects, "Slap Shot" follows the typical sports clichés, but it's more emblematic of the decade it was made in than the sports movie genre—drinking, fighting, and lots of political incorrectness have made it one of the great "guy" movies. (Although that friend who emailed me? A girl, of course; Hi Sarah!) Newman's no angel—Reg Dunlop, his washed-up minor league hockey coach/player, lies to the players and blackmails the team's General Manager. He's about as sketchy as the Hanson brothers, three dweebs who act like children and play like complete thugs. Even the climactic come-from-behind victory has nothing to do with tried-and-tested sports values such as team play. The big game is won when the opposing team captain sucker punches a ref for not stopping one of Reg's players from doing a striptease on the ice. Nice.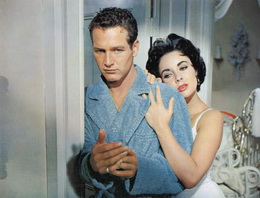 9. Cat on a Hot Tin Roof (1958)
Tennessee Williams' 1955 play, an indictment of the decay and lies of Southern society, became a movie three years later with Newman in the role of Brick, an alcoholic who is obsessed with his dead best pal and would rather drown his sorrows than fire up his sexy young wife (Elizabeth Taylor). Elvis Presley reportedly turned down the role, partially because of Brick's homosexual overtones, which were played down from the play anyway. Newman is ferocious in his intensity when he fends off Taylor's advances, telling her to, among other things, take a lover. And when she references feeling like a "cat on a hot tin roof," he tells her to jump. Despite the movie's controversial nature, it was a big hit and garnered six Academy Award nominations, including Newman's for Best Actor.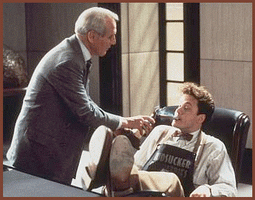 8. The Hudsucker Proxy (1991)
Seven years before Clooney put on his goofy Coen brothers throwback grin for "O Brother, Where Art Thou," Newman growled his way through the equally over-the-top "The Hudsucker Proxy." This was the quirky writer-director team's first Preston Sturges-inspired goof (and biggest flop). Newman is Sidney J. Mussberger, a cigar-chomping board member of Hudsucker Industries who installs a simple-minded patsy (Tim Robbins) as president in a scheme to buy the company for cheap. The impressive sets and machine-gun dialogue are memorable, and so is Newman, who is clearly having a ball playing an evil caricature in the middle of all this screwball comedy. To star in this one, Newman obviously saw something in the Coens pretty early on, because the setting of a highly-stylized fantasy world stuck in a 50s-30s time warp pretty much left the movie with absolutely no commercial aspirations. (Start at 3:15)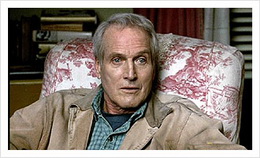 7. Nobody's Fool (1994)
Newman plays an old curmudgeon who shoots himself in the foot at every occasion. He starts to develop a relationship with his grandson after his estranged son comes back for a time. He's also constantly flirting with all the women in town, including one local business shark's wife. It's a perfect vehicle for an old charmer like Newman, who actually makes the small-town bastard he plays extremely likable. He received his eighth Oscar nomination, and buoyed a huge cast of supporting players such as Bruce Willis, Philip Seymour Hoffman, Melanie Griffith, Jessica Tandy, and Dylan Walsh. This was his last truly great lead performance.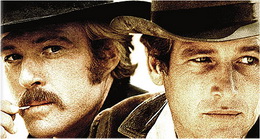 6. Butch Cassidy and the Sundance Kid/The Sting (1969/1973)
Best Picture winner "The Sting" is pretty lighthearted stuff compared to what usually takes the Oscars' top prize, but Robert Redford's chemistry with Newman—launched four years earlier in "Butch Cassidy"—is undeniable. After the success of Robert Redford and Newman in director George Roy Hill's offbeat Western, it was inevitable that the trio would get together again. Hence "The Sting." (Hill also directed "Slap Shot".) The fact that a genial Western where the crooks ride bikes to "Raindrops Keep Fallin' On My Head" and a goofy but lavish period piece set in Depression-era Chicago were both nominated for Best Picture is more a testament to the likability of its lead actors than anything else. "The Sting" is overly-long and nostalgic, but Newman's elder conman was the perfect mentor for Redford's young buck. For anyone who hasn't seen any movies before 1985, just think of Brad Pitt and George Clooney's witty, ultra-cool patter in "Ocean's Eleven" and you're be in the ballpark of the kind of effortless, self-effacing cool Newman and Redford projected in these two films.
5. Hud (1963)
Newman is bad, bad, bad in this Martin Ritt-directed drama that centers around—guess who?—a young man named Hud. All the ladies in town love the handsome, cocky bastard, despite the fact that none of his rancher father's good traits have rubbed off on him. It may unfold at an older movie's pace, but the subject matter and treatment are distinctly modern. Based on the book "Horseman, Pass By" by Larry McMurtry, the movie counters most filmic plot conventions by flaunting a lead character who never changes. Hud responds to everything around him with anger, and it's a self-fulfilling prophecy that leaves him with nothing but heartache—if he only had a heart. I take that back. He shows it at least once. When his father accuses him of caring only about himself, Newman famously says, "My mama loved me, but then she died."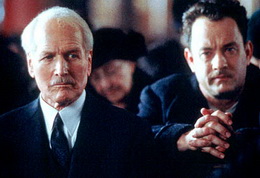 4. Road to Perdition (2002)
Tom Hanks may have been this movie's star, but it's his relationship with surrogate father Paul Newman that forms the film's core. In the gangster genre, more often than not, everything is about family. Pathetic, jealous crook Daniel Craig is Newman's blood son, but his heart lies with Hanks' character, who is forced to go on the run with his son after a series of tragic events. Newman's crime boss then must decide who will qualify as family. Director Sam Mendes' elegiac movie is a real stunner, full of haunting cinematography and sparse dialogue. Newman's piano duet with Hanks and his final scene are mesmerizing—the perfect combination of evocative cinematography (from Conrad L. Hall, who received a posthumous Oscar for this film and who also lensed "Cool Hand Luke" and "Butch Cassidy and the Sundance Kid") and a timeless performance. During an era when Tom Hanks could nab an Oscar nomination for blowing his nose, it was Newman who instead walked away with the film's only acting nod, for Supporting Actor.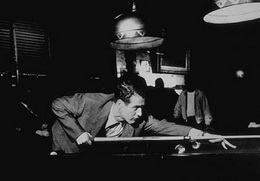 3. The Hustler (1961)
That Newman earned his only Best Actor win for the inferior 1986 sequel to this superb and mature character study is strange. That that sequel was Martin Scorsese's "The Color of Money" and co-starred Tom Cruise is even more mind-bending. OK, nevermind all that—let's concentrate on "The Hustler." Robert Rossen's moody poolhall drama is definitely too long, but it features one of the most memorable characters to ever appear on the screen. "Fast" Eddie Felson is a "born loser." He may be the best pool player around, but, according to champion Minnesota Fats (Jackie Gleason), he's got no class. Newman certainly does, inhabiting Felson with uncanny ease as he drifts from one failed project (pool hustler) to another (live-in lover to a self-loathing alcoholic woman with a limp). This role came before "Hud," and Eddie has the same entitled air that Hud has, but Newman makes him easier to sympathize with. When he hits bottom, it's rock bottom, and at least Eddie is smart enough to wake up a little towards the end, even as it seems things can get no worse.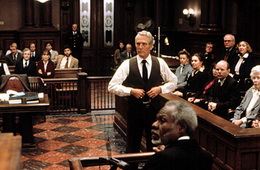 2. The Verdict (1982)
I saw this fantastic Sidney Lumet-directed, David Mamet-written movie just recently and boy, is it is ripe for rediscovery! If it's not in your Netflix cue yet, put it in there now. Another great late-career performance from Newman, he plays a washed-up Boston lawyer who stumbles onto a case he can make money on. Gradually, however, he begins to see that he is doing the right thing, and begins to regain the confidence he once had. Once his character gains some sort of clarity, Newman is single-minded in his pursuit. But this guy is light years away from the cockiness of Eddie, Hud, or even Brick, for that matter. Newman is permanently slumped with a defeated hangdog look and a constant drink in his hand. Also, the movie avoids being a mere courtroom procedural, spending most of its time with Newman and away from the courtroom (except this scene). He lost the Oscar that year to Ben Kingsley in "Gandhi." No justice, I tell ya.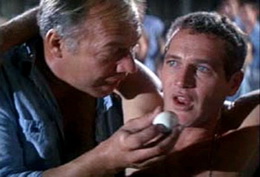 1. Cool Hand Luke (1967)
Luke Jackson is the ultimate non-conformist, so it's no wonder this movie was a big hit the year it came out. Newman played his most famous character with that same spark and smile that made him a star. This time, however, it's the other men on a Florida chain gang whom he wins over. Luke's symbolic middle finger to prison guards, the establishment, or basically any authority figure in his way, help make him a legend among other prisoners. Whether it's eating 50 hard-boiled eggs at once or pulling off some crazy escape, Luke's dogged determination in the face of misery reflects his worldview. If life sucks, you may as well have as much fun as possible while you're here. Sure, he's beaten mercilessly, but for moments at a time, he's on top of the world after earning the admiration and respect of his inmate buddies. Newman also gives us a glimpse behind Luke's tough exterior and it's that combination of confidence and insecurity that makes him so endearing. Paul Newman definitely didn't have a "failure to communicate," as his "Luke" co-star Strother Martin famously put it, and he will be missed greatly.