Every Halloween, video stores are bombarded with the same question:
"Do you know any good horror movies I haven't seen yet?"
Believe me, I know– I used to work at one. Unfortunately, most of the people that are looking for a new scary movie to rent stick with the tried-and-tired franchises like "Friday the 13th," "Halloween," "Children of the Corn," "Nightmare on Elm Street," etc. and have very little or no adventurous bones in their bodies. For them, a scary movie has a lot of gore and a high body count. For me, anything that creeps me out and keeps me there for two hours is a scary movie. The 10 movies on this list do just that. You may have heard of some or all or none of them, but these are 10 scary films that I think are too often overlooked. When you go to the rental store this weekend, try one of these. Links to related lists: Top 10 Scariest Movie Themes, Top 10 Movie-Inspired Halloween Costumes, Top 10 Slapstick Horror Movies, Top 10 Giant Monster Attacks! Movies, Top 10 Movie Monsters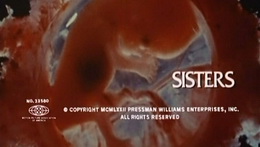 1. Sisters (1973)
A reporter believes she's seen a hot young actress (Margot Kidder) commit a murder ("Rear Window" anyone?), but there are more surprises in store when it is discovered there are separated Siamese twins involved. Brian De Palma is at his crazy best in this disturbing bloodbath with one of the most terrifying murder sequences (in split screen, no less!) ever. A showy camera zoom into an eye brings on some insane hallucinogenic asylum thrills, and Bernard Herrmann's horn and synthesizer score keeps the trashy story in check.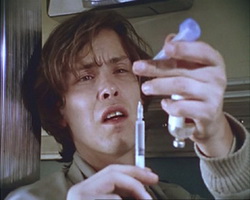 2. Martin (1978)
A young man descended from East European immigrants in a crumbling steel town named Martin is so certain that he's a vampire that he subdues women, slashes them with razor blades, and drinks their blood. George Romero shot this one, like always, on a shoestring budget—which makes Tom Savini's bloody SFX all the more convincing. What's really creepy, though, is the sense of inevitability Martin feels about his calling. Romero slips in his usual amount of social criticism as well. When things get tough, Martin reaches out to a local radio talk show and becomes a minor celebrity. "Martin" is a chilling and surprising vampire flick with more depth than a million "30 Days of Night"s combined.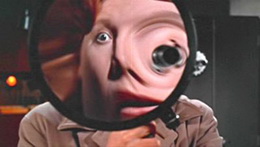 3. Peeping Tom (1960)
One wouldn't think that a movie about a man who murders women in front of the camera and then views his act again to study their every reaction to death would be directed by one of the most respected filmmakers of its time, but it was. British director Michael Powell's reputation was ruined when he released this tale of voyeuristic perversion. It was labeled by one critic as "the sickest and filthiest film I remember seeing." Perhaps the most shocking was that Powell overtly pointed out the moviegoer's own voyeurism by turning it around on us. He made the viewer guilty by having us identify with a psychopath. After all, isn't that what we are doing—watching people get murdered while we sit in the dark?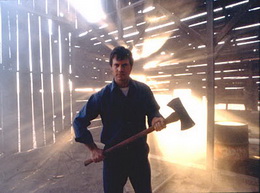 4. Frailty (2001)
Speaking of unlikely circumstances, actor Bill Paxton directed this spooky little movie that fills me with dread just thinking about it. Paxton plays a father who burdens his two young sons with a horrible dilemma, telling them that God has charged him to slay demons on Earth in human form. When he starts murdering people in the tool shed with an axe, things get really tense. Having current heartthrob and romantic comedy stalwart Matthew McConaughey tell the entire story in flashbacks makes this strange film even more idiosyncratic. Yes, there is a plot twist (that annoying convention that marks it as a post-"Sixth Sense" thriller), but there's also tons of psychological terror and an abnormal amount of audacity to make up for it.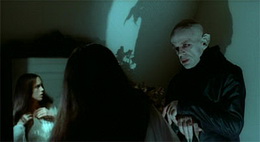 5. Nosferatu the Vampyre (1979)
Werner Herzog's re-imagining of the silent F.W. Murnau classic casts Klaus Kinski (who else?) in the title role and makes the beast more vulnerable and pathetic than horrifying. Creepiness abounds, however, in the hypnotic movements of the characters, the eerie score by Popol Vuh, and the close psychological link between the Harker character (Bruno Ganz) and the vampire. Is the Count a projection of Harker himself? Is he an outcropping of his inner self? There is an unhinged, sexual side of his and Lucy's being that is gnawing at the edges, dying to be released. Herzog's version is a descent myth – the journey from innocence to a terrible underlying reality which either destroys the character or makes them wiser.

6. Freaks (1932)
Special effects can never beat the real thing, so when Tod Browning filmed this circus nightmare, he cast Randian the "living torso," the legless Johnny Eck, two real conjoined Siamese twins, two "little people" and the simple-minded "pinheads" (who later became mascots for The Ramones).Betrayal and revenge are the order of business, as a cruel trapeze artist taunts and ridicules the sideshow freaks after pretending to fall in love with one of them. The reality of the freaks' situation is constantly staring you in the face, as they aren't really acting, so it is hard to feel pity for the "normal" humans who get so much pleasure out of torturing them. What's truly great about this movie is that it still shocks after 75 years.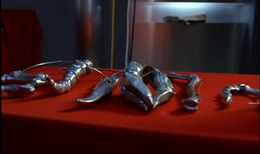 7. Dead Ringers (1988)
Just one look at Jeremy Irons' insect-like gynecological tools in David Cronenberg's warped twin brother tale is enough to make you squirm. Though it may not be straight horror, this may be the most intense movie on this list. Elliot and Beverly Mantle are twin doctors who share everything, including their women. Their real conflict comes when a woman comes between them. A slow, deliberate pace gives one plenty of time to ruminate over the film's themes of sexual panic, deformity, addiction and paranoia, all while staring in amazement at the towering performance of irons as both twins.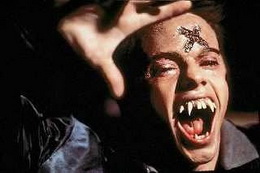 8. Fright Night (1985)
Like De Palma's "Sisters," this underrated teen horror entry borrows from the "Rear Window" template. Charley is convinced his next-door neighbor (a perfect Chris Sarandon) is a vampire, but nobody believes him. In desperation, he turns to late-night horror-TV host Peter Vincent (a nod to Cushing and Price played by with great sympathy by Roddy McDowall) for help. The genial old man is happy to have some attention, so he offers his "expertise." What follows is a near-perfect blend of suspense and comedy that keeps you on the edge of your seat. It's a bit dated now, but "Fright Night" does that rare thing that so few horror movies do—it makes you care about the characters.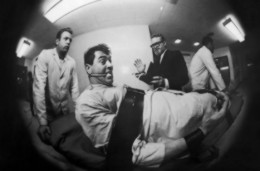 9. Seconds (1966)
This new spin on the "fountain of youth" myth involves rich people who are able to get a complete reboot of their life. With the help of major plastic surgery and a rejuvenated body, these "seconds" have their old identities killed and get to start their lives over while they look and feel younger. Rock Hudson is one of those young-looking bodies, but he discovers some terrifying truths and begins to feel more trapped than ever in John Frankenheimer's overlooked paranoid nightmare. The free love ways of the late 1960s have never seemed as selfish as they do here. "Seconds" was calling these motives into question pretty early on in the game.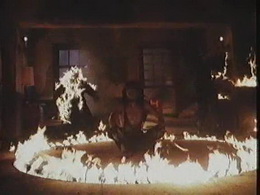 10. Trick or Treat (1986)
When I was growing up, a friend of mine used to give me cassette tapes from his church of a minister playing records backwards and talking about how the devil had taken over rock music. It was a special kind of hysteria, but one that I kind of wanted to believe in, having become so enthralled by rock at such an early age. When Skippy from "Family Ties" played his Sammi Curr record backwards in this low-budget horror flick and the dead rock star talked to him, it was like my biggest fantasy/nightmare come to life. Although most of the plot is pretty terrible and special effects laughable, there are some very potent scenes that take me back to a time when I wanted my rock n' roll evil and my rock stars bigger than life. Gene Simmons and Ozzy Osbourne are on the cover of the really crappy-looking DVD, but are only in the film for a total of about five minutes.