The title of this list could very well be "Top 10 Overlooked Contemporary Movies That We Thought Up Off the Top of Our Heads That You Should See if You Haven't." I have the oldest movie on the list, and even it came out after I was born. These are films that, one way or another, have stuck with us personally. Meanwhile, it seems, they have received little attention from the mainstream media, and may lie on your local DVD rental shelf for months at a time without being rented. Yes, these films do have some sort of personal connection with each of us, but they are not merely nostalgic. We recommend any movie on our respective lists with a full rock fist way up, and believe that they all deserve a look and possibly a re-evaluation. I hope you enjoy them … Note: Updated list of Overlooked Movies from 2005-2009 is here.
J.D.'s runners-up : Tune in Tomorrow (1990), Cradle Will Rock (1999), Serenity (2005), Fearless (1993), Standing In the Shadows of Motown (2002)
1. Real Genius (1985)
Along with "Say Anything," "Real Genius" epitimizes the best of the films that are often considered '80s movies. This did for me what "Sixteen Candles" or "The Breakfast Club" did for everybody else. Val Kilmer is fantastic alongside William Atherton (the jerk from "Die Hard") and Gabriel Jarrett who played Mitch – the youngest student admitted to a school of geniuses. Jarrett's career didn't take off after this breakout role, but he has been spotted in "Apollo 13" and an episode of "The West Wing." "Real Genius" is extraordinarily quotable and has a permanent spot on my must watch list.
2. Hard Eight (aka: Sydney) (1996) 
Director Paul Thomas Anderson has gone on to bring us "Boogie Nights" and "Magnolia," but before we all knew his name he directed "Hard Eight." Originally titled "Sydney", Phillip Baker Hall ("Magnolia") played the then title role as a Las Vegas grifter who takes the struggling John C. Reilly under his wing without clear reason. We later learn Sydney's motivations as Reilly and co-stars Gwyneth Paltrow and Samuel L. Jackson get involved in deep dark sin city trouble. Anderson's talent was unmistakable even then and Phillip Baker Hall's performance rivals his work in "Magnolia," both of which frankly, deserved Oscar nominations.
3. Highlander (1986)
I saw this movie 17 times in the theatre. There was a dollar theatre in town and as a seventh grader the combination of swords, immortality and a Queen soundtrack rocking the big-screen were more than enough to dominate my pliable little mind for the better part of the next year. "Highlander" would go on to spawn more features and a moderately popular TV series, but none of it would do justice to the original film. It was the "Matrix" of its time, furthering the science-fiction genre on film and telling a new story. Director Russell Mulcahy's vision included some of the most memorable transitions I had ever seen, including a fade between star Christopher Lambert's face and the face of the Mona Lisa on a building mural and an aquarium water line becoming a Scottish lake in the highlands. The movie grossed less than 6 million in the U.S. at the Box Office, and even though it ascended to cult status on video it has never enjoyed its rightful place as a groundbreaking, undeniably original classic.
4. Six Degrees of Seperation (1993)
Two words: Will and Smith. Stockard Channing and Donald Sutherland co-star in this adaptation of a stage production that was the best vehicle imaginable to "seperate" Smith from his squeaky-clean "Fresh Prince" persona. As a laser sharp con-man claiming to be the son of acting great Sidney Portier, Smith sweeps into the world of the social elite and swindles absolutely everyone. This is definitely one of those little films with a bigger than life career changing performance. After this one, Hollywood had no choice but to look at Smith differently, even if the ticket buying public had no idea what he was capable of just yet.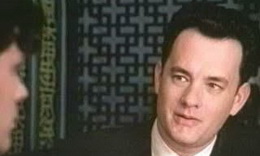 5. That Thing You Do! (1996) 
Tom Hanks' first and only feature film serving as the director, "That Thing You Do!" is as well-executed as it is charming. Featuring a cameo from Mrs. Hanks, Rita Wilson, the cast of "That Thing You Do!" make it nearly impossible to dislike. Liv Tyler, Tom Everett Scott and Steve Zahn are a sugary-sweet bunch of kids from Pennsylvania whose perfectly catchy song comes along at just the right moment to live a "Beatlemania-like" adventure before they become the "one-hit Wonders." What's not to like, it's so good I think I'll stay up and watch it tonight.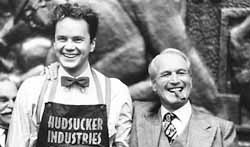 6. The Hudsucker Proxy (1994) 
Almost, but not quite a Coen Brothers movie, "Hudsucker Proxy" was directed by Joel Coen and Sam Raimi ("Spider-Man"). Easily one of Tim Robbins' ("Bull Durham") finest moments, "Proxy" has extraordinary art direction and powerhouse performances from Paul Newman and Charles Durning and yes, even Jennifer Jason Leigh. The scene with Leigh and Robbins as she fakes her way through a recital of an old school song, both of them cawing and whooping away, is enough on its own to recommend this movie. It has the Coen vibe and then some…"you know, for kids."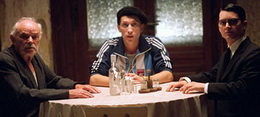 7. Everything Is Illuminated (2005) 
The most recent of my list of overlooked films, "Everything Is Illuminated" is the best small film of 2005. Directed by Liev Schreiber and starring Elijah Wood, Eugene Hutz, and Boris Leskin, "Illuminated" is an adaptation of the incredible novel of the same name by author Jonathan Safran Foer. I saw the film and then read the book and believe both to be examples of the absolute best in film and literature of the last decade.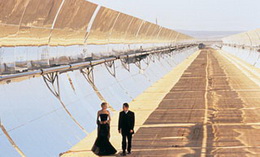 8. Gattaca (1997)
"Gattaca" is a truly beautiful film. Director Andrew Niccol ("Lord of War") uses washes of color and exquisite art direction to create a spectacular vision of a future where genetic engineering has become common place and is central in determining a person's potential and opportunities in society. "Gattaca" is dark, smart and captivating. Ethan Hawke, Uma Thurman and a then unknown Jude Law are at their collective best and this is a must see for anyone who appreciates the kind of sci-fi that doesn't come complete with phasers and Klingons.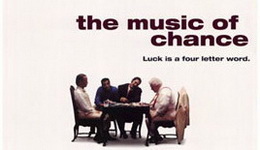 9. The Music of Chance (1993)
I have often said of the film "The Music of Chance" that the jury is still out. It's the trick question I always ask other film nuts, desperate for someone else to tell me what their experience was since I'm still not sure how I feel about it. The cast is sensational and includes Mandy Patinkin, James Spader, Charles Durning and Joel Grey. Patinkin picks up Spader in a ditch, they end up at Durning and Gray's place in a high-stakes poker game and it just keeps getting weirder from there. I have been bothered by this film for years, it remains firmly stuck in my craw. Try this one if the next time you're lining up your Netflix you find yourself thinking…"I know! I really want to watch something strange and totally unsettling!"
10. Cadence (1991)
I love a man, and his name is Martin Sheen – honestly, when has he ever not delivered – in my mind he is one of the real treasures of American cinema. "Cadence" is Sheen's only directing credit and it features both Charlie Sheen and lesser known brother of Charlie and Emilio, Ramon Estevez. There is a melancholy about this film that always affects me in a memorable way. This isn't to say the film is without some serious flaws, but Martin and Charlie give some pretty heavy and inspired performances and the ensemble led by Lawrence Fishburne is phenomenal. It deals with fathers and sons and war and duty, sadly it was received quietly, but "Cadence" like the rest of these overlooked gems deserves it's day in the sun.