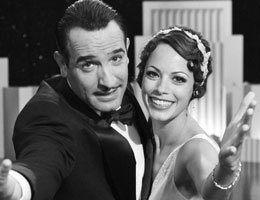 George Schmidt has previously contributed the Top 10 Movie Entrances and the Top 10 Sexiest Cinematic Giantesses. If you'd like to contribute a Top 10 list of your own, email me at eric@scene-stealers.com. His latest Top 10 looks at the best musical sequences in non-musical films. Here's George:
While I am not a traditional musical fan per se, I truly do believe in the power music has to transcend and often lift a storyline, even if it is a momentary lapse of reason in an otherwise non-musical film (i.e. a comedy, a horror film etc.) and even if it is simply to underscore the barometer of said film with a dance sequence (i.e. every-day-life-comes-to-a-standstill-while-everyone-breaks-out-a-boogie-moment). Wouldn't life be sweeter if that were the case? Here are my 10 picks of just that act:
10. AUSTIN POWERS: INTERNATIONAL MAN OF MYSTERY (1997) Mike Myers and cast – opening credits
Mad Mod Hatter Austin Powers (Mike Myers in his iconic cinematic turn), groovy baby, UK spy gets things off on the right foot in this brightly colored homage to MGM backlot dancing in the opening moments on Carnaby Steet with a kaleidoscopic décor and manages to even add a nod to the opening of The Beatles' fab "A HARD DAY'S NIGHT" for kicks; try not to jump up and join him!
9. NAPOLEON DYNAMITE (2004) – Jon Heder – ELECTION PEP RALLY BOOGALOO
Titular UberGeek is totally living up to his surname when it comes to his 'mad skills' as a free-stylin' dancer in this climactic sequence whereupon his best bud Pedro's bid for running in the high school election is on fumes and in a last ditch effort to get it back in groove, Napoleon breaks out his home-mix cassette and boom-box to showcase one of comedic cinema's balls-out-screw-them-what-they-think-dance interpretation of what it really means to be alone amongst 'your peers':
8. PRETTY IN PINK (1986)–Jon Cryer's lip-synch of Otis Redding's TRY A LITTLE TENDERNESS
High school is hell (see the previous choice) and no one had his hand on the collective teenagers' pulse better than the late, great John Hughes and here-to-wit is Jon Cryer's lovably obnoxious dork and too-good-to-be-true-friend of his paramour Molly Ringwald, showcasing his undying love for her Andie Walsh, with his fashion-plate frenzied lip-synch to the Otis Redding soulful classic (and possibly winning Andie's gal pal Iona (the irrepressible Annie Potts) to boot:
7. IT'S A WONDERFUL LIFE (1946) James Stewart really falls for Donna Reed
Personally my favorite film of all time, Frank Capra's perennial Christmas carol about frustrated young banker George Bailey (James Stewart in his cinematic iconic role) whose small town Bedford Falls eventually traps his larger-than-life dreams of success but not before he is won over by beatific gal pal Mary Hatch (a truly glowing Donna Reed; who can blame him) and literally falls for her during the homecoming high school dance's Charleston contest … over the gymnasium's in-ground swimming pool (!) One for the film vault's indeed. (Sorry, colorized version was all I could find online.)
6. BLACK SWAN (2010) Natalie Portman's final pas de deux
In Darren Aronofsky's modern day 'werewolf' pic (his words!) prima-ballerina-in-the-wings, Natalie Portman's Nina Sayers is so consumed with an identity crises (attempting to sever apron strings from stage manager mother; possible latent lesbian; schizophrenic-edged inconsistencies) that her final balletic dance as the titular character literally transmogrifies her into some kind of doomed creature but in this moment she is even more than that: transformation ensued!
5. THE BIG LEBOWSKI (1998) DREAM SEQUENCE–JUST DROPPED IN (TO SEE WHAT CONDITION MY CONDITION WAS IN)
The Coen Brothers' wild and woolly shaggy-dog interpretation of THE BIG SLEEP cult classic with Jeff Bridges' iconic stoner Jeffrey "The Dude" Lebowski roped into a mystery of identity crises reaches a truly surreal point in his heady dream sequence set to Kenny Rogers & The First Edition's tune featuring "Gutterballs" interpretation involving a Busby Berkely bit on acid and Julianne Moore in full Valkyrie warrior princess garb (!) that has to be seen to be believed:
4. THE BLUES BROTHERS (1980) –DANCE SEQUENCE – RAY CHARLES' "SHAKE A TAILFEATHER"
John Landis' epic comedy about the eponymous soul-singing siblings Joliet Jake & Elwood (the late, great John Belushi and partner-in-crime Dan Aykroyd) on a 'mission from God' to save their childhood orphanage has them reunite their estranged bandmates in a quest for some decent new instruments whereupon musical emporium owner Ray Charles gets all of the South Side of Chicago out and about to his rendition of the R&B classic "Shake a Tailfeather":
3. THE ARTIST (2011) – GRAND FINALE TAP DANCE
This silent screen valentine from French filmmaker Michel Hazanavicius showcases his protagonist, fading movie star George Valentin (the fantastic Jean Dujardin) realizing life does offer second acts after he is rescued from oblivion from his paramour-to-be and starling-eclipsing-his-fame, Peppy Miller (the beguiling Berenice Bejo, Hazanavicius' real-life wife) who salvages his career after the advent of sound has all but derailed it, with this grand finale tap dance of joy that will have you plumbing the depths of your inner Astaire/Rogers':
2. SATURDAY NIGHT FEVER (1977) – John Travolta gets his ya-yas out to YOU SHOULD BE DANCING

For me personally this is one of the greatest moments in cinema (bar none) – the unleashing of the quicksilver, snake-hipped insouciance of John Travolta's Oscar-nominated turn as Tony Manero, the lothario of the disco-dance floor, who slakes the thirst of every wanna-be hip-dancer (including yours truly), by dancing up a storm solo after putting up with pre-"Nanny" Fran Drescher's insinuations ("So, are you as good in bed as you are on that dance floor?") and getting down to the glorious Bee Gees' siren call; dare yourself not wanting to get up and boogie:
1. FERRIS BUELLER'S DAY OFF (1986) Matthew Broderick covers TWIST AND SHOUT
For everyone who wanted to ditch school (or the office) this comedy sensation from the aforementioned John Hughes solidified the art of playing hooky with Matthew Broderick (in his cinematic iconic role) venturing with best bud Cameron Frye (put-upon second banana Alan Ruck) and main squeeze Sloane Peterson (babelicious Mia Sara) into downtown Chicago culminating in this show-stopper by becoming part of a parade and lip-synching to The Beatles' classic and having every man, woman, and child – race, color & creed – getting in touch with their inner Fab Four – who could ask for anything more?!
BONUS SCENES!
Yes, I know it's TV but one of my fave scenes:
HAPPY DAYS – Fonzie does the Kazatski! (begins w/ (4:31)
After promising Joanie "Shortcake" Cunningham to be her dance partner in a marathon at Arnold's, Fonzie finds himself up to the task after being forced to walk for miles after his motorcycle runs out of gas (and more or less serving as a living metaphor for this next iconic dance sequence):
… and this one may not be a dance number, but it's still a classic:
BACK TO THE FUTURE (1985) –Michael J. Fox' cover of JOHNNY B. GOODE
Reluctant time-traveling 'slacker' and wannabe rock-n-roller Marty McFly (Michael J. Fox in his iconic cinematic turn) faces the biggest challenge in 1955 is more than just keeping his very existence intact (i.e. having his parents meet to fall in love at the prom's "Enchantment Under The Sea") that enlists his guitar chops by improvising (and essentially creating rock and roll!) Chuck Berry's classic with some intriguing flourishes that even astounds his cousin Marvin (!) in Robert Zemeckis' sci-fi comedic masterpiece: