Looking for a different kind of holiday movie list last week, I covered Christmas scenes that defined important moments in non-Christmas movies. Now it's time to take on the whole enchilada. The following 11 films (I had one too many and decided to leave it on the list anyway) all take place during the holidays, but don't try to recreate the Christmas cheer of the season with their storylines. Nevertheless, the Christmas setting is extremely important to all of them. If you are looking for something to rent, and you're sick of the same five Christmas movies on TV, try one of these this season, while "the weather outside is frightful."
11. The Ice Harvest (2005)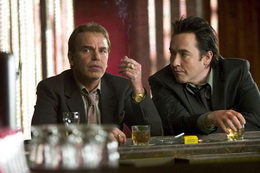 This underappreciated neo-noir revolves around a lonely mob lawyer from Wichita, Kan. (John Cusack) and his buddy (Billy Bob Thornton), who have stolen a suitcase full of cash from said gangsters on Christmas Eve. Directed by Harold Ramis, its absurd, dark humor didn't help its box office returns. Cusack pines for a local strip club owner, while Thornton goes off the deep end. Money changes everything, and the desperation that brought on the crime in the first place bubbles to the surface. The holidays are definitely used as a counterpoint to spotlight Cusack's misery, and Oliver Platt steals the show as an alcoholic who has the worst Christmas dinner ever.
Charlie Arglist: It's Christmas! Everyone's nice on Christmas!
Vic Cavanaugh: Only morons are nice on Christmas.
10. The Proposition (2005)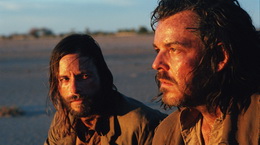 A sparse and violent neo-western set against the backdrop of the Australian outback, "The Proposition" offers up a bleak holiday deadline for captured criminal Guy Pearce ("Memento"). He has until Christmas Day to find and kill his psychopathic outlaw brother, played by Danny Huston ("30 Days of Night"), or else British Captain Ray Winstone (last seen as a buff CGI-"Beowulf") will hang Pearce's simple-minded younger brother. It all leads up to a showdown on the holiest of holidays, where Pearce has to struggle with his natural familial tendency to be obedient to big brother. Fringe musician Nick Cave wrote the screenplay and the music, so it comes out Gothic, complete with dissonant violins and droning pianos in a feedback-tinged, non-traditional score. "The Proposition" is not like any western you've seen, with a vibe that's at once creepy and poetic.
Captain Stanley: Now, suppose I told you there was a way to save your little brother Mikey from the noose. Suppose I gave you a horse and a gun. Suppose, Mr. Burns, I was to give both you and your young brother Mikey, here, a pardon. Suppose I said that I could give you the chance to expunge the guilt beneath which you so clearly labor. Suppose I gave you till Christmas. Now, suppose you tell me what it is I want from you.
Charlie Burns: You want me to kill me brother.
Captain Stanley: I want you to kill your brother.
9. The Ref (1994)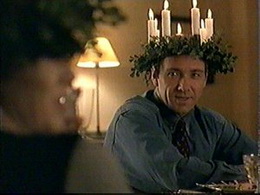 Burglar Denis Leary picks the wrong people to hold hostage when he is forced to kidnap feuding couple Kevin Spacey and Judy Davis in this dark comedy. When he masquerades as their marriage counselor during their Christmas party, things get really complicated. Being held at gunpoint doesn't stop the endless streams of resentment and bile that spew forth from Spacey and Davis, two actors who are as perfectly suited to the rapid-fire, acid-tongued dialogue as Leary is. The ending is a little too tidy, but just watch the holidays bring out the worst in people for 90 minutes, and tell me you are not amused.
Caroline: I had this dream…
Lloyd: Do we have to do dreams?
Caroline: I'm in this restaurant, and the waiter brings me my entree. It was a salad. It was Lloyd's head on a plate of spinach with his penis sticking out of his ear. And I said, "I didn't order this." And the waiter said, "Oh you must try it, it's a delicacy. But don't eat the penis, it's just garnish."
Dr. Wong: Lloyd, what do you think about the dream?
Lloyd: I think she should stop telling it at dinner parties to all our friends.
8. Gremlins (1984)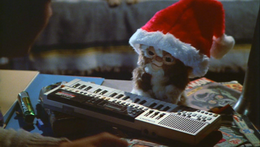 For being a PG-rated film marketed towards kids, Joe Dante's Spielberg-produced film was pretty violent. Billy (Zach Galligan) gets an exotic Christmas present from Dad called a mogwai. When that cute little creature gets splashed with water, gremlins start to multiply and terrorize the small town of Kingston Falls. Led by the maniacal Stripe, the gremlins go Christmas-caroling, take over a local bar, and actually kill the science teacher and that tyrannical rich old hag, Mrs. Deagle. The joy of the season is used to contrast the growing nightmare of the town's new arrivals. More than one kid across America probably put his pet in the microwave as a result of one infamous scene in "Gremlins." It's pretty heavy (and funny) stuff for "the most wonderful time of the year," and it gets heavier when Phoebe Cates tells the story of how her father broke his neck coming down the chimney dressed as Santa Claus on year. Scene-Stealers reader awas1980 beat me to the punch by a full week with that observation. For Cates' story, look in his comments from last week's Christmas list here.
Mrs. Deagle: Mrs Harris, what are you trying to tell me?
Mrs. Harris: I'm afraid none of us can pay for two weeks. Couldn't you just get Mr.Corben to just give us a little more time?
Mrs. Deagle: Mrs Harris, the bank and I have the same purpose in life – to make money. Not to support a lot of… deadbeats!
Mrs. Harris: Mrs Deagle! It's Christmas!
Mrs. Deagle: Well, now you know what to ask Santa for, don't you?
7. Go (1999)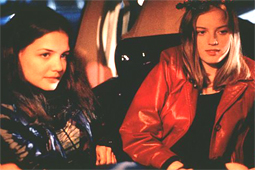 Christmas Eve in Los Angeles is the setting for three stories that intertwine in the strangest of ways. On the heels of "Pulp Fiction," some may have dismissed this energetic movie as too derivative, but it holds up better than 90 percent of the other post-"Pulp" knockoffs. A couple of closeted soap opera actors who are cheating on each other with the same man, an Amway-selling narcotics officer who likes to walk around his house nude, a teenaged supermarket worker who passes off pharmacy-pilfered pills as Ecstasy at a rave, and a trio of guys who get in trouble at a Vegas strip club all collide in this fast-paced romp from director Doug Liman ("The Bourne Identity," "Mr. and Mrs. Smith"). It may sound like a mess, but Liman keeps it all engaging and funny, and it makes for one very eventful Christmas Eve/Day. Sarah Polley, Katie Holmes, Taye Diggs, William Fichter, Jay Mohr, Timothy Olyphant, Jane Krakowski, and Scott Wolf all star.
Zack: It really didn't go as bad as it could have.
Adam: A girl is dead, Zack.
Zack: I didn't say it went perfectly.
6. Kiss Kiss Bang Bang (2005)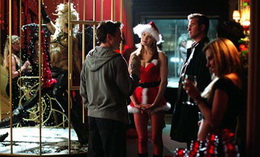 Set during the Christmas season, this tongue-in-cheek action/noir parody was directed by the last person you'd think—Shane Black, the man who wrote "Lethal Weapon," "The Last Boy Scout," and "The Long Kiss Goodnight." Turns out, he knows the genre inside out and he's been waiting to have some ridiculous fun with it all. If Black knows all the Hollywood tricks, then so does a down-on-his-luck Harry Lockhart (Robert Downey Jr.), who's being chased for stealing toys on Christmas for his nephew when he stumbles into a movie audition. The producers like him, and he is whisked off to Los Angeles to study police work with Gay Perry (an over-the-top Val Kilmer). Holiday jokes abound. Michelle Monaghan is also on board to spread more Christmas cheer with her cute little Santa outfit. The plot makes no sense, and Harry and Perry spend most of their time commenting on it. Every Hollywood action cliché is skewered, and Downey's narration has that noirish cadence, but it's also completely unreliable and anarchic, going back and forth in time as he speaks directly to the viewer, sometimes even taunting us. Watching this movie might be the most fun you have this Christmas.
Perry: What are you doing?
Harry: I'm just trying to wrap up the movie, and leave people with a message.
Perry: Oh, I've got a message for you. Get your feet off my f***ing desk.
Harry: Sorry. [Harry moves his feet]
Harry: I work for Perry now, obviously.
Perry: [Perry places his hand over Harry's mouth] And stop narrating.
5. Diner (1982)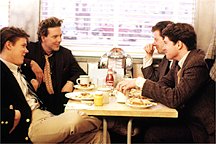 It's 1959, and the Fell's Point Diner in Baltimore is the place where childhood buddies Kevin Bacon, Mickey Rourke, Daniel Stern, Paul Reiser, and Steve Guttenberg reconvene over the Christmas holiday. Impending marriages, careers, and other pressing matters are staring them in the face, but they prefer to talk about sports, cars, and music until the wee hours of the night. The break gives them that last hurrah to act like they used to before their lives change forever. "Diner" celebrates Christmas as a time to come home, wax nostalgic, and face that inevitable push forward into the future. Great period detail and a sparkling screenplay add to this semi-autobiographical tale of resisting adulthood from Oscar-winning director Barry Levinson.
Boogie: You know I got plans.
Bagel: Always a dreamer, hey, Boog?
Boogie: If you don't have good dreams, Bagel, you got nightmares.
4. The Thin Man (1934)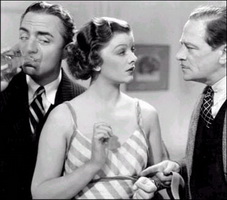 Husband and wife detective team Nick and Nora Charles (William Powell and Myrna Loy) drink martinis, rattle off one-liners, and suffer hangovers during the Christmas holiday season in this first of the classic comic-mystery franchise that spawned five sequels. Onscreen married couples are never portrayed as blissful alcoholics, but Powell and Loy's playful teasing, one-upmanship and delightful witticisms are the number one reason to see this film. It starts on Christmas Eve after the recent repeal of Prohibition, where Nora tells her husband if another person says "Merry Christmas" to her, she'll kill them. That doesn't stop them from hosting a Christmas party, which is nothing more, it seems, than another excuse to drink. Eventually a mystery about a missing man is solved, but that's not what you'll remember. The movie is based on the novel by an unlikely source for a romantic comedy, renowned hard-boiled author Dashiell Hammett, who also wrote "The Maltese Falcon."Nora: Is that my drink over there?Nick: What are you drinking?
Nora: Rye.
Nick: (picks up the glass and slugs the whole thing) Yes. That's yours.
3. Die Hard (1988)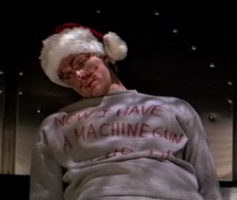 Now this is a Christmas story that the guys can really get behind. On the surface, Bruce Willis' star-making movie is about fighting suave European terrorists in a high-rise office building. What it really is, however, is the story of an emasculated man who is afraid of spending Christmas alone. John McClane originally goes to Los Angeles to reunite with an estranged wife who wants nothing to do with him. They fight immediately, about her maiden name no less, at her employee Christmas party. Over the course of just two thrilling hours, he kills bad guys, bombs an entire floor, and saves the day—all without shoes. In other words, he gets his groove back, proving he is the most macho guy in Nakatomi Plaza. The Christmas spirit of forgiveness is right around the corner, as he bonds with an LAPD officer while they each confess their sins over a walkie-talkie. In one memorable scene, McClane says "Merry Christmas" to a terrorist by killing his brother and writing a message on his chest in blood. When it's all said and done, McClane's wife gives her own Christmas gift (a knuckle sandwich) to an annoying reporter, and he walks off triumphantly with her to the strains of "Let it Snow! Let it Snow! Let it Snow!"
They get in the limo, and John has this exchange with the driver:
John McClane: Merry Christmas, Argyle.
Argyle: Merry Christmas. [Argyle shuts the limo door] Man, if this is their idea of Christmas, I gotta be here for New Year's.
2. Brazil (1985)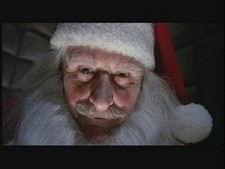 Archibald Buttle is mistaken for Archibald Tuttle when a dead fly falls into a typewriter and causes a key to type the wrong letter. The wrong man is then tortured and executed by the State, and his family is offered receipts for their trouble in Terry Gilliam's black comedy/dystopian nightmare "Brazil." Office drone and part-time dreamer Sam Lowry (Jonathan Pryce) decides to do a good deed at Christmas time, so he drives out to the devastated family's house to present them with their refund check—it was merely a governmental mistake! It's just the beginning of the very un-Christmas moments in a disturbing Orwellian movie that revels in the counterpoint of misery with fake Christmas cheer. The bulk of the film takes place during the holiday season, and there's no shortage of anti-consumerism parody and snarky heartlessness to go with some of the characters' false Christmas sentiment. If you like your comedy black, no sugar, this is your cup right here. Some people regard this as one of the best science fiction films ever made, and I'm not arguing.
Mrs. Buttle: Mistake?
Sam: Yes, they don't usually make mistakes, but, uh, well, I suppose we're all human…Actually, you know, my coming here is rather unorthodox, bringing you this check as any payments are normally made through central computer, but, um, well, as there were certain difficulties, we thought, well, rather than cause delay, uh, we'd let you have it now – you know, it being Christmas and all.
Mrs. Buttle: My husband's dead, isn't he?Sam: Um, I do assure you, Mrs. Buttle, the Ministry is very scrupulous about following up and eradicating any error. But if you do have any complaints you wish to make, I'd be, well, only too happy to send you the appropriate forms.
Mrs. Buttle: What have you done with his body?
Sam: Um, I don't know anything about that, Mrs. Buttle. I'm really just delivering the check. So if, um, look, if you wouldn't mind just signing these two receipts, I'd be only too happy to, uh, to leave you in peace.
1. Metropolitan (1990)



What isn't there to cherish in this one-of-a-kind indie gem from writer/director Whit Stillman? (Geez, I forgot about this movie when I was making my Top 10 Directorial Debuts—what's worse, nobody called me on it!) A pack of largely still-unknown young actors play a group of upper-crust New Yorkers home from their first year in college on Christmas break. When one middle-class student intrudes upon the ranks of the self-proclaimed Sally Fowler Brat Pack, it causes all kinds of trouble. Hearts are broken and loyalties change, but what's appealing about "Metropolitan" is that an all-night party for these kids involves Christmas trees, cocktails, hilarious pseudo-intellectual discussions about Jane Austen and socialism, and dancing the cha-cha without any hint of kitsch. Stuck in that netherworld between idealism and impending adulthood, these young debutantes are charming in their own clueless way. The snappy dialogue is a mouthful, but the naturalistic (i.e., amateur) acting makes it even more charming, as if the actors struggling to get their lines out correctly only added to their characters' unsure position in life. Did I mention that it's flat-out deadpan funny too? The best thing I can say about "Metropolitan" is that I had no idea people like this existed, much less that by the film's end, I would care about them so much.
Jane Clark: Why should we believe you over Rick? We know you're a hypocrite. We know your Polly Perkins story was a fabrication…
Nick Smith: A composite.
Jane Clark: Whatever. And, that you're completely impossible and out of control, with some sort of drug problem and a fixation on what you consider Rick Von Sloneker's wickedness. You're a snob, a sexist, totally obnoxious, and tiresome. And lately, you've gotten just weird. Why should we believe anything you say?
Nick Smith: I'm not tiresome.
Runners-up: "Batman Returns," "Eyes Wide Shut," "Lethal Weapon"