What movies are the best movies to watch high? Which are the best movies to watch stoned? Try this list of all-over-the-map films the next time you can't find the remote. AND Read the sequel to this list here.

I know what you're thinking: "Great. Here's another list of terrible comedies for delinquents to watch as they stuff their faces with commercial snack products and contribute next to nothing." That's exactly what you're thinking. I know it is. And you're wrong. If the only thing you get out of smoking is the giggles and munchies, you're really missing out. Smoke a bowl and take a hike in the woods. Cook. Draw something. Or just watch one of these movies.
If you have an idea for your own Top 10, email Eric at eric@scene-stealers.com.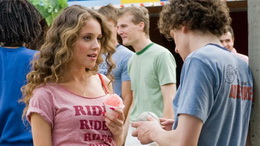 10. Adventureland (2009)
One of the biggest pleasures to experience when watching a movie is any moment of recognition. It's one of those weird stipulations of effective writing, wherein the more specific you make something, the more universal it becomes (it's also what makes so much of the comedy in the Judd Apatow-related films work so well). That being said, Greg Mottola's "Adventureland" is my favorite film of the year so far, and it landed a spot on this list for one reason: it has, to my knowledge, the best representation of realizing you're high ever put on film. That's right. Forget "Harold and Kumar" and "Cheech and Chong." About halfway in, there's a scene in which the main character, James Brennan (Jesse Eisenberg), is sharing a joint after hours with the resident bimbo at their place of employment. I won't spoil it with some turgid explanation, but anyone that has ever smoked pot will recognize that scene as pitch perfect.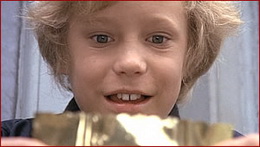 9. Willy Wonka and the Chocolate Factory (1971)
Now, just because I think there's more to get out of smoking pot than laughter and an increased appetite does not mean I view either as unworthy, unpleasant consequences. Here is a film that plays to one of those effects quite intensely while simultaneously bombarding the viewer with an ass-load of psychedelic imagery and eccentricity guaranteed to enhance any stoned experience. There's only one other children's film on this list that is more trippy than this one and I think that fact speaks to the true nature of a marijuana high (apart from the aforementioned "giggles and munchies"). I don't know if this goes for everyone, but after I smoke, I tend to behold all things with a child-like sense of wonder and watching this film as a stoned adult really brings you back to that innocent perceptual capacity you once had as a child. It's a nice way to renew your imagination. Also, that edible room looks damn tasty.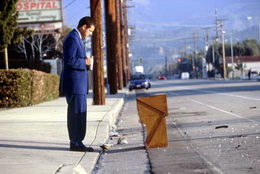 8. Punch-Drunk Love (2002)
Paul Thomas Anderson is one of my favorite filmmakers. So is Stanley Kubrick. "Punch-Drunk Love," PTA's Adam Sandler vehicle from '02, is a really eccentric, subverted rom-com with the aesthetic–albeit a slightly warmer tone–of a Kubrick film. Also, it's the first time Adam Sandler did anything worth discussing and it just so happened to be fucking fantastic. Now, we saw more of that brilliance in "Funny People" (another great Apatow film), but I fear we might not see it again for another half a decade. In any case, this may not be the first thing you think of for a movie to watch high — why is this film a distinguished viewing necessity for any stoner? No one smokes in the film. No one even mentions it. In fact, smoking a joint is probably the furthest thing from a possibility for the main character. However, the film is gorgeous to look at, ambitious, strange, and the soundtrack is just right ("He Needs Me," anyone?). I keep referring to the heightened emotional acuity you acquire after smoking, and smoking before you watch this film is laying down the foundation for an exceptional experience.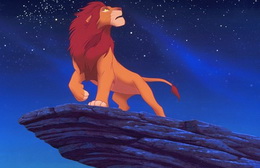 7. The Lion King (1994)
Children's films and television shows are often said to function as entertainment for both their target audience and stoned adults. Sometimes, this dual purpose almost seems intended ("Puff the Magic Dragon," "H.R. Pufnstuf"), but I find that kind of transparent pandering to be a little annoying and I avoid it. "The Lion King," on the other hand, makes no clear attempt to entertain that specific demographic and for that reason–you guessed it–it winds up doing exactly that! The opening sequence alone is sufficient evidence for its placement on a list of movies to watch while high, and that's not just because it has bright colors and loud music. I mean, it certainly does have beautiful imagery and a huge musical number, but they serve to provide an impeccable visual and emotional context for the film: a film that made me cry when I saw it in theaters as a little boy. Hopefully, a recurring theme on this Top 10 will be the heightened emotional acuity one undertakes when high (a phenomenon known as pseudo-profundity). Every meager emotional brush stroke has the potential to floor you and any philosophical inkling has the potential to make sense of it all. "Circle of Life"? You bet your ass.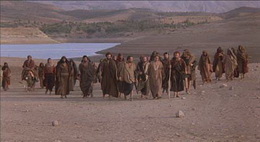 6. The Last Temptation of Christ (1987)
This may seem like an odd choice to some, but I'll rest my case on a few key elements that make this Martin Scorsese film perfect viewing for someone under the influence of tetrahydrocannabinol. First of all, the film is moving and beautiful to begin with, so seeing it high elevates these dimensions to a staggering level. I'm as secular as they come, but this is an artful, mature portrayal of Christ (as I'm sure you've been made aware in the 20+ years since its release) and it really hits home. There's the soundtrack by Peter Gabriel that is at once both chaotic and heartbreaking. The way the Palm Sunday sequence is scored is so goddamn glorious I can hardly stand it after I've cleared a bowl. With this movie, Scorsese achieved something I'm certain he never envisioned: a religious experience for pot-smoking atheists. Thanks, Marty.
5. The Wizard of Oz (1939)
This and "Willy Wonka" really are cut from the same cloth. It's almost cheating putting them on the same list, but I couldn't bring myself to choose one and wind up shortchanging the other. What do I even need to tell you about this movie to make my case? Everyone in the world has seen it and almost everyone in the world has smoked weed. The film has its drug references, but that has nothing to do with its appropriateness in this particular category ('cause we all know heroin and marijuana are on opposite ends of the spectrum). I'm not going to say this is good high viewing because of the color palette or the music, although those things don't hurt. No. It's a great movie to get high to because there's a complete, wonderful world created onscreen and it's an ideal place to be. Smoke a bowl and tell me you're not there. "There's no place like home." And there's no place like Oz on some cush.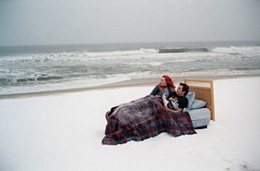 4. Eternal Sunshine of the Spotless Mind (2004)
Much in the same vein as "Punch-Drunk Love," Michel Gondry's "Eternal Sunshine of the Spotless Mind" is a remarkably moving, visually exciting, inventive masterpiece starring a comedic actor in his best performance ever. So, again, why is a film such as this a valid entry on this list? And why did that rhyme? I'll answer the former. It's not because the film is jam-packed with personified imagination in the form of crazy, true-to-their-meaning special effects. It's because, like so many other films I've mentioned, there's beauty in it. That's the reason I chose this instead of Gondry's other visual masterpiece, "The Science of Sleep." That's a great film, too, but it's nowhere near this one in terms of lasting emotional impact. And impact is what it's all about, here. Why limit oneself to shitty, low-brow comedies and potato chips? Why not watch something really terrific and spend some goddamn time in the kitchen?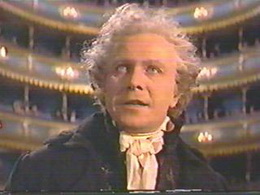 3. Immortal Beloved (1994)
I smoked a lot of pot when I was younger. Then, inexplicably, I stopped. Out of nowhere (and due to some pretty shaky reasoning), I called it quits and didn't so much as take a hit for about two and a half years. But things happen. People mature. So, when I started smoking again about a year and a half ago, I had a lot to catch up on. And there were two things I wanted to experience under the influence more than anything (things like mountain climbing are best delegated to sober me). Number 1: "Plainsong" by The Cure. And number 2: "Immortal Beloved." what makes this such a great movie to watch high? Ignoring the film's richness and imaginative excess, I had honed in on one scene which cultivated in me an agonizing eagerness: near the end of his life, during a concert, Ludwig Van Beethoven (Gary Oldman) imagines (or remembers with a bit of embellishment?) himself as a young boy escaping his father's wrath and running to a pool in the middle of the forest near his home. He takes off his shirt and shoes and lies down in the water. As "Ode to Joy" plays on the soundtrack, the camera pulls back and reveals the boy in a sea of stars. It's goddamn breathtaking. And seeing it high for the first time, I thought my head was going to explode.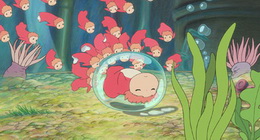 2. Ponyo (2009)
"Jellyfish float freely as schools of brightly colored fish swim by. Their movements are balletic. Pockets of color burst intermittently and there are innumerable fantastic creatures gliding above and scurrying atop the seabed. There's a tall man with long, flowing red hair standing inside a giant bubble at the edge of some kind of aquatic vehicle. He's squirting droplets of golden liquid onto the ground which explode into rainbows." Read the full article here.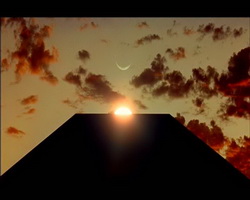 1. 2001: A Space Odyssey (1968)
Throwing caution to the wind, I will now make a definitive statement: Stanley Kubrick's "2001: A Space Odyssey" is the best movie one could possibly watch while high. Period. The idea for this very list came to me while watching it. And I knew then, too, that it would be number one. I knew that even before it got to the kaleidoscopic-dimension-shifting segment. Watching "The Dawn of Man," I was convinced. One of the many strengths of this movie is its willingness to leave so much open. Not open to interpretation, mind you, but to projection. There isn't a scene throughout with anything mapped out for the viewer. It's all lovingly crafted, thought-provoking, visually superb empty space. And what better than a drug-addled mind to fill in all those gaps? With the circumstances delineated in this Top 10, you sit there and think, "Why do other activities exist? Why can't getting high and watching this exact movie be the goal of every human life?" Perhaps I'm exaggerating, but you give this one a shot and tell me you're not enraptured. I don't even think you have to smoke pot regularly to see why this is the obvious, rightful choice. Evidence? Moments before I was about to watch it high for the first time, I caught Eric online and sent him an instant message. I explained the situation to him and, while I'm having trouble recalling his exact words, his sentiment was clear: "Godspeed."