2019 was a weird year, and the movies that came out in the past 12 months reflect that. As we head into an election cycle that is bound to go down in history no matter what happens in November, class disparity in the United States is bigger than ever. It features heavily into at least three films on this list, which also happen to be hugely entertaining and rise above the usual muscular exercises in genre. And even if there's two world-war-set movies on the list, don't think for a moment that there isn't a very specific current reason that the fascist perspectives in one of them are being lampooned. The other best films of 2019 echo the unstable moment we are living in, and include nuanced character studies, nostalgic elegies, and a sweeping epic about purpose and, well, luck.
As Scene-Stealers.com enters our 15th year of bringing you unique perspectives on current movies, we polled our critics for their own Top 10 list of 2019's best movies, and these are the ones that made the cut: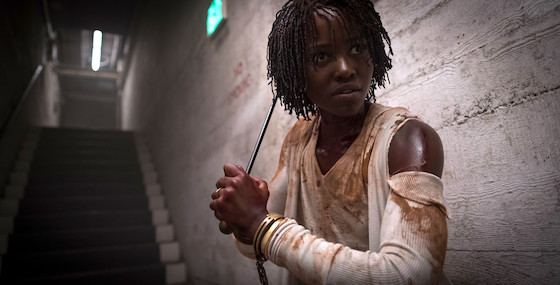 10. Us
Jordan Peele's Us is an impressively ambitious follow-up to his directorial debut Get Out. While it might reach further than it can grasp, the confidence the writer/director demonstrates with this film makes for an experience which rewards multiple return viewings. The central theme of identity and how one's past can return to literally haunt and attack their present is fully realized with Us's striking visual palette and a brilliant performance from Lupita Nyong'o. The metaphor is then driven home with two perfectly utilized needle drops. '90s hip hop has never been so menacingly effective.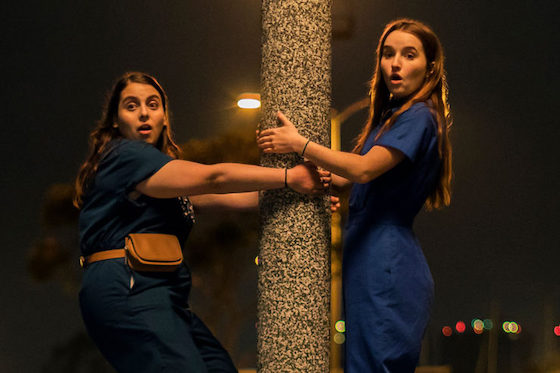 8. (tie) Booksmart
In a Hollywood age where comedies are almost as good as dead, Olivia Wilde jumpstarts the genre back to life with her directorial debut Booksmart. A little raunchy, a little weird, but always smart, Booksmart is one of the greatest comedies of the 21st century. In the same class of high-school generation-defining films like Superbad, Dazed and Confused, and American Graffiti, Booksmart takes its place as a film that provides genuine laughs and properly portrays the youth depicted. Beanie Feldstein and Kaitlyn Deaver give career-making performances playing the roles of two high school seniors who have come to the realization that they have wasted their high school experience by spending too much time in the library instead of having fun. Determined to have a wild night of partying, the pair embark on a quest of misadventures to prove to themselves and others that they are more than just the smart kids in class. The unsung hero of Booksmart and many other films is the brilliant casting director Allison Jones. The hilarious ensemble put together by Jones is what makes Booksmart so special. Each character in the film is memorable and trying to choose the best is an almost impossible task (it's Jared). Jones deserves the most amount of praise possible and this amazing film written, directed, and starring women deserves to be seen. – Jonah Desneux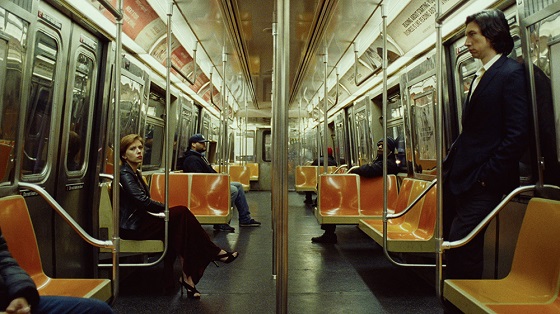 8. (tie) Marriage Story
Watching two affluent individuals go through a messy divorce shouldn't make me care as much as Marriage Story did. Inspired by his own breakup with actress Jennifer Jason Leigh, writer/director Noah Baumbach's deeply personal story of two individuals at odds with one another through the challenges of having a marriage and family fall apart on opposite sides of the country was one of the most soul crushing and yet mesmerizing experiences of 2019. I am a person who focuses on the acting aspects of films and here we have two actors at the top of their games, Scarlett Johansson as actress Nicole and Adam Driver as director Charlie deliver some of the best roles of their careers and of the year. As the film slowly progresses, it makes you wonder if you're in the middle of all of this, asking to pick a side that often times doesn't exist and questioning if that one person in your life that you thought was the one wasn't, and only the thought of another helps one to keep going and being alive. – Christian Ramos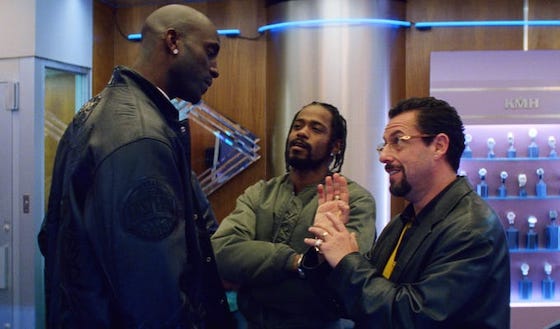 7. Uncut Gems
With their last film (the underrated Good Time, starring Robert Pattinson) and the new Uncut Gems, NYC-based Safdie brothers seem intent on exposing audiences to very specific subsets of the city's criminal underworld. It could just be that it's the world they know best. Whatever their reasoning, Uncut Gems is a fascinating (and pulse-pounding) exploration of compromise and self-delusion, writ large. As a morally repugnant jeweler with a gambling addiction, Adam Sandler may be the least likable main character in a mainstream film since Pattinson's low-level petty thug, but the movie itself is alive with such ferocious energy that it's impossible to look away amidst all the tension and yelling. And, oh the yelling. Wow. Lots of movies this year reflect the razor-thin edge our society is precariously balanced on right now, but this is the only one that feels as assaultive as the constant flow of daily crazy in the news. – Eric Melin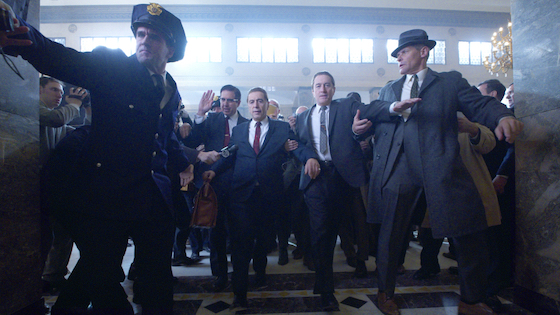 6. The Irishman
As far back as I can remember I always wanted to be a gangster. Not actually, but I've always loved gangster crime films. From the '70s to today, from The Godfather to The Irishman, they are four names recognizable by just their last names within the genre: Scorsese. DeNiro. Pesci. Pacino. Coming together for the first time, they've created a three-and-a-half-hour magnum opus that's highlighted by Pesci's best performance and a possible Oscar nom for both him and Pacino. While the jury is still out on ILM's "de-aging" process, it doesn't distract (too much) from what this film successfully does: cover over 40 years of a great story and mark the end of the modern Italian-American mob movie era. – KB Burke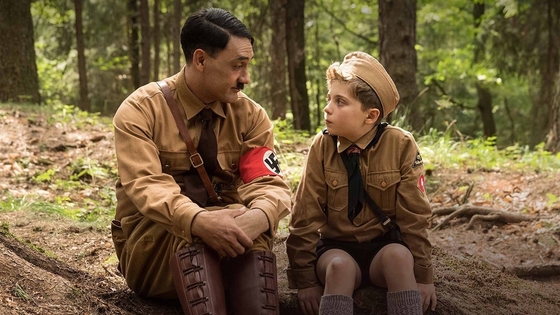 5. Jojo Rabbit
Two things happened in the theater when I saw Jojo Rabbit. First, I both laughed and cried within a matter of scenes. I don't remember the last time a film evoked such a wide range of emotions from me. A good movie will hit on as many emotions as possible to help the viewer connect with the characters. But when I say laugh, I was laughing out loud at some the scenes involving writer/director Taika Waititi, who portrays Adolf Hitler as the buffoonish invisible friend of Roman Griffin Davis' title character Jojo. And when I say cried, I was damn near balling in the theater. Which connects to the second thing that happened … the filmgoers audibly gasped during a particularly tough scene. Not just a few, but the whole theater. We should've seen it coming too, but Taika the director played us beautifully. Jojo Rabbit sports an amazing cast who effortlessly move between satire and heartache, providing 2019 with one of the most beautifully bizarre movies of the year. – Joe Jarosz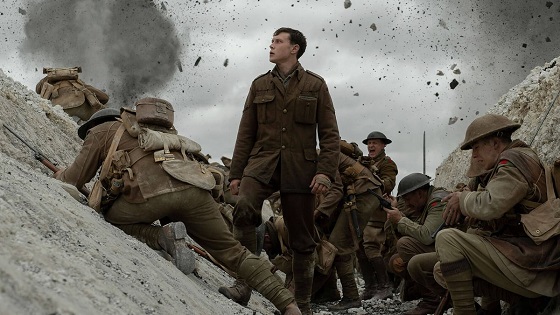 4. 1917
1917 is one of the most dazzling and immersive films of the year. Set during World War I, director Sam Mendes (Skyfall, American Beauty) delivers the incredible journey of two British soldiers sent on a do or die mission across the infamous No Man's Land to deliver a warning to hold off on an invasion. It's a race against time set to the cinematography of Oscar winner Roger Deakins, who's masterful eye makes it feel like it's all happening in one shot. The film boast some big names in supporting roles — look out for Benedict Cumberbatch, Mark Strong, Colin Firth and Andrew Scott — but it's the two leads, Dean-Charles Chapman and George MacKay that are the heart and soul of this stunning thriller. 1917 is not only arguably the best movie of 2019, it's one of the most powerful films of the decade. – Tim English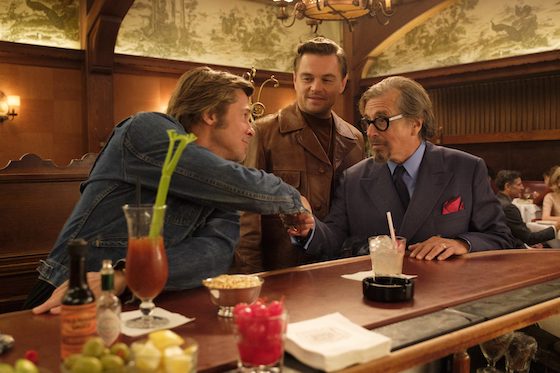 3. Once Upon A Time in Hollywood
Whenever Quentin Tarantino has a new film out, audiences know that an in your face violent ride is in store. However much to the surprise of many, Tarantino's ninth film Once Upon a Time in Hollywood was less about the expected bombast but instead a thoughtful reflection on the directors' aging career and Hollywood itself. Once Upon a Time in Hollywood takes place in a semi-fictionalized Hollywood in 1969 amid the transformation of Hollywood and the eve of the infamous Manson murders. Following the days of a washed-up film actor Rick Dalton (Leonardo DiCaprio), his stunt double/best friend Cliff Booth (Brad Pitt), and actress Sharon Tate (Margot Robbie) the film drips with dramatic irony. Tarantino's reimagining of Hollywood during its metamorphosis is fascinating to watch and has the ability to bring about emotions of sympathy and heartbreak not usually found in the director's other work. A complete tonal change of this magnitude isn't easy for even the most proclaimed of filmmakers, but through his sharp script and onscreen-present passion for film, Tarantino makes this transition with ease and creates the most meaningful film of his career. – Jonah Desneux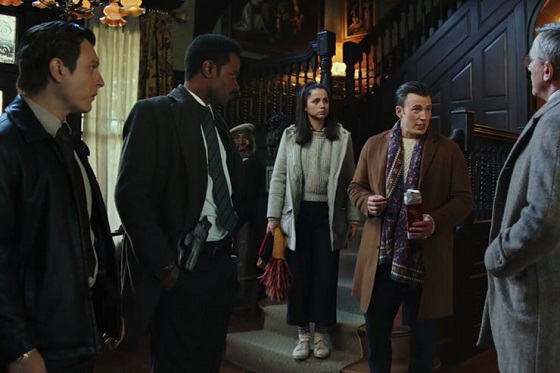 2. Knives Out
It's a glorious thing to watch a filmmaker have fun, and anyone who has seen Knives Out knows that the writer/director Rian Johnson is doing just that with his picture. Unshackled from the burdens of directing the most contentious Star Wars movie in history (and coincidentally, also the best of that series in last 39 years), Johnson gives himself some runway and absolutely tears it the fuck up. A parlor murder mystery for the MAGA era, Knives Out plays with as well as subverts classic genre tropes so that audiences can enjoy a good old fashioned whodunnit that also knows how to take the piss out of all the participants. Each of the actors are in on the joke, too, and they stop just short of physically winking at the audience in their upending of character tropes that run the gamut from cultured detective to spoiled relatives with a secret. The mystery is delightful, the acting is top-notch, and Johnson keeps things spinning just fast enough to keep everyone guessing right up to the final act, which concludes matters without any sequel teases or after-credits stingers. In an era of franchises and connected cinematic universes, Knives Out is a welcome breath of fresh air, or as Benoit Blanc (Daniel Craig) put it, "a tax return by community theater." – Warren Cantrell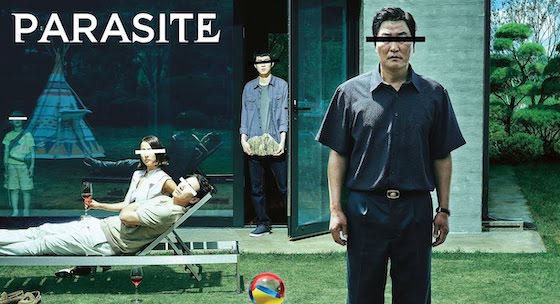 1.Parasite
I mean, it was always going to be Parasite at #1. Right? Probably the most surprising thing about Parasite's place in the current zeitgeist is that it is not at all surprising to see it topping critical and audience polls for Best Film of 2019. Bong Joon-ho, a Korean filmmaker chiefly known for sci-fi and action, made a subversive dark comedy about economic disparity that gives no easy answers and aims chiefly to deeply depress and unsettle its audience, and it turned out to be the best crowd-pleaser we've had in years. I've seen it three times, each with full audiences and each surrounded by laughter at the beginning, gasps during the mid-film reveals and awed silence at the barn-burner of a finale. Parasite has not only become pervasive "for a foreign film," but has possibly become the first non-English Language film since Amelie to become an all-consuming force in the American psyche (or at least since fellow Korean Park Chan-wook's Oldboy). You could make jokes about it on SNL if you wanted. With its straightforward chops with film fundamentals, the film feels as accessible and approachable as a Marvel Film, while forcing its audience to wrestle with the very real, very political and very difficult themes at the heart of the film. It suckers you in with laughs, then forces you to ruminate on the society around you. It goes all the way down to the title. Who, in the end, would be the parasite? Is it the impoverished, huckster Kims, or the ignorant, wealthy Parks? The answer, as with all great films, will end up telling you more about yourself than anything else. – Simon Williams