A shorter version of this article first appeared in the Lawrence Journal-World.
I haven't had this hard a time narrowing down a list of the year's best films since I started writing about them professionally 10 years ago. Simply put, 2013 was an embarrassment of riches, and the best movies of the year are all over the place in terms of budget, scope, genre, and style. The Coen brothers delivered a typically bleak comedy infused with uplifting music in the outstanding Inside Llewyn Davis, Blue is the Warmest Color contrasted the electric rush of new love with its eventual demise, and the under-seen indie Short Term 12 profiled the troubled youths who live and run a halfway house with surprising depth and maturity.
And those movies didn't even make the Top 10.
Here's the 10 best films of the year, followed by an equally long list of runners up, all worth catching up on if you missed them in the theaters!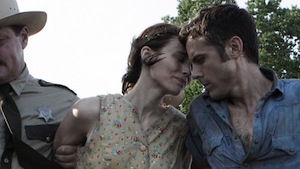 10. Ain't Them Bodies Saints 
David Lowery's Sundance stunner starring Casey Affleck and Rooney Mara as a Texas married couple forced apart after a robbery gone bad, casts a unique spell for such a classic theme—the doomed love story. Lush cinematography and naturalistic acting make it linger well beyond its running time, like some kind of classic American myth. It would make a great double bill with the number five movie on this list.

9. Nebraska
Will Forte is desperate to make a connection with his father Bruce Dern, and new shades of their strained relationship are unexpectedly revealed in this black-and-white low-key road trip movie from director Alexander Payne. Dern is channeling the darkest days of his youth and Forte is unexpectedly subtle, painting a full picture of Midwest stoicism and emotional repression.  Filled with insight about incommunicative families and unexamined lives, Nebraska also has some of the most cathartic laughs of the year.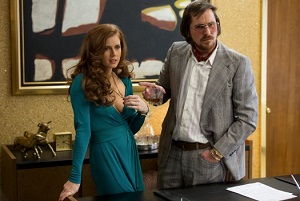 8. American Hustle
Leave it to writer/director David O. Russell to turn a real-life corruption scandal from the 1970s into a bizarre madcap farce and still manage to wring some pathos out of it. This sprawling, messy tale of deception on all fronts (including fooling yourself) hinges on the versatility of its actors (Christian Bale, Bradley Cooper, and Jennifer Lawrence among them), with Amy Adams standing out as a woman willing to do anything to change her life. American Hustle crackles with energy and its preoccupation with character behind all the madness proves that Russell is still a very personal filmmaker.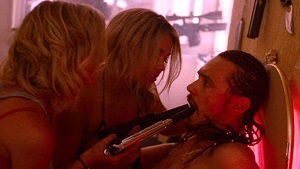 7. Spring Breakers 
It may have been sold as a fun party movie aimed at a teen audience, but writer/director Harmony Korine has darker, more subversive intentions, satirizing the hollow aspirations of a culture raised on movies and videogames. This movie would be a perfect double bill with number six on this list (and — for the straight-up world of absolute denial that its characters live in, number two as well). James Franco is frightening and hilarious as a whiteboy Florida rapper/drug kingpin, but the real star of the movie is the hallucinatory montage editing and repeated themes, which puts you inside the disturbing minds of its "protagonists." Two more categories Spring Breakers is likely to be ignored in come Oscar time are Best Cinematography (for Benoît Debie's neon-lit nocturnal tracers) and Production Design, because Oscar doesn't like subversive fever dreams where bikini-clad girls play with guns.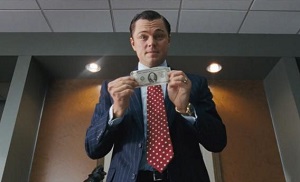 6. The Wolf of Wall Street
Director Martin Scorsese doesn't do straight-up comedy often, so it's an extreme pleasure (emphasis on the "extreme") to see his cinematic prowess unleashed on this insanely debauched tale of greed, excess, and denial. Leonardo DiCaprio is hilarious as the real-life stock trader who knowingly defrauded blue-collar investors, lived the high (emphasis on "high") life, and embraced everything that is wrong with the American dream. Too much shortsighted criticism has been lobbied at the film for glorifying defrauder Jordan Belfort's behavior and Scorsese and writer Terence Winter "falling under his spell." Scorsese isn't glorifying it, but he is presenting the ying and yang of our modern capitalist culture — our primitive animalistic nature vs. our sense of moral responsibility. And because the POV is Jordan's, it's filled with braggadocio. Scorsese knows his audience is smarter than Jordan thinks they are (he insults us to our faces) and they (we) can handle both sides of the coin, knowing right from wrong while recognizing the innate, primitive lure of it all.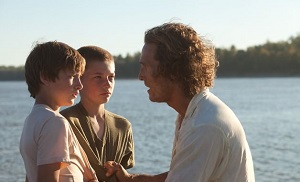 5. Mud
The best film of the year starring Matthew McConaughey (who also rocks it in The Wolf of Wall Street and Dallas Buyers Club), writer/director Jeff Nichols' ensemble drama begins with the mystery of a boat found in a tree and a man named Mud who wants to live in it. It becomes not only an involving mystery, but also a poignant meditation on unrequited love, viewed through the eyes of a boy (Tye Sheridan) who has yet to outgrow his idealism.  A film made richer by its rural Mississippi River-based setting and lived-in supporting characters (played by Sam Shepard, Reese Witherspoon, Sarah Paulson, Jacob Lofland, and Ray McKinnon) Mud is destined to become a timeless American folk tale.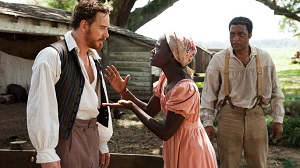 4. 12 Years A Slave
Director Steve McQueen's adaptation of an 1841 memoir from Solomon Northup, who was kidnapped and sold into slavery, gets its power not just from the horror of its subject matter and its director's avoidance of easy sentimentality, but from the complicated moral questions that cloud up a survivor's mentality. Led by a fearless Chiwetel Ejiofor, the cast (including an Oscar bound Lupita Nyong'o and the deeply unsettling performance of Michael Fassbender — a McQueen regular) is uniformly excellent and the filmmaking is confident and focused.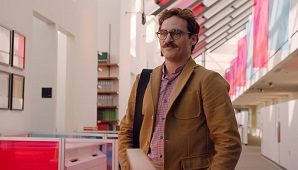 3. Her 
Joaquin Phoenix plays a lonely man who falls in love with his computer's operating system (voiced by Scarlett Johansson) in a tale that's set in the near future, but feels like the first classic romantic comedy of the new decade. Spike Jonze's script and direction are assured, speaking volumes about the way technology has changed our lives and the unchanging desires of the human heart. Besides portraying a very sharp and believable version of the direction modern society is headed, Her takes both its science-fiction premise and melancholy love story to their ultimate breaking points, never losing sight of it its vulnerable compass.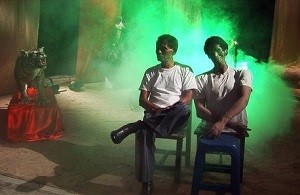 2. The Act of Killing
Jettisoning all the rules of standard documentary filmmaking, director Joshua Oppenheimer's study of a group of small-time Indonesian gangsters celebrated as heroes for committing genocide is truly one of a kind. Never before has the minds of cold-blooded killers been so vividly exposed as they are here, through grotesque Hollywood-style re-creations of their acts. Upon seeing this film, Errol Morris and Werner Herzog hopped on board to lend their own estimable weight to promoting it. A Top 10 list of jaw-dropping moments from this movie would be easy to fill up. The Act of Killing is an unforgettable experience, and further proof of that stretching the bounds of documentary filmmaking can elicit the most thrilling results.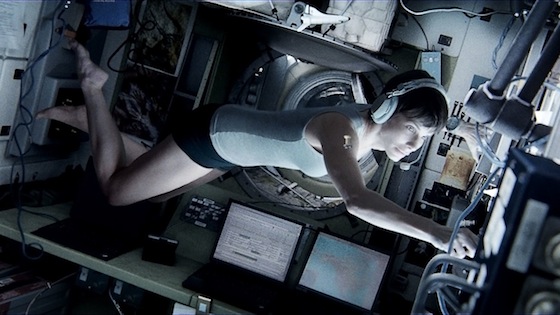 1. Gravity
The deceptively simple and harrowing premise of a woman (Sandra Bullock) lost in space becomes a deeply emotional metaphor for the struggle to move beyond tragedy in this groundbreaking action-filled drama from Alfonso Cuarón. Filled with bravura technique, this immersive journey is a triumph on every artistic and technical level—the rare movie that stimulates the senses with rollercoaster thrills and engages the soul with its touching depiction of human courage. This is also the rare movie that is 100 percent absolutely not the same if not viewed on a huge movie screen. The immense amount of detail in every frame (much less the perfectly calibrated 3D presentation and sound design) cannot be replicated at home, even on the nicest of home theater screening rooms. The intensity of the danger remains, of course, on subsequent viewings, but I was also surprised that the film resonates more deeply on an emotional level too.
10 Runners-up for Best Film of 2013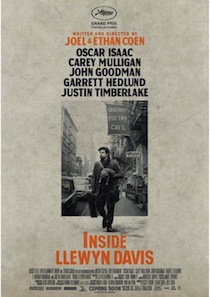 Inside Llewyn Davis
Short Term 12
Blue is the Warmest Color
The Place Beyond the Pines
Stoker
Stories We Tell
Cutie and the Boxer
The Hunt
The Spectacular Now
A Hijacking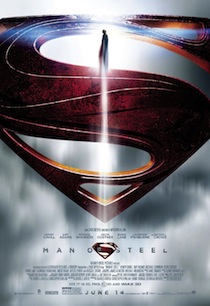 5 Worst Films of 2013
Gangster Squad
Olympus Has Fallen
Man of Steel
August: Osage County
A Good Day to Die Hard