After the busiest December in movie-watching history, I finally managed to squeak out a list of the best movies of 2008. After going back through my favorite films of the year, I noticed that the last-minute Oscar contender cramming didn't really change things all that much. Sure, "The Wrestler" and "Let the Right One In" were Oscar season additions, but the other ten or so movies that you'll be hearing about between now and February 22 didn't make the list. For another take see Alan Rapp and Ian McFarland's lists at sister site Transbuddha.
10. Speed Racer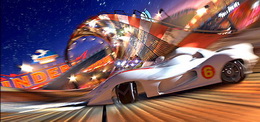 To dismiss one of the most inventive movies of the year as a candy-colored assault on the senses is missing the point completely. This groundbreaking offering from the Wachowski brothers was unfairly bashed like no other movie this year. Like most films that are ahead of their time, though, I'm sure that "Speed Racer" will have its day. Rather than depicting reality, 14 different effects houses worked together to create a new form of "layered unreality" where nothing that is seen on the screen can actually exist in real life. The goal? A live-action interpretation of Japanese anime. The effects teams literally pieced together layer upon layer, essentially becoming the production design heads and "virtual" cinematographers. The pacing is frenetic, and the movie is probably too long for its own good, but as a bold experiment in storytelling, nothing else is as invigorating this year.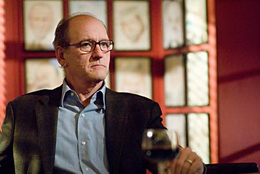 9. The Visitor
Writer/director Tom McCarthy's character study of a widowed university professor who finds some squatters in his New York City apartment avoids all the trappings of a political treatise, despite a plot device that indicts post-9/11 immigration policies. Richard Jenkins' understated and nuanced performance gives us a clear sense of the decency of a man who would prefer to blend into the background. The relationships he forms in the movie are unlikely, but only on the surface. Watching the man come out of his shell and embrace friendship with a Syrian djembe player and his Senegalese girlfriend was one of the biggest surprises of the year. It's like "Gran Torino," except without all the racism, bad acting, and inappropriate martyrdom!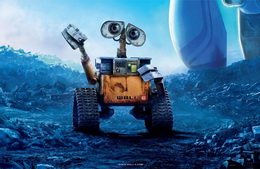 8. Wall-E
Having a cinematographer like Roger Deakins work as an advisor on Pixar's latest was one of many smart choices that led director Andrew Stanton to realize the most filmic-looking animated movie ever produced. The first half of "Wall-E" is an expertly rendered whimsical "silent" film told through the binocular eyes of the last robot on Earth. If the first part of that sentence sounded different from the futuristic dystopia of the last half, that's because it is. Big sci-fi ideas about the possible fate of the world are in store for the movie's second half, but "Wall-E" also never loses sight of what's at its robotic little heart—a love story for the ages.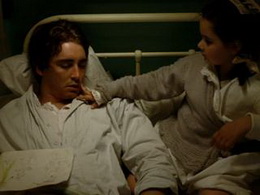 7. The Fall
Young Romanian actress Catinca Untaru was remarkable in Tarsem's underappreciated melancholic fantasy "The Fall." She overshadowed even the movie's startling imagery with reactions so unaffected (she stumbles over her words searching for the right way to communicate), it's as if she's not even working off of a script. The movie was filmed over four years in 23 different countries, and features almost no CGI. Instead, remarkable
Tarsem avoids computer generated graphics as much as possible to create a look that is almost exclusively in-camera. I think on some subliminal level, this approach pays off because, as far out as the imagery he presents is, it always feels like it is actually there. It actually exists, in some form or another. The more CGI that becomes common in movies, the more likely we are to feel when it's not being used, on some level. As fantastic as the story sequences in "The Fall" are, we are grounded by the fact that characters we believe in have created them, and they have happened right there in front of our eyes.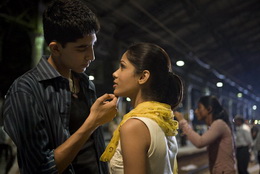 6. Slumdog Millionaire
A kinetic, multi-genre sociopolitical fairy tale, "Slumdog Millionaire" is British director Danny Boyle's love letter to maximum city Mumbai, India. Simon Beaufoy's script is one of the most narratively tight of the year, jumping back and forth in time to tell the story of a young chai walla's search for his lost love. It's the device of the plot that he finds her by appearing as a contestant on "Who Wants to be a Millionaire," but Jamal (the enigmatic Dev Patel) is less interested in winning money than he is finding his true love. Boyle directs the film like a chase picture, never staying too long on any of the film's memorable shots of the teeming Mumbai, and that's one of the reasons the movie is so successful.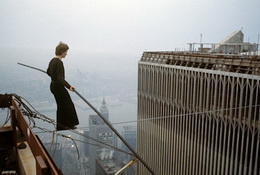 5. Man on Wire
The best documentary of the year is a lot like "Slumdog Millionaire"—it works on so many levels. As a suspense thriller, it tells the story of a gutsy and improbable break-in carried out by a French tightrope walker and his buddies. As a portrait of a man, it reveals Philippe Petit as an obsessive whose life is consumed by his feats of daring long after the deeds are done. As a snapshot in time, it paints a picture of a world whose imagination was captured by the gigantic World Trade Center and the mischievous act of one man dancing on a thin line between the two towers. "Man on Wire" is easily one of the most riveting films in recent memory—documentary or not.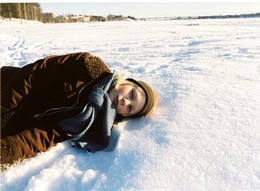 4. Let the Right One In
The cold, formalistic composition of Swedish import "Let the Right One In" is simply stunning. Stark images of snow-covered landscapes and rundown apartment buildings stay onscreen long enough to burn into the brain. Director Tomas Alfredson's vampire flick is a high water mark for the genre, and should draw comparisons to George Romero's ultra-realistic take on the legend in "Martin." The loneliness and despair of a Stockholm suburb in 1982 sets the tone for a movie where the vampire is not portrayed as a sexy outsider (see "Twilight"), but rather a pathetic freak of nature that's ashamed of its own being.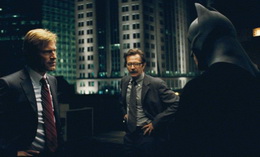 3. The Dark Knight
My third viewing of "The Dark Knight" in the theater convinced me of one thing—Christopher Nolan's script and direction in this culturally relevant crime drama are nothing short of miraculous. Heath Ledger's re-invention of the Joker is as exciting as anything that was onscreen this year, and fine turns by Gary Oldman and Aaron Eckhart bolster the idea that this is not merely a Batman movie. It's an ensemble piece. Weaving multiple storylines and themes together in a film that explored the fine line between security and fascism in such gloriously entertaining fashion is not easy, and Nolan has proven himself again to be a mature, world-class filmmaker.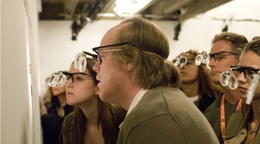 2. Synecdoche, New York
Charlie Kaufman's latest confounded and frustrated many, but I found it to be an exhilarating expressionistic picture. There is no way to dissect "Synecdoche, New York" in order to find out "what really happened;" no surefire method to construct a realist narrative. Instead, it's a very intimate and internalized snapshot of a frustrated theater director (Philip Seymour Hoffman) and how he saw his life as a constantly evolving story. His own profession and way of analyzing things result in a picture where characters and actors interchange, blurring the line between what is dreamt up by the playwright and what's actually taking place—so much so that it doesn't matter anymore. Kaufman offers an unflinchingly honest and deep examination of the soul of a person by taking us headfirst into the scariest and ugliest recesses of his mind.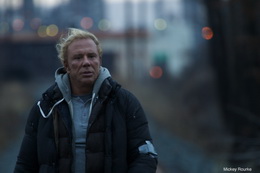 1. The Wrestler
This movie accomplishes a task simlar to "Synecdoche," but through completely different stylistic means. No movie this year made you feel the pain and longing of its main character like Darren Aronofsky's "The Wrestler." The low-budget POV camerawork puts you in Mickey Rourke's shoes as this former superstar struggles with his identity and the thought of redemption in the face of a life-changing event. Every moment is perfectly realized and drips with authenticity, even when the story flirts with standard subplots. Rourke is the only actor this year who looks as if he lived in his character's body for years. Despite all this, Randy "The Ram" Robinson is a charmer; someone who is a decent person deep down. You want to root for him. He comes with all Rourke's hard-scrabble emotional baggage, and it feels so real, it doesn't even look like acting.