Back in September, Scene-Stealers contributor/philospher Warren Cantrell posted his Top 10 list of the Best Movies Directed by Clint Eastwood. He was getting excited for this week's J. Edgar, and challenged me to produce a Top 10 of Clint Eastwood's best roles. Like a fool, I accepted the offer, and what follows is my attempt to rank the performances of an icon whose mark is already deeply felt on the world psyche as an actor in many classic films, despite a severe lack of awards to show for it. Here is my list of the Top 10 Clint Eastwood Acting Performances.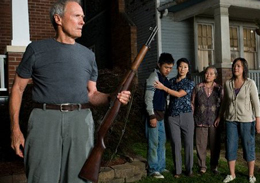 10. Walt Kowalski, Gran Torino (2008)
Let's be clear: I think this movie is a disaster. In my original review, I wrote that "Gran Torino plays like some sort of R-rated Hallmark made-for-TV movie," and I stand by that. But one of the main problems with this formulaic piece of feel-good simplicity is that Eastwood out-acts everyone around him to a distracting level. He plays a growly Korean War vet who is a caricature of lots of roles he's played before, but he still manages to give Walt Kowalski a depth that the mostly amateur actors around him can't even come close to. It feels like they are in a different movie, and it's frankly uncomfortable to watch, creating a kind of dissonance with the tried-and-true formula that you think you are supposed to be seeing. If you've ever watched Gran Torino and felt something was a little "off" about it, that's Eastwood bringing more to his character than it deserved.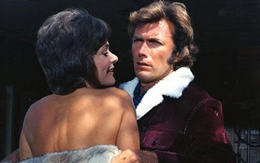 9. Dave Garver, Play Misty for Me (1971)
The studio executives asked Eastwood why anyone would want to go see a movie where Clint Eastwood plays a radio DJ, and he reportedly answered that he wasn't sure. What he knew is that the script was a button-pushing suspense thriller and he was ready to make his debut as a director. In fact, they wanted him as an actor and he volunteered as director just so he could start doing it. Jessica Walter, as the obsessed woman who stalks Eastwood's character, got the Golden Globe for the showier role, but without his character's aversion to commitment and self-centered cool demeanor, the movie wouldn't have been as effective. The fact that a tough guy like Clint could be the victim of a crazed stalker made the film even scarier.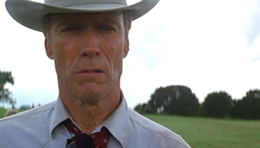 8. Red Garnett, A Perfect World (1993)
"I don't know nothing. I don't know a damn thing." Those are the words spoken by Eastwood as Texas Ranger Chief Garnett at the end of the most underrated of all his classic films, A Perfect World, which Eastwood also directed. This film has another bit of nifty casting, in that Kevin Costner is playing the criminal-with-a-heart-of-gold part that a younger Eastwood would normally play, while Eastwood is the somewhat bumbling lawman who is on his tail. It's a supporting role, for sure, but in his fancy airstream trailer with a feminist criminologist (Laura Dern) and trigger-happy sharpshooter (Bradley Whitford) in tow, Eastwood has plenty of opportunity to play off his co-stars. Things don't turn out the way Garnett wants them to, and he is forced to re-examine the whole idea of good guys and bad guys.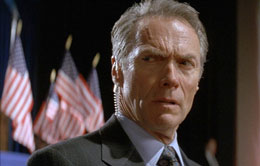 7. Frank Horrigan, In the Line of Fire (1993)
Wolfgang Peterson (Das Boot) knows his way around a taut thriller, and that's exactly what he delivers here. But what sells the movie — which is essentially a cat-and-mouse game between a would-be-presidential-assassin (John Malkovich) and the secret service agent trying to stop him (Eastwood) — is Eastwood's subtle performance. Frank is haunted everyday by the fact that President Kennedy was killed on his watch, and although Eastwood is playing another variation on the grizzled man of few words, he elevates the entire affair. Eastwood alone gives the movie the soul it might have otherwise been missing as he struggles to convince him self that he doesn't have anything in common with the assassin who thinks they are cosmically linked. Of course, what gets rewarded come Oscar time? (Not subtlety!) John Malkovich got a supporting actor nomination for playing crazy, Clint got nada. See a pattern forming here? Speaking of patterns, how come we haven't seen Morgan Freeman yet?
6. Josey Wales, The Outlaw Josey Wales (1976)
Eastwood took over directorial duties on this Civil War-set movie after having screenwriter/director Philip Kaufman fired, and ended up bridging the gap between traditional and revisionist Westerns. The title character from The Outlaw Josey Wales is still the strong-mostly-silent type, like the Sergio Leone Spaghetti Western films that made Eastwood famous, but he also has a clearer sense of right and wrong. Although he probably prefers to be alone, Wales can't help but take on companionship in the form of a Cherokee Chief, a grandma, and a love interest (his six-year romance with co-star Sandra Locke began here) during his quest for revenge. Eastwood makes Wales an altogether more likable outlaw without losing any of the inherent toughness his character usually have.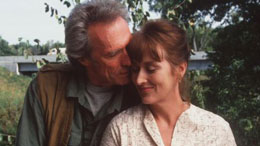 5. Robert Kincaid, The Bridges of Madison County (1995)
Playing against type, Eastwood is a National Geographic photographer who falls in love with an Iowa housewife (Meryl Streep) and has a brief, passionate love affair. It's not one of his classic films and it's melodrama for sure, but Eastwood's understated adaptation of Robert James Waller's best-selling novel doesn't pander. Staying away from overt sentimentality, Eastwood's Kincaid begins as a fantasy figure for Streep's bored housewife, but in Eastwood's skilled hands, he becomes a three-dimensional person who slowly realizes how lonely he really is. A melancholy film about dreams that never happened, The Bridges of Madison County works because Eastwood allows the audience a peek behind his ever-manly veneer.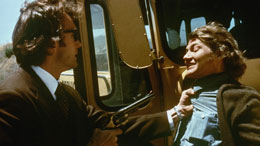 4. Harry Callahan, Dirty Harry (1971)
Would you believe me if I told you that this role was originally meant for Frank Sinatra? It's hard to imagine, but true. So imprinted on the American consciousness is Eastwood's take-no-shit, screw-personal-rights borderline fascist vigilante cop Dirty Harry that its star and character are forever linked. This movie was the one that cemented Eastwood as an icon, although Magnum Force (1973), The Enforcer (1976), Sudden Impact (1983), and The Dead Pool (1988) kept Dirty Harry alive for years afterward, with diminishing returns. Could anyone else have said the line "You've got to ask yourself a question: 'Do I feel lucky?' Well, do ya, punk?" and pulled it off without cracking a smile or looking ridiculous doing so? No way. (Certainly Schwarzenegger couldn't. He became known for his bad pre- and post-kill punchlines.) For better or worse, this is one character Eastwood will never escape.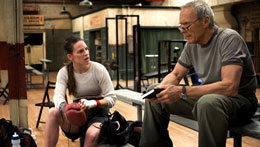 3. Frankie Dunn, Million Dollar Baby (2004)
Frankie is one of those hard-asses with a soft center that Eastwood knows inside and out, and his work as seen-it-all boxing trainer Frankie Dunn in the Best Picture winner Million Dollar Baby is the most emotionally affecting and humanistic of his career. It's another restrained performance in a body of classic films, but the years of regret and guilt that have piled up on Frankie show in every inch of his body and Eastwood's interactions with his co-stars ring with truth in every scene (even when some other characterizations border on camp). As with almost all of Eastwood's best work, his Million Dollar Baby co-stars Hillary Swank and Morgan Freeman won Oscars, but nothing for him. (Well, if you don't count his second Best Director award.) And, just to prove that nothing is sacred, I have to include this hilarious 5-second video (with significant SPOILERS) that reducesMillion Dollar Baby to a one-note joke, but also makes me laugh out loud every time I watch it.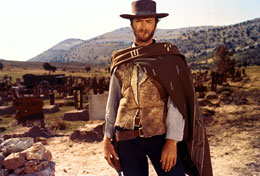 2. Blondie, The Good, the Bad and the Ugly (1966)
I could very well have picked any one of the Sergio Leone 'Man-with-no-name' Spaghetti Western trilogy, A Fistful of Dollars (1964), For a Few Dollars More (1965), or The Good, the Bad, and the Ugly, but I'm going with this one because it's the most well-known of the three. Sergio Leone may have meant the following quote from 1984 as an insult to Eastwood, but it ultimately showcases what it is about his poncho-clad character that makes him so unique: "Eastwood moves like a sleepwalker between explosions and hails of bullets, and he is always the same—a block of marble." Although it was considered violent and morally repugnant by some critics at the time of its release, The Good, the Bad, and the Ugly is now rightly considered a masterpiece of its genre and the faint hint of humanity that Eastwood shows in this movie was enough to garner the audience's sympathy and finally make him an international movie star. Blondie always looks like he's one step ahead of the game, with another trick up his sleeve, even when his options seem to be exhausted. Isn't it ironic that one of America's best loved actor/directors initially made his name with an Italian film?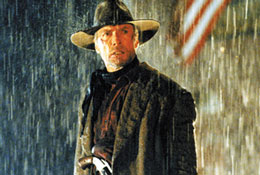 1. William Munny, Unforgiven (1992)
Clint Eastwood deconstructs the Western myth in this timeless tale of redemption and/or lack thereof and forms the most fully fleshed-out of all his Western characters in classic films with Unforgiven, which was the first movie he directed to win Best Picture. (Like that film, it also has co-star Morgan Freeman in common.) If anybody knows this territory, its Eastwood. Between a clever script that pokes fun at gunslingers while also looking seriously at the consequences of a hard and violent life and the weathered experience Eastwood brings to the table as an actor, Unforgiven is the whole package. Every Western he's ever starred in felt like it was leading up to this film. Unforgiven is the ultimate final word on the genre from one of its masters, and his performance as antihero William Munny is an angry condemnation of those who may glorify the violent tendencies of some of Eastwood's earlier characters. Compare, for instance, this quote from Munny in Unforgiven to the Dirty Harry quote in #4: ""It's a hell of a thing killin' a man. You take away all he's got and all he's ever gonna have." Again, I have to mention the lack of attention to Eastwood's acting again: Unforgiven won Best Picture and Best Director (while co-star Gene Hackman earned a well-deserved supporting win), but Eastwood lost Best Actor to … wait for it … Al Pacino in Scent of a Woman, a late-term career pity award if there ever was one.