Even though David Fincher struck lightning in a bottle with "The Social Network" and Pixar produced the best in its great series of "Toy Story" movies, 2010 seemed like a pretty disappointing year at the theater. Some of the more hotly anticipated films, like "Iron Man 2," just kind of came and went with little fanfare. We have Christopher Nolan to thank, on the other hand, for bringing smart back into the summer multiplex lineup with the fascinating mental workout called "Inception." Here's a look back at some of the trends, high points, and low points for the year in movies.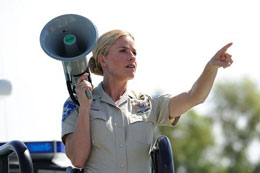 10. Good Actors Slumming
A Robert Rodriguez-produced reboot of the "Predator" franchise fizzled when Adrien Brody and Laurence Fishburne took the jungle to remind us what happens to former Oscar nominees and winners when they face the "invisible enemy" of bad career choices. In "Piranha 3D," Elisabeth Shue showed none of the grace that garnered her a Best Actress nomination for "Leaving Las Vegas," but that could have been because she was overshadowed by an inordinate amount of naked co-eds getting killed en masse.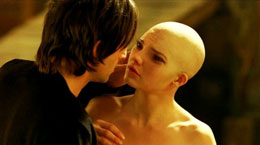 9. Weirdness: Crazy, Awesome Weirdness in Mainstream Films!
Speaking of Adrien Brody, in "Splice," he played an arrogant genetic engineer who created a brand new new lifeform and (SPOILER ALERT!) had sex with it! Yikes. This was doubly creepy because he and his wife treated the being like a daughter. This was also the year that a little 11-year-old named Hit Girl (Chloe Moretz) eviscerated bad guy after bad guy in the most gruesome ways in "Kick-Ass," while a sick German scientist (Mengele, anyone?) sewed up three young adults ass-to-mouth in "Human Centipede: First Sequence." The thing is, each of these movies succeeded in their own sick ways. Is Hollywood going subversive?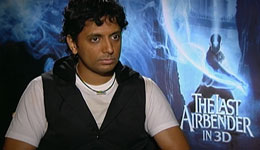 8. Shama-lama-ding-dong-done, Pt. 2
M. Night Shyamalan's wretched hijacking of Nickelodeon cartoon "Avatar: The Last Airbender" may have been the last straw for needless 3D movies, and it was only July. The film's one possible saving grace was that it had been shot by Oscar-winning cinematographer Andrew Lesnie, but it was almost impossible to tell through the dark and fuzzy filter of 3D. What's worse, it featured silly dialogue and forced acting the likes of which no one had seen since 2008's unintentionally funny horror outing "The Happening," also directed by the man who—after the success of "The Sixth Sense"—was once being mentioned in the same breath as Alfred Hitchcock.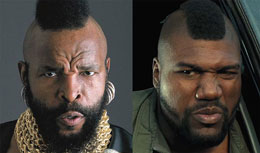 7. Revenge of the 80s
Besides jumping on the retro nostalgia 1980s bandwagon with this March's "Hot Tub Time Machine" (which wins Best Movie Title of the Year hands down), 2010 was the year for remakes and reboots of popular franchises from the Reagan era. Jackie Chan taught new Daniel-san Jaden Smith (now called Dre) how to defend himself against bullies by repeatedly dropping his jacket and hanging it up again in "The Karate Kid." It's the title that sold the film to a wide family audience, even if the film contained no actual karate. (It was kung fu!) On the same June weekend, "The A-Team," led by Liam Neeson, parachuted a tank out of an airplane while B.A. Baracus replacement Quinton "Rampage" Jackson taught us that we may have underestimated the comic genius of Mr. T.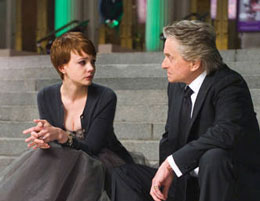 6. Sequels Not Overdue
Meanwhile, Oliver Stone forever sullied the reputation of Michael Douglas' classic Gordon Gekko character and ruined a perfectly good chance at being relevant again with the weak sauce of "Wall Street: Money Never Sleeps." If you want to see an interesting and infuriating look at the current financial situation, watch Charles Ferguson's maddening documentary "Inside Job." Another crap sequel nobody asked for: Just this month, "Tron Legacy" reminded us something that we may have forgotten about Disney's 1982 original: that even the coolest visuals can't make up for an uninvolving story.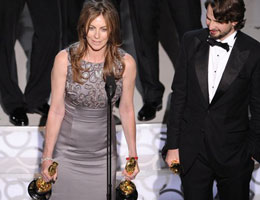 5. It's no "Point Break," but…
Kathryn Bigelow (who directed manly men in "Point Break," "Near Dark," and "Strange Days") became the first woman to win the Best Director Oscar in March of this year when she took home a little gold man for her complex and thrilling Iraq War bomb squad drama "The Hurt Locker," which also won Best Picture. The Academy expanded the top award of the night to 10 nominees, and having won the big prize, "The Hurt Locker" subsequently became the lowest-grossing Best Picture winner of all-time. The irony of this was not lost on anyone, because …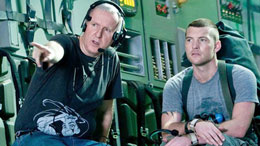 4. New All-Time Box Office Champ Looks A Lot Like the Old One
Her primary competition in the directing race—in a story too rich to be fiction—was her ex-husband James Cameron, who had a pretty good year of his own. Cameron's second career-risking venture in 12 years, the 3D extravaganza "Avatar," became the highest-grossing picture of all time this year. After a second theatrical release in the fall with nine extra minutes inserted into the already two-hour-and-forty-minute film, "Avatar" reached a domestic gross of $760 million, handily beating the seemingly unbeatable $600 million mark set by his own "Titanic."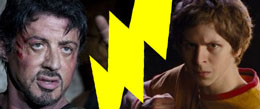 3. Out with the New and In With the Old
One particular box office showdown that speaks volumes about the tastes of mainstream America happened the second weekend in August when Sylvester Stallone's action-hero-heavy extravaganza "The Expendables" ran circles around Edgar Wright's small but adventurous "Scott Pilgrim vs. the World." Both films seemed like the perfect kind of narrowcasting, but "Pilgrim" struggled to recover even half of its entire$60-million budget, while Stallone rode the popularity of Jason Statham, Jet Li, and an all-star cast of past and present muscleheads to over $100 million. If I had to bet on long-term staying power, I'd say "Pilgrim" will be the one people are still talking about 10 years from now.
2. 3D Goes From Next Big Thing to Overused Gimmick in 6 Months
As we all recovered from the immersive 3D experience of "Avatar," there were a slew of last-minute 3D feature film upconverts like "Clash of the Titans" waiting just around the corner to make us regret paying that extra fee on the price of a movie-ticket admission. Besides replacing all of the stop-motion animation that made the original so memorable with the most generic CGI around, "Clash" was an incoherent mess. Tim Burton's "Alice in Wonderland" brought a little more style to the table, but it's the same kind of vision Burton's been fashioning for years, and it's getting old fast—just like this new 3D craze. The one exception to the rule this year was "Jackass 3D," a movie that used the technology in the most immature and gimmicky way possible by combining it with the wonder of slow motion (shot with expensive high-speed cameras that shoot 1,000 frames per second). Now I know what it looks like inside a Port-A-Potty when it's launched into the air by a bungee cord. William Castle would be proud.
1. How 'Real' is Reality?
I've long been crowing about how fake documentaries really are (each one has a point of view, after all), but 2010 was the year that really brought that idea home. The indie film "Catfish" raised questions about the motives of its filmmakers when the movie unfolded a little too much like a perfect fictional narrative. Mysterious U.K. graffiti artist Banksy mirrored his best street art when he put his pseudo-realistic stamp all over "Exit Through the Gift Shop" and brought up new questions in the age-old rift between art and commerce in a challenging and hugely entertaining way. On the flipside of that, Joaquin Phoenix turned in a brave but ultimately futile performance in "I'm Still Here," which purported to be a media experiment, but never really got off the ground because nobody was gullible enough to believe he and director Casey Affleck when they said Phoenix had actually abandoned acting for a rap career.