This list comes to us from Sean O'Connell, a New York City-based writer who also contributed a Top 10 Movie Brothers list some time back. If you have a Top 10 you'd like to contribute, email me at eric@scene-stealers.com. Here's Sean:
Since we are in the thick of the summer movie season you would think that gorgeous summer weather would follow. That is not the case here in New York City. Our summer has been held hostage by constant rain. It has rained 21 out of 25 days here in the month of June alone. The sun has been gone for so long now that the Cullen family from "Twilight" could have taken a summer vacation here with no worries. That is how bad it is. So while I have been trapped inside, it got me thinking of great rain scenes from movies. Here is my top ten rain scenes of all time. Hope you enjoy it and I hope it stops raining here.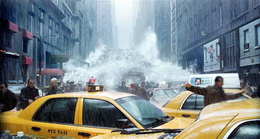 10. The Day After Tomorrow (2004)
This may not be the greatest movie ever made, but the NYC rain scenes have been pretty dead-on as of late. I am constantly looking over my shoulder as I walk up 7th Avenue for a giant wall of water to come crashing down on me. As far as the movie goes, this was the one scene that was the most enjoyable. The rude New Yorkers meet their demise and the smart school kids live. The special effects were great and who doesn't want to see an oil tanker float up 5th Avenue? Once the rain stops, so does the movie unfortunately. It gets caught up in some environmental message while the new Ice Age ascends rapidly (didn't the first one take over a century to happen, not a day?), Jake Gyllenhaal tries to remind us why we need to pay attention in science class, and Dennis Quaid walks from Washington D.C. on snow shoes that look like tennis rackets to find his son he has lost touch with.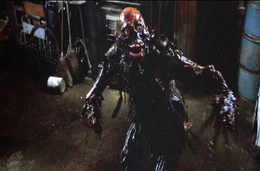 9. Return of the Living Dead (1985)
In this Dan O'Bannon classic, rain plays a prominent role not once but twice. After two bumbling warehouse workers (portrayed by James Karen and Thom Mathews) accidentally set free a poisonous gas from a secret lost army canister, all hell breaks loose. This gas, when released, causes the dead to rise. So when a dead medical cadaver and the half dogs for veterinary school come to life, they are forced to burn them in an incinerator. This just causes all the poisonous gas to be released into the atmosphere, which causes an awesome acid rain storm. The result is that all the bodies in the neighboring cemetery come to life and now need to eat brains to make the pain go away. In the end, our heroes contact the army only to get blown up by a nuclear missile. This again causes the gas to go into the atmosphere and now the rainstorms are happening all over the country. So any rain that can bring about zombies has to make the list.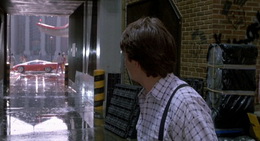 8. Back to the Future Part II (1989)
This rain scene doesn't happen until the end but has one of the greatest time travel twists ever. Marty and Doc (Michael J. Fox & Christopher Lloyd) have once again successfully completed their mission, avoided destroying the space-time continuum and were getting ready to leave 1955 for 1985. Just then, the famous Hill Valley rainstorm (the one that destroyed the clock tower) spreads to Hilldale. Doc is already in the Delorean and Marty is on the ground down below. Lightning strikes the Delorean and it seems that Doc has been incinerated. Then a torrential down pour happens, and a strange man in an overcoat appears. Turns out he is from Western Union and was told by Doc (who is now in the Old West) to be there at that precise moment to deliver a letter that tells Marty how to get home. I always wondered: If the letter is about 70 years old, why didn't the rain destroy it right there? Anyway, watching Marty scream, "The Doc is Alive, he is in the Old West, but he's alive!" in the pouring rain still makes me smile.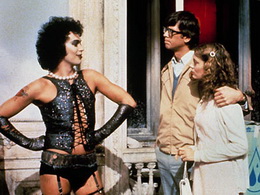 7. The Rocky Horror Picture Show (1975)
OK, any movie where the audience re-enacts the rain scene in the theater by shooting water guns in the air and holding newspapers over their heads to shield them from drops of water has to be on the list. The rainstorm in the movie causes couple Brad and Janet (Barry Bostwick and Susan Sarandon) to get a flat tire. Their search for a phone and escape from the downpour leads them to the Frank-N-Furter Castle, home of transvestite Tim Curry. Since the rain got Brad and Janet's clothes soaked they are forced to spend a bulk of the movie in their underwear.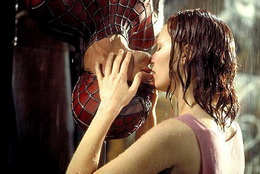 6. Spider-Man (2002)
I really deliberated on this one for a long time, mainly because I always got mad that this was the one scene from this great movie that gets shown most of the time. I am, of course, talking about the famous upside-down kiss, but since it became an iconic part of the movie, I felt forced to put it on the list. We all know what happens: Thugs are attacking Mary Jane, Spidey saves the day, and gets a kiss for his reward. This all happens as Mother Nature is unleashing a heavy rainstorm. The one good thing that came from this scene was Kristen Dunst's wet T-shirt look that kept every teenage boy happy that summer.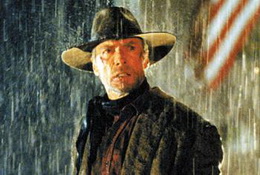 5. Unforgiven (1992)
Rain is prominent throughout Clint Eastwood's Academy Award-winning Western. It is raining in the opening scene where Little Bill (Gene Hackman) tries to settle a dispute between the owner of the whorehouse saloon and the two cowboys responsible for the attack on a prostitute. It is raining while Little Bill is trying to build his house–he is not a very good carpenter because the roof is constantly leaking. The most important rain scene, however, is saved for last. The rain clouds come rolling in just as William Munny (Eastwood) finds out (SPOLIER ALERT!) his best friend Ned (Morgan Freeman) was killed by Little Bill. Munny, a recovering alcoholic, is now about to become the monster he once was–the man who killed women, children and everything that walks or crawled at one time or another. The transformation is complete as he rides into town in the rain and you see the empty bottle of whiskey thrown into a puddle. Munny enters the saloon and takes care of business in a great shoot-out, then rides out of town in the rain.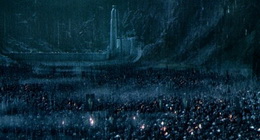 4. The Lord of the Rings: The Two Towers (2002)
The battle for Helm's Deep during the second of Peter Jackson's movie adaptation of "The Lord of the Rings" trilogy was the best combat scene from the entire thing. The whole amazing war happened while sheets of rain fell from the sky. You would think a fight scene would be hard to follow during a rain sequence, but not here. Everything is well choreographed and the action is top-notch.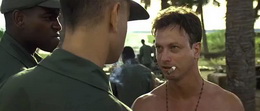 3. Forrest Gump (1994)
Everyone always remembers that "life is like a box of chocolates," but I bet you everyone also left the theater after seeing this remembering the different types of rainstorms there are. When Forrest (Tom Hanks) is fighting in Vietnam, he narrates, "One day it started raining, and it didn't quit for four months. We been through every kind of rain there is. Little bitty stingin' rain … and big ol' fat rain. Rain that flew in sideways. And sometimes rain even seemed to come straight up from underneath. And then one day it just stopped." That is what we are going through here in NYC. I hope it stops suddenly just like it did in the movie.
2. The Shawshank Redemption (1994)
This rain scene is one of my all time favorite movie scenes. Who can forget Andy Dufresne (Tim Robbins) raising his outstretched arms triumphantly in the air after escaping from Shawshank Prison through a sewage tunnel? The rain beats down on his face as he smiles for the first time in a long time as a free man. The image of a free Andy will always stay burned in my brain and every time I watch this scene it still sends chills up my spine. Nothing beats Red's (Morgan Freeman) narration as the scene is unfolding: "Andy crawled to freedom through five hundred yards of shit smelling foulness I can't even imagine, or maybe I just don't want to. Five hundred yards … that's the length of five football fields, just shy of half a mile." This arguably would be the greatest rain scene in movie history if it were not for number one.
1. Singin' in the Rain (1952)
Come on, you saw this coming. It even has the word rain in the title. Who can forget Don Lockwood (Gene Kelly) incredible dance number in the rain? Don just says goodnight to Kathy Seldon (Debbie Reynolds) after a great evening. He is so happy at the turn of events that he feels he must sing about it while it is raining. He swings on lampposts, jumps in puddles, and twirls an umbrella the whole time. He never seems to mind that he is soaking wet. Some trivia tidbits about the scene, Kelly had a 103-degree fever the day of filming the scene. Co-director Stanley Donen (Kelly was the other co-director) wanted to send him home, but Kelly refused. So massive preparations were taken so that it could be filmed in one take, and it was. The most famous rain scene in movie history was done in just one take and Kelly also improvised most of his dance moves. Also, the rain consisted of a mixture of milk and water so it would show up better on film. This mixture caused Gene Kelly's wool suit to shrink. In 1971, Stanley Kubrick paid twisted homage to this musical rain sequence in the immortal "A Clockwork Orange."